It's funny, when I made this I didn't ever expect to share the recipe as I was just using up leftovers from the night before (we had
these
blue cheese stuffed burgers from Emeril that we topped with caramelized onions) but since quite a few people have asked for it, here it is!
Blue Cheese-Caramelized Onion Risotto
Ingredients:
4 cups chicken stock, I used cans of chicken broth we bought in bulk at Sam's a while back
4 tablespoons butter, divided
1/2 medium white or yellow onion, chopped
1 cup uncooked Arborio rice or other short grain rice
1/2 cup white wine
1/2 red onion, sliced
2 tablespoons brown sugar
1/2 cup crumbled blue cheese
2 tablespoons half and half
Kitchen Supplies:
Small skillet
Wooden spoon
6 cup measuring bowl (for stock)
Medium stockpot
Measuring cups, assorted sizes
Melt two tablespoons of butter in small saucepan over medium-medium low heat. Once melted, add red onions and saute. Salt liberally to draw out some of the liquids in the onions which will start the caramelization process. Sprinkle brown sugar and toss well to combine. Reduce to medium-low heat and let cook while you prepare the risotto, stirring occasionally.
In a medium stockpot, melt remaining two tablespoons and add onions. Saute
for three minutes. Add rice, sauteing for two minutes until the ends of the rice start to become translucent. Stir in white wine to deglaze the pan. Stir constantly until liquid is absorbed, approximately one minute. Stir in 1 cup of broth mixture and cook for five minutes or until liquid is nearly absorbed, stirring constantly. Reduce heat to medium. Add remaining broth mixture, 1/2 cup at a time, stirring constantly until each portion of broth is absorbed before adding the next. This will take approximately 25 minutes in total.
Reduce heat and stir in blue cheese, caramelized onions and half and half. Remove from heat and serve.
Previous times I've made risotto, I've kept the stock warm in a small saucepan on the stove and added the warmed stock to the pan. The last two times we've made it we did not warm the stock and it turned out just as creamy and delicious as ever--so why dirty another pan if you don't have to?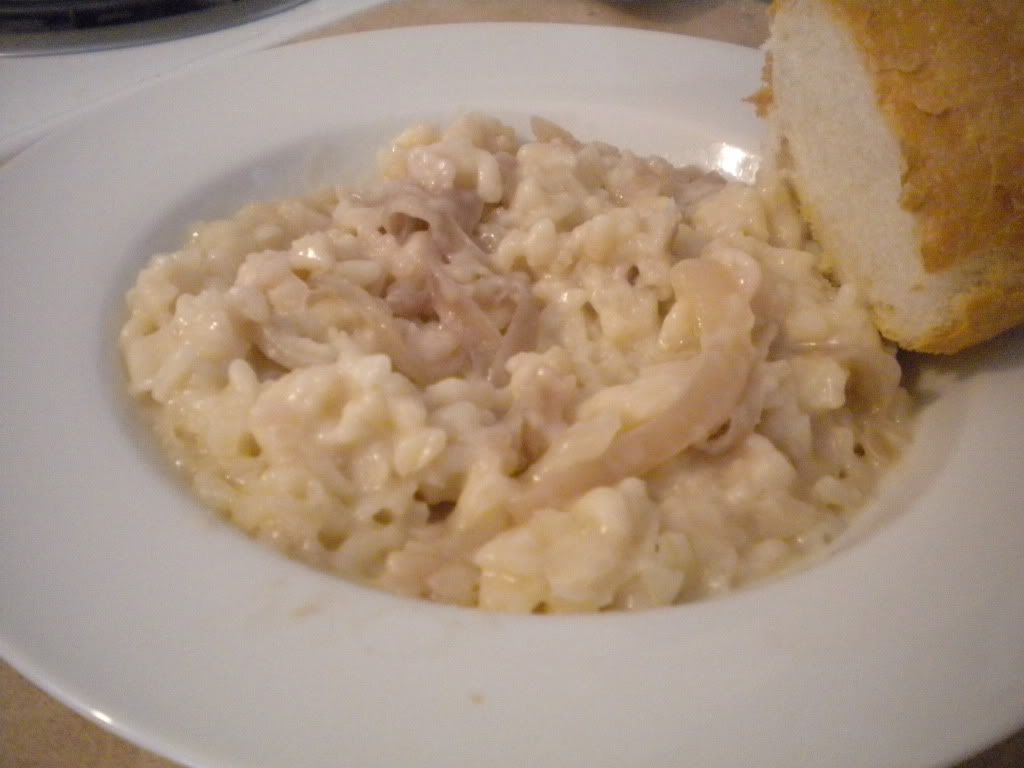 The resulting flavors are a bit sweet from the onions, tangy from the blue cheese and creamy from the risotto grains that you lovingly stirred and tended to for the last half hour. Delicious!
Do you ever make risotto? What are your favorite add-ins? We keep a two pound bag of arborio rice in our pantry at all times so I am always looking for new recipes!
P.S. S
ince I'm eating leftovers of this for lunch today and have been for the past few days (that's where the photo came from) and it's Jenn's birthday, I will be linking up with her for What I Ate Wednesday again this week!