Here it is, a virtual tour of our new apartment! I was pleasantly surprised how much less time it took us to unpack and get "settled" than it did at our last place. Granted, our last apartment was the first J and I had together and we were just newbies at the whole moving/unpacking thing, but at this rate, moving to Omaha in a year will be a breeze (right?!?)
We will begin with another view of the lake and fountain outside our bedroom window. Our bedroom is the smaller of the two bedrooms both in size and in closet space but it has by far the best views of the apartment and gets the afternoon sun which is helpful in keeping it cool during the day.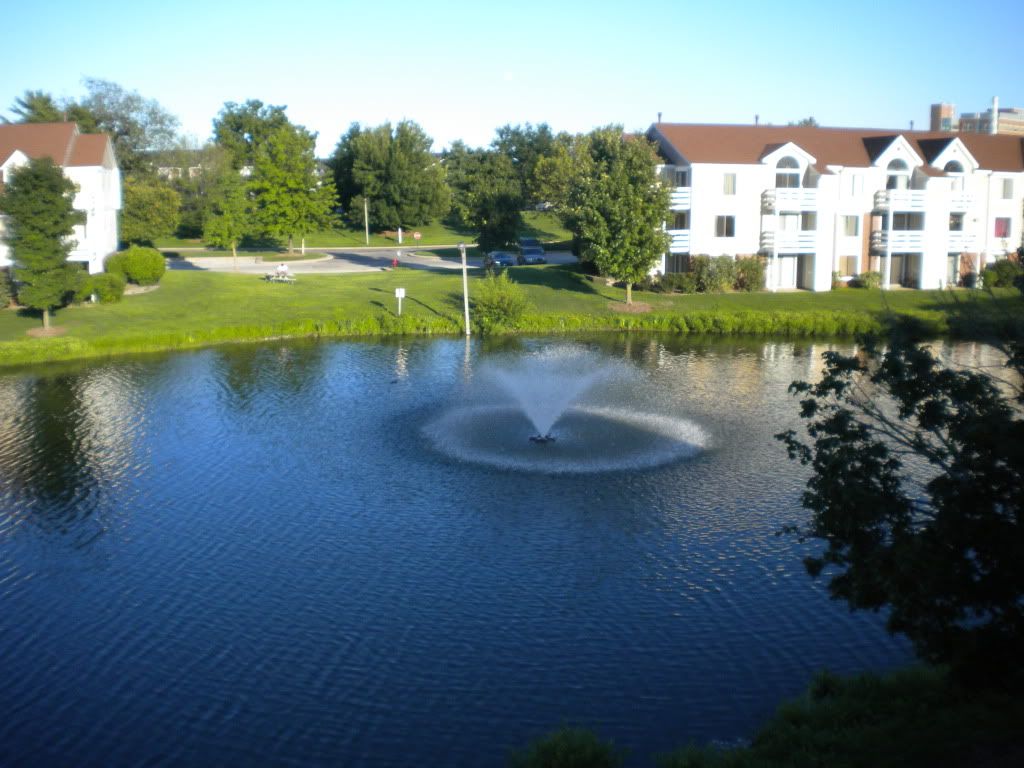 On a quiet day, I can hear the water lapping just outside our window which transports me to a place far away from South Bend, IN!
As you can imagine, with all this water around, there is quite a bit of wildlife just beyond our doors to keep us (and Woods) entertained. We have almost two dozen ducks and more than that (they won't sit still for me to count them) Canadian geese that call our lake and the ones nearby home, in addition to a crane or two, rabbits and frogs.
The heart of the apartment is the living/dining room area and kitchen. The kitchen is a bit smaller than the one we had at our last place but there is enough work space for both J and I to cook together (which was a requirement for any apartment we looked at here) and even has a little breakfast bar which I know we will utilize when entertaining so guests can be a part of the action and conversation while we cook!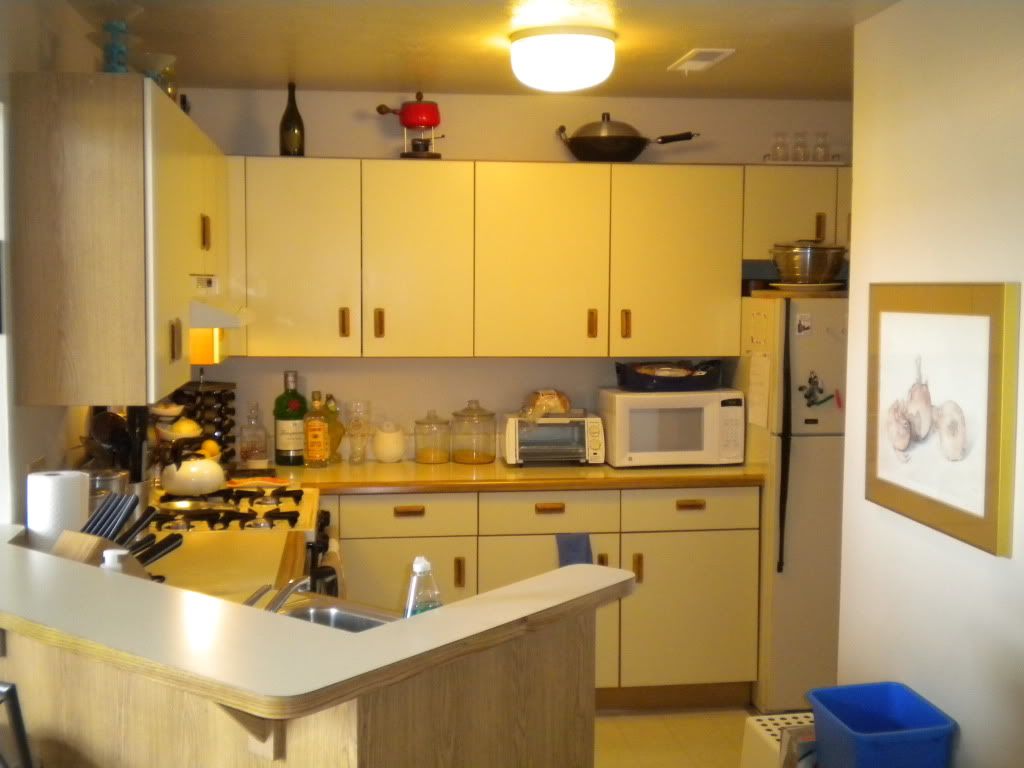 The lighting in this picture is bad but you get the idea--just behind the onion painting is our very own washer and dryer, a much appreciated perk of this apartment!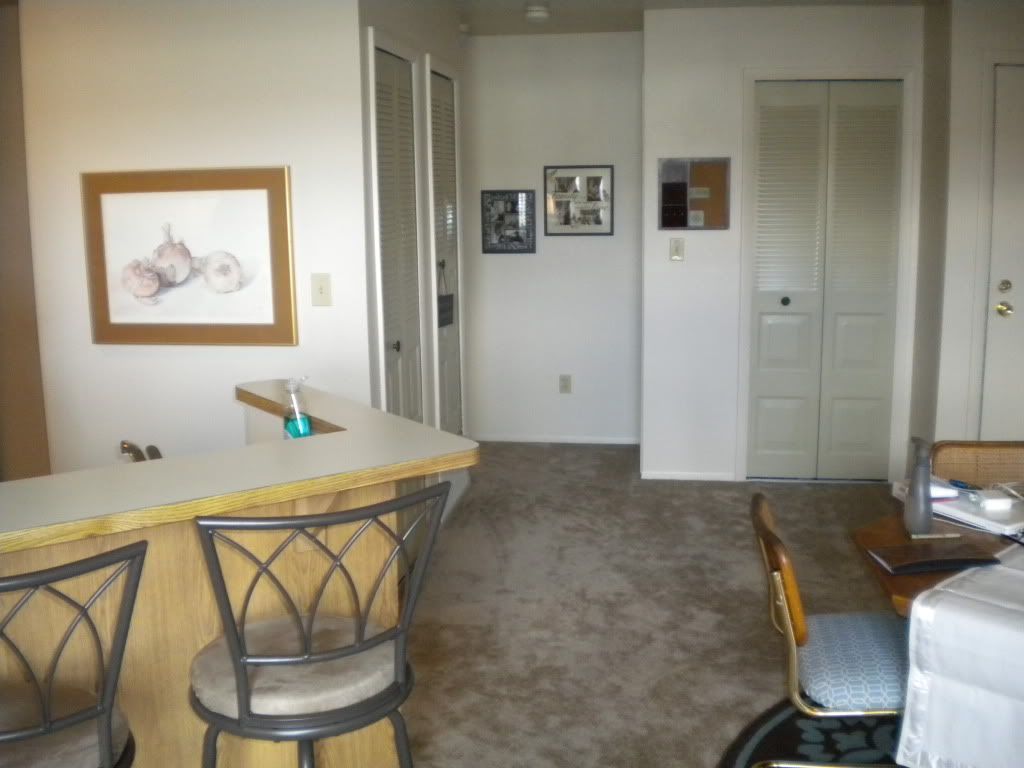 A view of the dining room/breakfast bar from the living room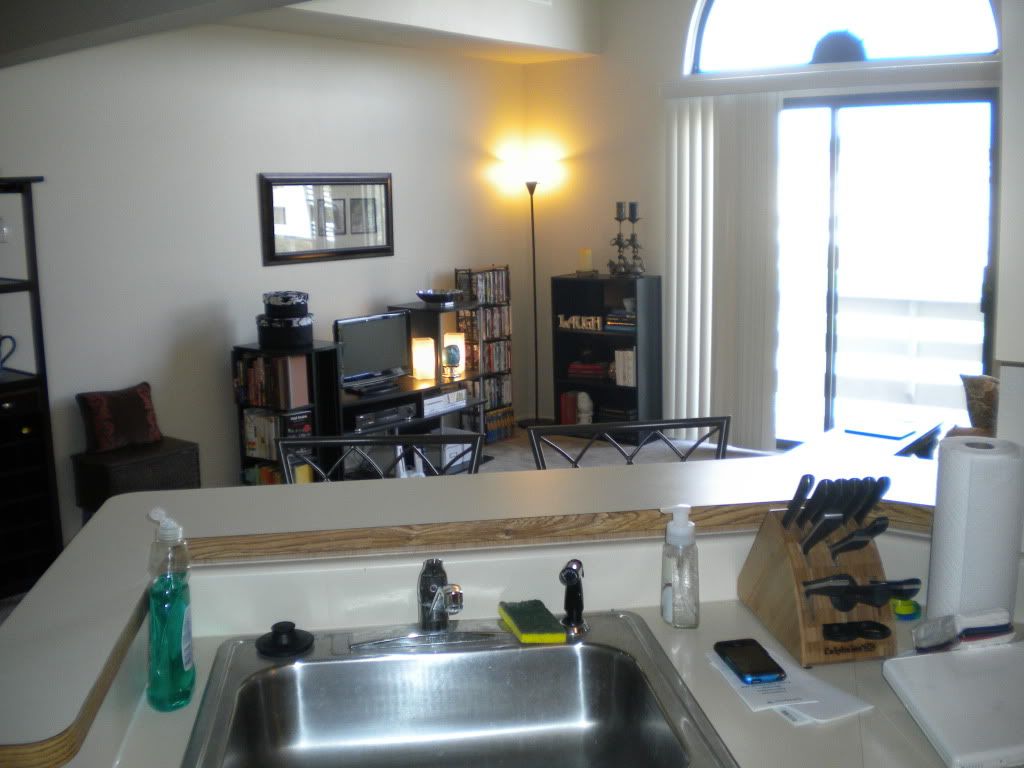 Same area but from the opposite angle--here we are in the kitchen looking out into the living room area
The kitchen opens out onto the dining room/living room area, which boasts new carpet and vaulted ceilings (in the living room).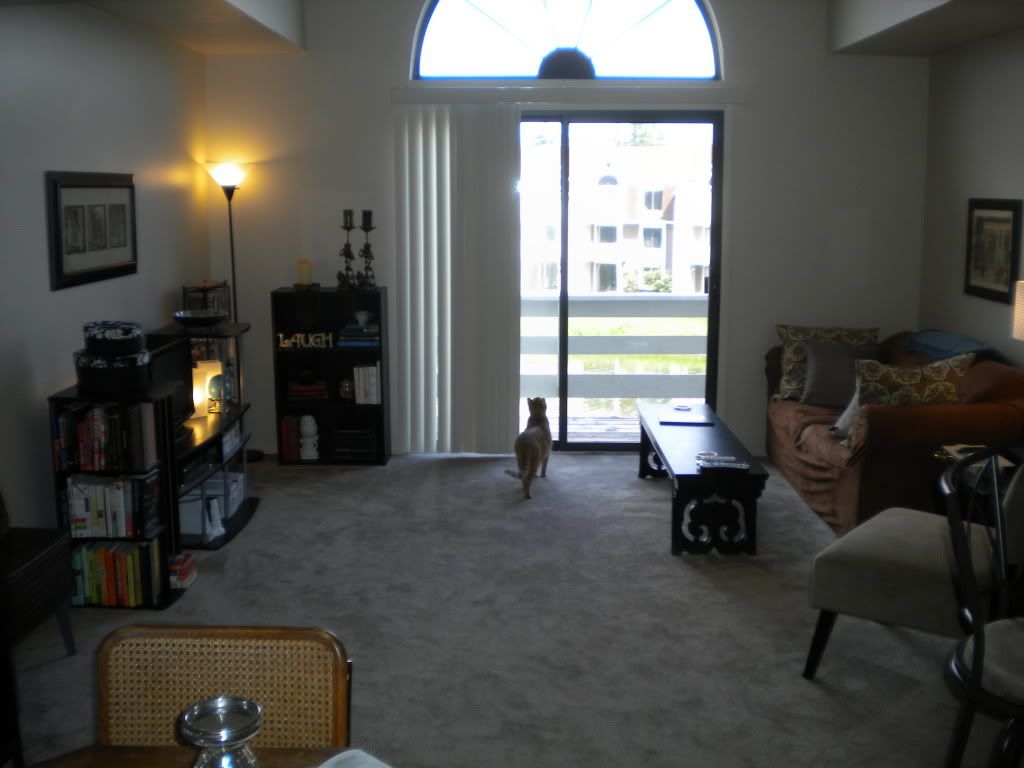 A view from the dining room into the living room as Woods investigates his new surroundings
The big arch window lets in a lot of light and is often filled with bright blue skies and fluffy white clouds.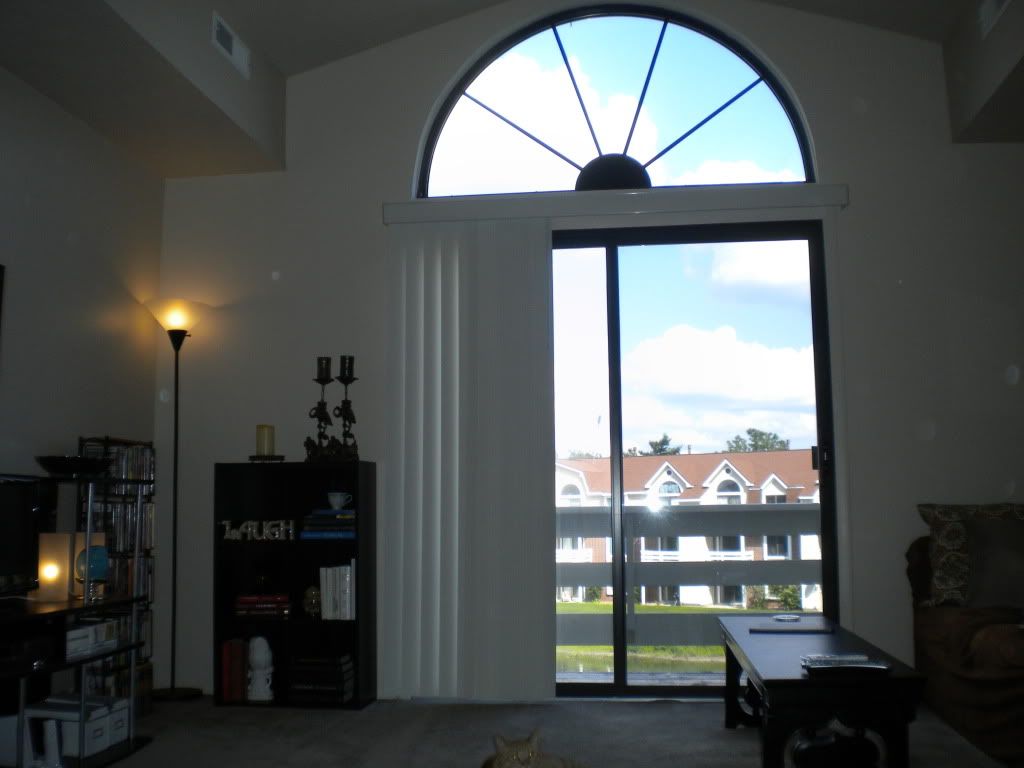 Note the content cat and gorgeous blue skies
Underneath the arch window is a sliding glass door that leads out onto a small patio. So far we have dragged a small table and chairs out there on several nights to enjoy dinner or a glass of wine. Next spring and summer, we hope to grow a small herb garden out there as well!
We added a few new pieces to our apartment and rearranged others to create a place that feels like home and didn't cost us a lot of money. Meijer has become our new go-to store. We had never heard of it before we moved here and in case you haven't either, it is basically a cross between Walmart and Target that has great clearance prices and a fairly large international food section, something I thought I was giving up when we moved from St. Louis! For example, during one of our many visits there, we nabbed a slipper chair and the two bar stools all for under 115 dollars--the slipper chair itself was originally 110.00!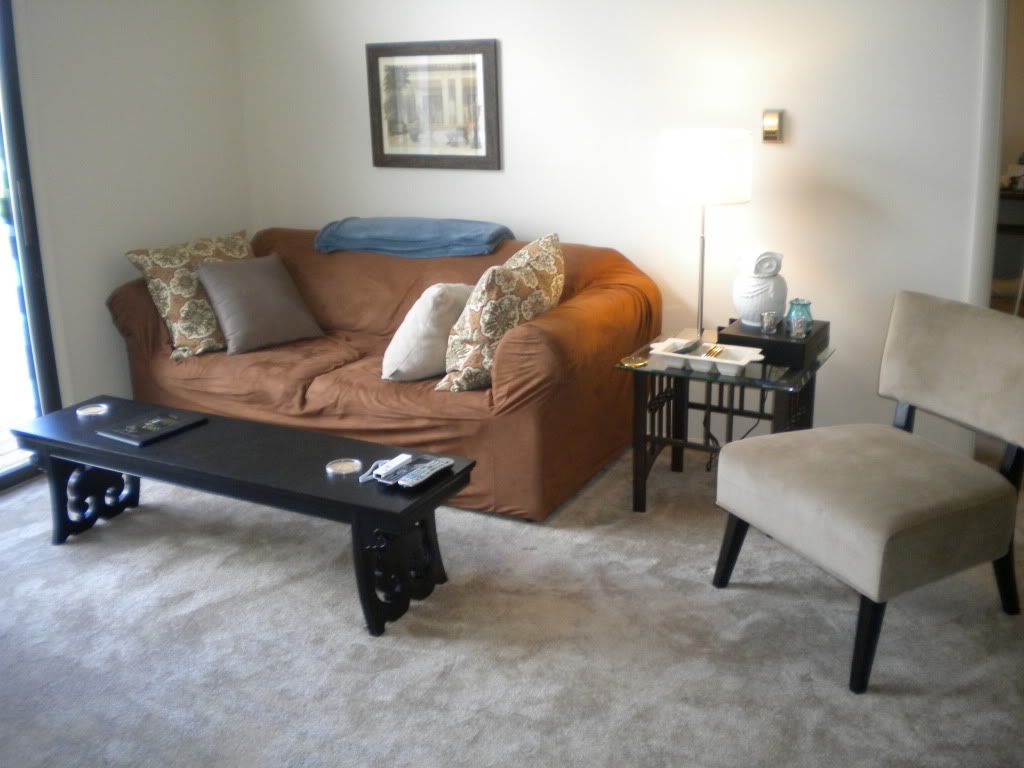 The chair needs a lumbar pillow to round out the look but I haven't found any that I like...yet!
Before we moved, we craigslisted our two black bookshelves for what we had paid for them with the plan of either buying a smaller bookshelf when we arrived or going without. Once we got here and started to unpack, we realized we needed some sort of shelf and bought an inexpensive three shelf version at Target. Once J assembled it, I spent the next hour or so trying to decorate it. It was my first real attempt at creating a more pared down, stylized bookshelf and I am pretty pleased with the results, especially because all of the items were ones I already owned!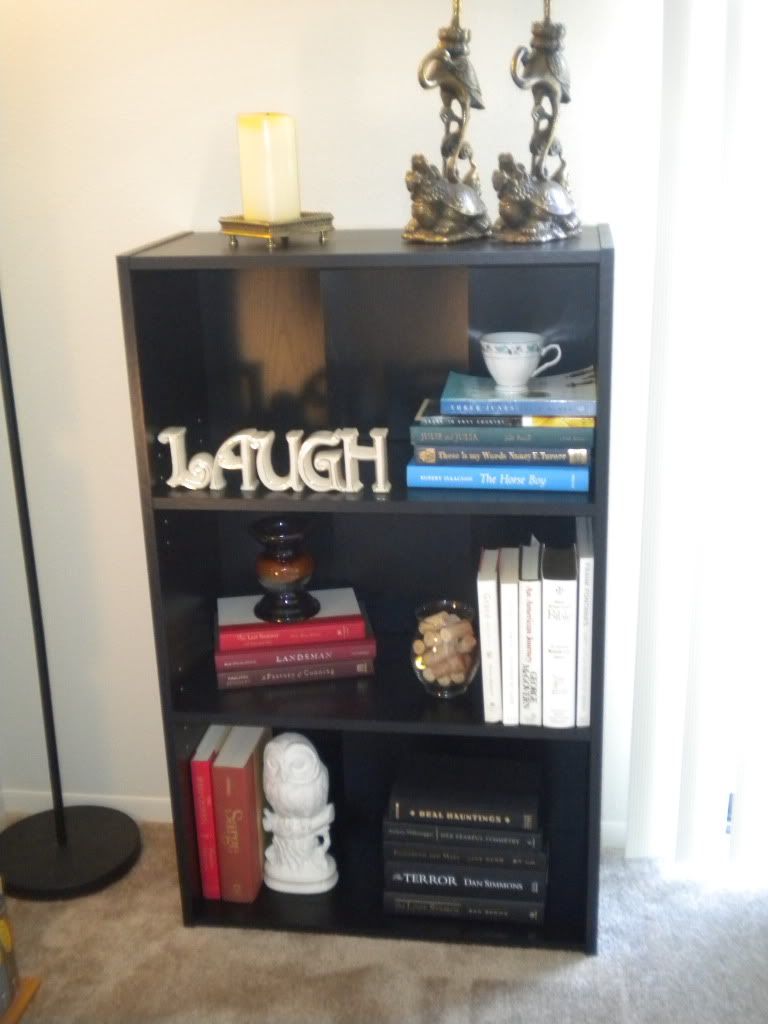 At some point, I'd like to line the back of the bookshelf with a graphic print or wallpaper, but for now it looks just fine!
The other side of the living room and a more zoomed out shot of the bookshelf
Yesterday I finally recovered our dining room chairs after the fabric sat in the corner of my office (and later a moving box) for months and I am so glad that I did. The previous seat cushions were my first attempt at reupholstery (actually it was my first attempt at anything DIY or crafty and the subject of my first blog
post
) two years ago. I never really loved the fabric, it really clashed with the rug underneath it, and based on the number of staples I removed during the process, the whole job was pretty sloppy.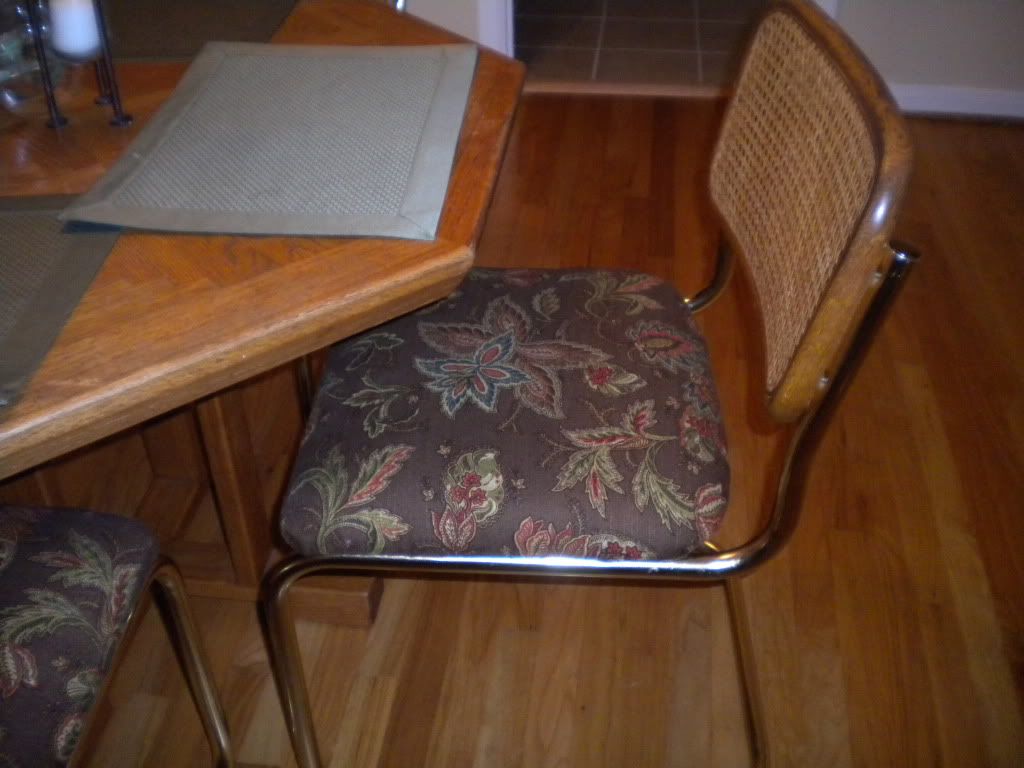 Before
Since then I've read a lot more about reupholstery and feel much more comfortable taking on projects on my own, which was evident yesterday in the amount of time it took me to remove all the staples and recover all of the chairs. A project that originally took me the entire length of a Notre Dame football game was reduced to an hour long project!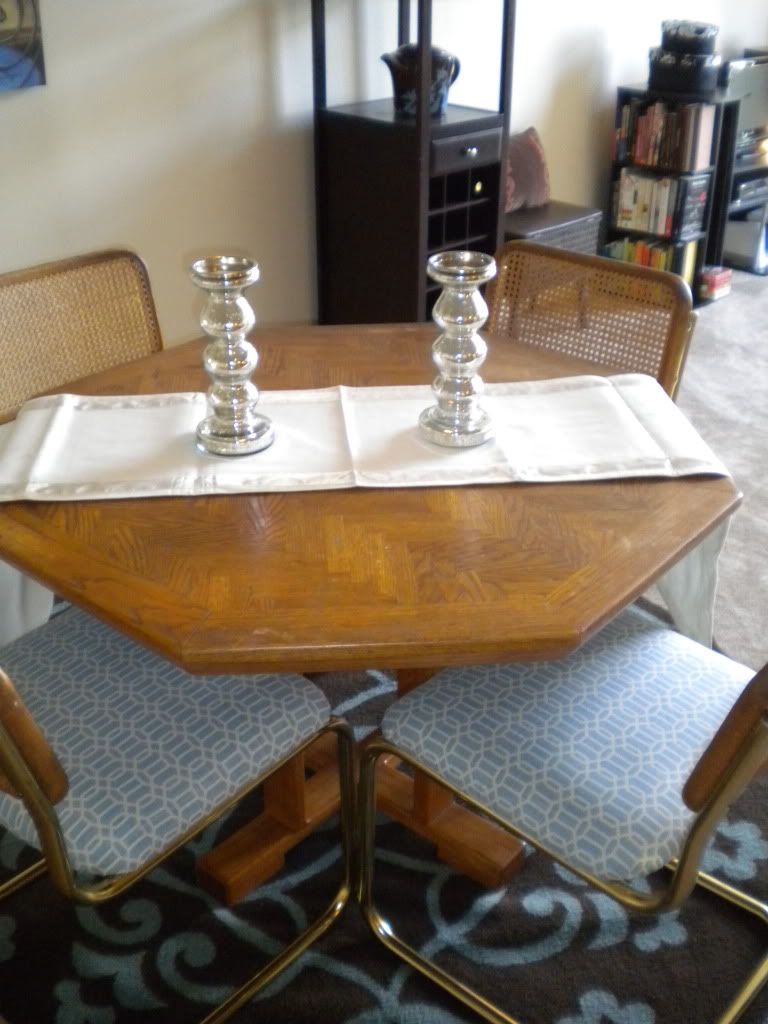 After
I absolutely adore the graphic print and the way the pattern plays subtlety off the caning on the backs of the chairs. And want to know the best part? They finally coordinate with the rug beneath it and tie in with the other blue elements found throughout our living room and dining room!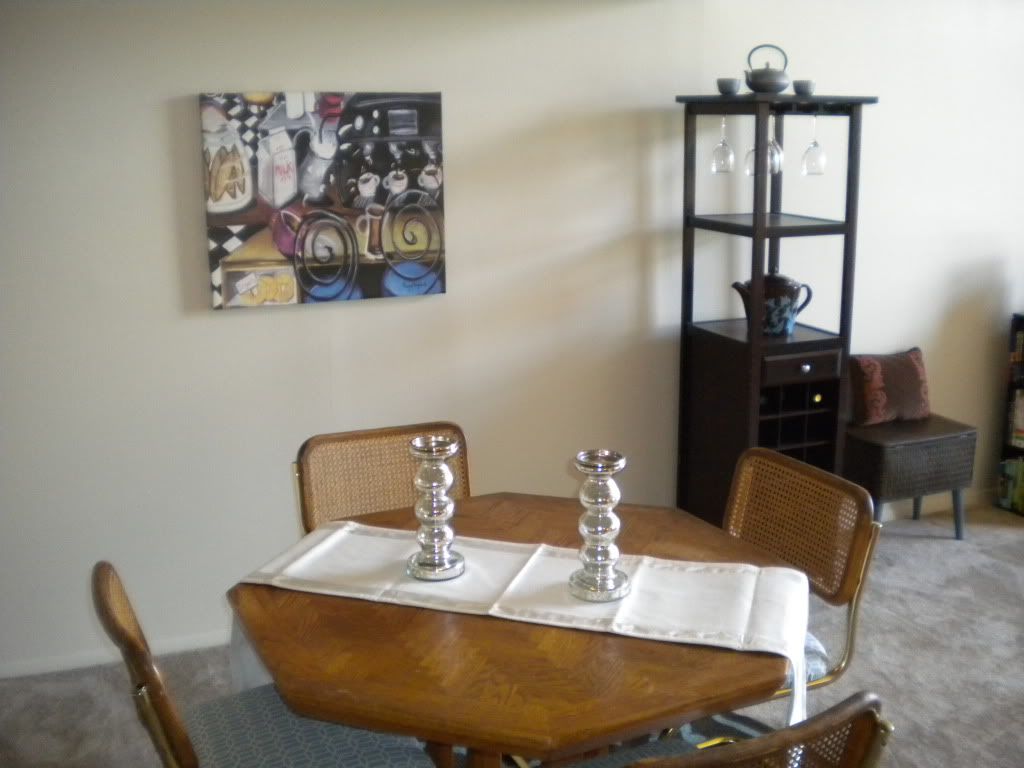 Our dining room
The bedroom is a little more of a work in progress currently. All the furniture is in place and art hung, but eventually some of the artwork and the bedspread will be swapped out for new things that better coordinate with the space and reflect where we are now (most of the artwork was created in the months after our wedding and tend to be very wedding-focused). Once the weather turns cooler, our original duvet cover will grace our bed once more which will go a long way in making this space more put together. For now, we sleep sweat free (and with lower utility bills) with our light coverlet even if it doesn't exactly match.
The curtains are a new addition to the bedroom and I love them. The buttery yellow color matches the dresser's pulls perfectly, plus they are great at keeping out sun and heat!
The office still has a few boxes that are earmarked for a friend's garage for storage which is why photos of the second bedroom are missing from the tour. Once we get the out of there (slated for this Saturday), I promise to share photos of that space too!
We also have a bathroom with decor I really like, but I won't be sharing pictures here because every shot I've tried to take has come out dark and features our toilet--not really something I want to have all over the blog and probably not something you want to look at!
And with that, welcome to our little home! I hope to share lots of recipes, DIY, crafts, love and laughs here with J and with you all in the next few months. Thank you for following along and as always, for being such a vital part of KT's Refinishing School!
P.S. I am slowly working through all of your blog posts--you all have been busy! I may not comment on all of the posts but know that I am reading each and every one of them and loving what I'm reading. You guys seriously rock!