J and I had a relaxing yet productive weekend, which was much needed to get us set up for what promises to be a busy week at work and school! Here's a little recap of what we did:
Friday:
Used our Groupon and had a delicious nigri sushi dinner (with a few rolls too) at Sekisui on South Grand--we even had deep fried crawfish with our platter!
Watched the next three episodes of Mad Men, Season 1 that we had on Netflix. One more DVD and we will have finished season 1!
Saturday:
Had breakfast in bed while watching Food Network.
I did 8 (that's right I said eight) loads of laundry at the laundry mat, including many of my 30 for 30 clothes.
Planned our week's menu.
Went grocery shopping.
Made another Asian-inspired meal in the form of Miso soup (get the recipe here), tempura vegetables (we used Panko bread crumbs in lieu of tempura batter), and spring rolls stuffed with shredded chicken, green onions, sushi rice and an Indian cilantro chutney. We made a mess in the kitchen but it was delicious!
Watched Dumb and Dumber before we fell asleep.
Sunday:
Went to church.
Cleaned the house in preparation for guests tonight for a screening of this film and J's mom and boyfriend who are in town starting on Friday!
Marveled at how long Woods can be when he really stretches out.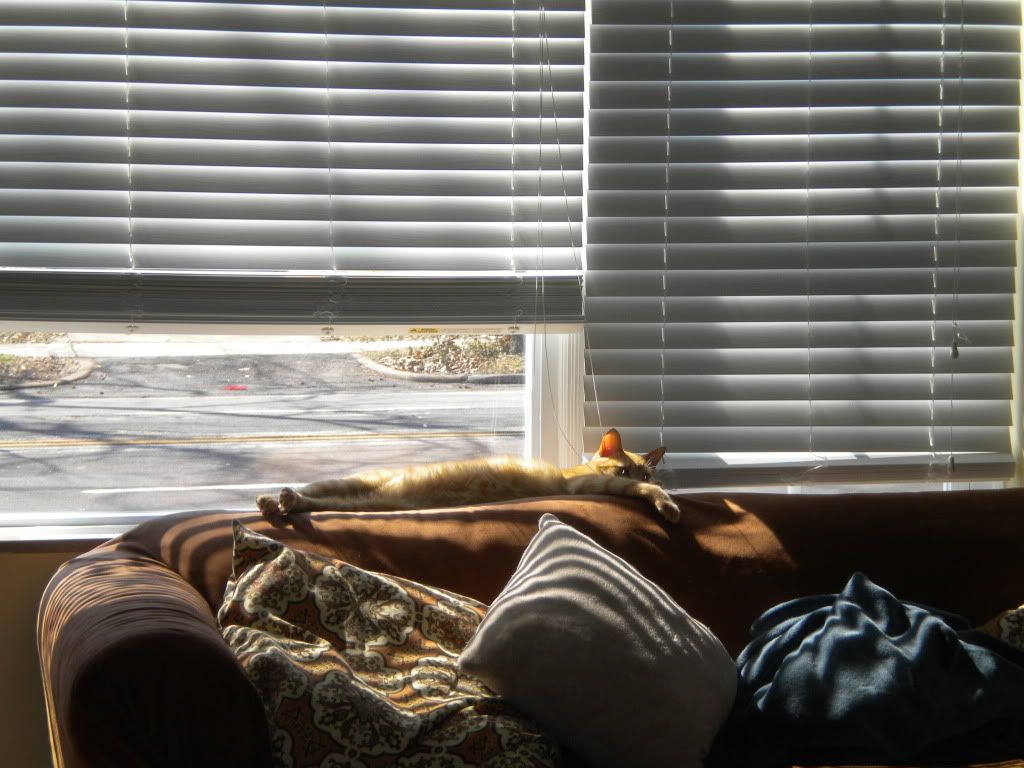 Cleaned up the dishes from the night before (we washed pots, pans and knives on Saturday night but just rinsed and stacked the rest for the morning).
Finished putting away the 8 loads of laundry from the day before.
Made Pasta Primavera for the first day of Spring. Get the recipe here.
Met some friends for drinks and sat out on the sidewalk enjoying the sun and warm weather!
Watched the series finale of Big Love. J and I started watching this show right after we started dating five plus years ago so it was bittersweet to see the show ending!
How was your weekend, friends? Anyone watch Big Love and want to talk about last night's episode?!
P.S. Today I am sharing my favorite bread pudding recipe as part of a guest post for Lauren at
Tickled
while she visits friends in Charleston. Check it out
here
!