As I mentioned in
this
post (and
this
one), last night we made Chicken Enchiladas with Pumpkin Sauce. It was so good and so easy I just had to share it with you. Normally I think of pumpkin as a fall or winter vegetable but in this recipe it becomes more of a mole sauce (without the work!) which would taste great any time of year!
Warning: if you have a cat that is anything like Woods and loves chicken, be prepared for lots of meowing and leg rubbing while you shred the chicken. I don't think Woods stopped talking for the entire 15 minutes it took me to shred the chicken even after I gave him a few pieces in the living room (where he gets all treats in a vain attempt to keep him from begging). It was so funny; I really wish we would have gotten the whole thing on video!
Chicken Enchiladas with Pumpkin Sauce, taken from Martha Stewart's Kitchen Everyday Food cookbook
Ingredients:
1/2 roast chicken, skin removed and meat shredded
6 scallions, thinly sliced
Coarse salt
Freshly ground black pepper
1 can (15 ounces) pumpkin puree
4 garlic cloves, peeled
1 jalapeno chile, quartered--remove ribs and sees for less heat if desired. I removed them because I am not a big fan of super spicy things but with the amount of pumpkin in the sauce, you could leave some or all of the ribs and seeds in. We missed the heat!
1 teaspoon chili powder
8 corn tortillas (6 inch)
1 1/2 cups (6 ounces) grated sharp white Cheddar cheese
Kitchen Supplies:
Medium mixing bowl
Blender or food processor
Cutting board
2 quart baking dish
Sheet tray
Preheat oven to 425 degrees. In a medium bowl, combine the chicken and scallions. Season generously with salt and pepper; set aside.
In a blender, puree the pumpkin, garlic, jalapeno, chili powder, 2 1/2 cups water, 2 teaspoons salt, and 1/4 teaspoon pepper until smooth. Hold the top down firmly with one hand as the blender will be quite full. Pour 1 cup of the sauce in the bottom of a 2 quart baking dish (square or rectangle).
Lay the tortillas on a work surface; mound the chicken mixture on half of each tortilla, dividing evenly. Roll up each tortilla in a tight log; place seam side down over the sauce in the baking dish. My logs didn't stay together very well but the pumpkin sauce and cheese cover all sorts of things.
Pour the remaining sauce on top; sprinkle with the cheese. Place the dish on a baking sheet; bake until the cheese is golden and the sauce is bubbling, 25 to 30 minutes. Ours took 30 minutes to get really bubbly and golden brown. Let cool for 5 minutes before serving.
Serves: 4
According to the cookbook, this dish can be made up to 8 hours ahead of time. Simply prepare as described above, cover with plastic wrap and refrigerate until ready to bake. Be sure to add a few minutes to the cooking time to account for the chilled dish.
This recipe was everything a weeknight dinner should be (in my book at least): quick, simple, cheap and tasty. We will definitely be making this again soon. As is our tradition, we had leftovers of this yummy dinner for lunch today, hence the What I Ate part of the post.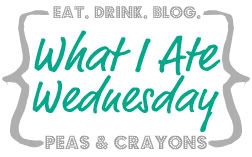 Now for the What I Will Eat part. In yesterday's
post
, I mentioned that meal plans should be flexible. Tonight's dinner is a perfect example of that. We were planning on making shrimp and egg-knot soup tonight but J emailed me earlier today that he wanted to do something fun tonight. All of the ingredients for the soup were freezer and pantry items that could keep for another week so we quickly devised a plan:
Dinner at
this
local-food restaurant (which came recommended courtesy of
Slow Food St. Louis
) followed by a free
night
of jazz music at the Missouri Botanical Gardens. We will have an appetizer and dinner at Brasserie before we feast on homemade chocolate and cheese
danishes
and wine at the Botanical Gardens.
Want to know the very best part? This whole night will be free! You see, we are having dinner on my parents thanks to a generous anniversary gift they sent our way that has been
burning a hole in our pockets
sitting in our account for a while now. THANKS MOM AND DAD! The concert is free. We had a bottle of Charles Shaw Pinot Grigio in our fridge and ingredients for the danishes in the pantry and freezer. So we might have to pay for parking in the Central West End but I think I can handle that. I can't wait!
What have you eaten this Wednesday? What will you eat for dinner? In my family, we always talk about what we are going to eat for our next meal while we are eating our current one, which goes a long way in explaining my love of meal planning and talking about food. Happy Wednesday everyone!