In honor of President's Day this week, I thought I'd share with you the remainder of our trip to Springfield in the Spring of 2009 as this week's Remember When Wednesday post.
Just as a recap (read more about it here) a good friend Gary made available tickets to the celebration of the bicenntenial of Abraham Lincoln's birth in Springfield, IL where we got to hear President Obama speak.
Something I did not mention before is that J and I want to visit all of the Presidential libraries in the United States (can you tell we were political science majors?) which is why number 46 on my 130 list is to visit 3 numbers of Presidential libraries before I turn 30! Gary knew that we eventually wanted to visit all of the libraries, which was one reason he invited us on the trip with him.
The excitement and once in a lifetime opportunities didn't end with the bicentennial dinner though! The next day we had lunch with some of the other donors to the Presidential Library and Museum (since my dad's friend Gary was a donor), including Chaz Ebert (Roger Ebert's wife) and a rich businessman from Texas who is good friends with Stedman Graham who was supposed to attend the dinner but at the last minute was unable to. Throughout the lunch, he kept mentioned Stedman, which was surreal to say the least.
It must be noted that while I am from California, these are the only "celebrities" that I've ever interacted with.
Therefore lunch was interesting but a little nerve wracking since we'd never been around such high society people before!
After lunch, Gary, J and I were treated to a personal tour of Lincoln's tomb, Lincoln's home in Springfield and later the Presidential Library itself by a local historian and member of the Abraham Lincoln Society.
Here are a few pictures we took while at Lincoln's tomb.
Local legend has it that rubbing Lincoln's nose is considered good luck, which explains why the brass on bust is only worn at the nose!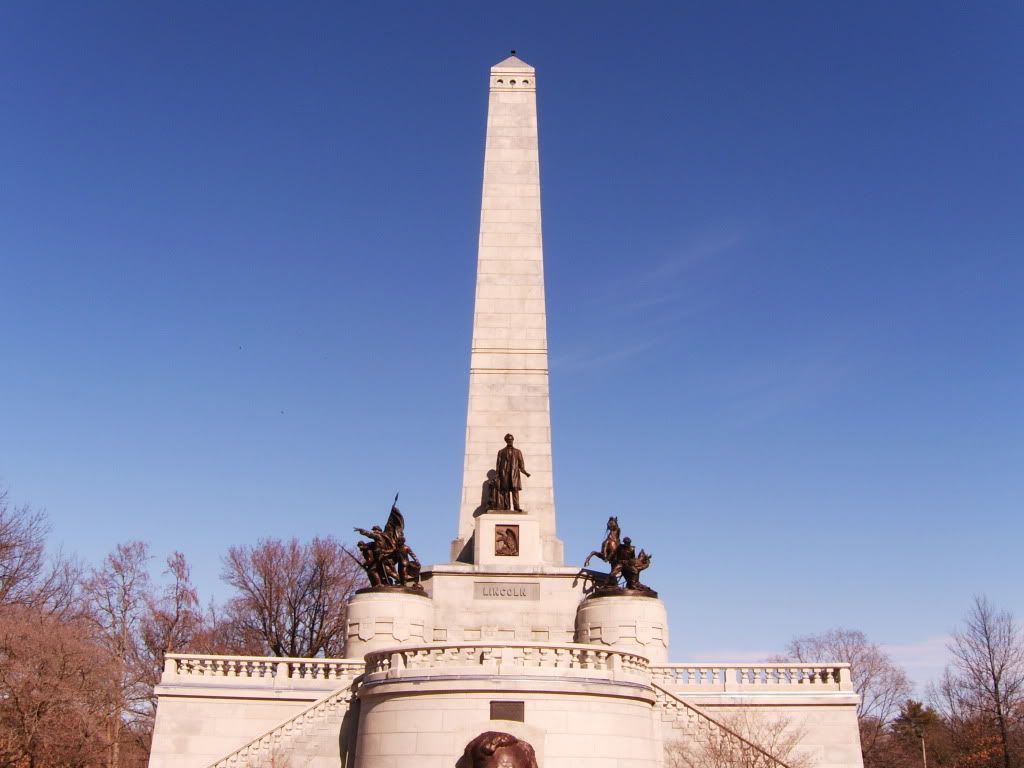 The entrance to Lincoln's tomb in Springfield's Oak Ridge Cemetery. Lincoln, his wife Mary Todd and three of their four sons are buried here.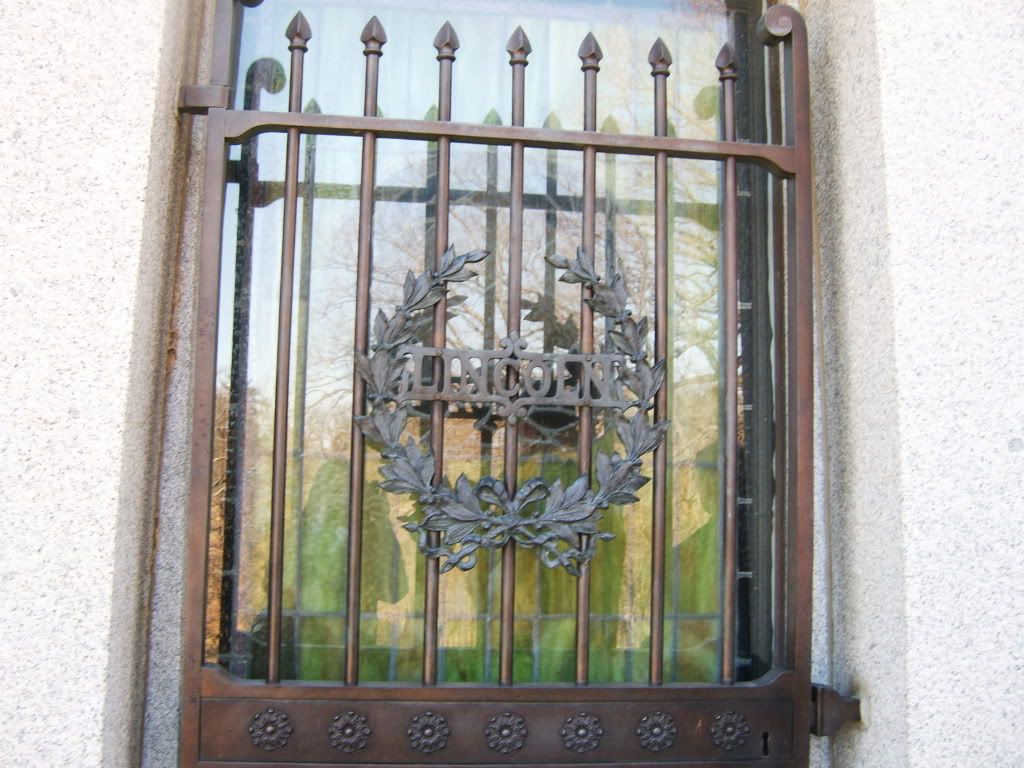 In 1901, after an attempted grave robbery, several disinterments and the building and restoration of the vault, Lincoln's body was laid to rest a final time through the door above, some twenty seven years after his death in 1865!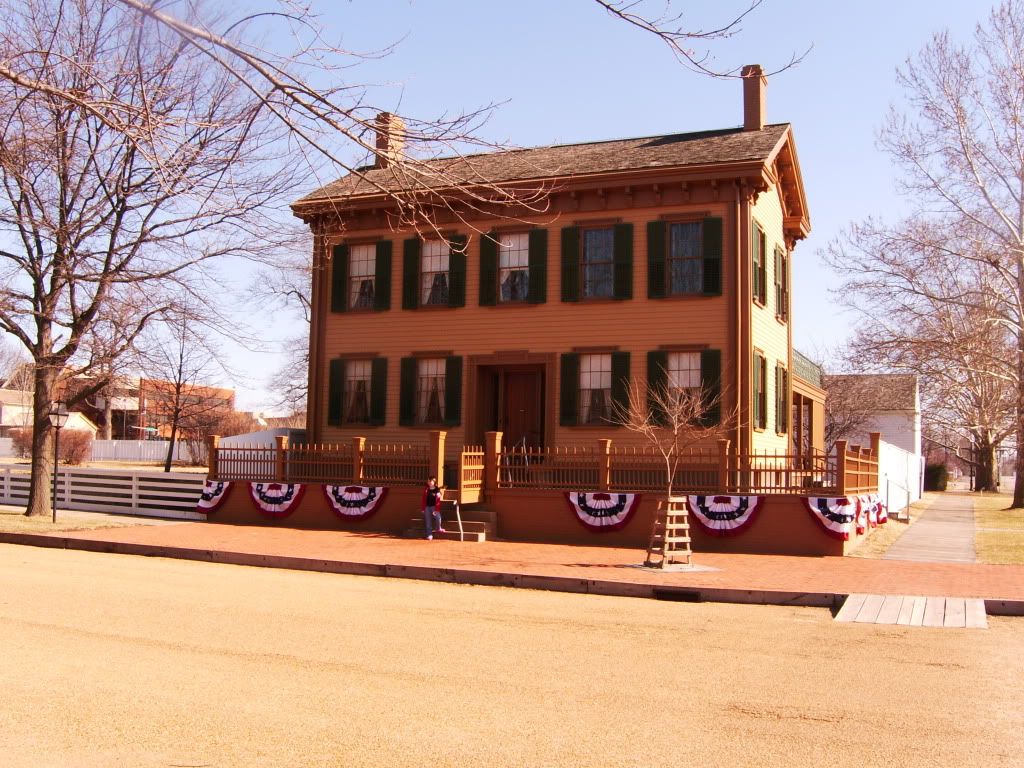 The Lincolns' home in Springfield. This house and the entire neighborhood has been restored to appear just as it did when the Lincolns lived in Springfield in the 1850s and 1860s.
When we arrived at the Presidential library, we were greeted by the curator of the museum, who gave us a personal, guided tour of the museum. The museum is wonderful and the way the curators and designers mixed medias with artifacts, wax figurines, music and video to present the lives and history of the Lincolns was truly magical. It came as no surprise to me when I learned that some of the people at the Epcot Center in Disneyworld were consulted during the design of the library. If anyone has a chance to visit the library, I cannot recommend it highly enough!
We then were taken on a private tour to the vault of the library, a place few people get to go and a place J and I never would have gotten to go to by ourselves! But thanks to Gary's generosity, we got to to take an elevator into the bowels of the library where we saw, among other things, one of the three original copies of the Gettysburg Address. As a history lover, I could not have been more excited and awe struck at the document in front of me! The curator held the fragile paper in his white gloved hands as we peered over the pages:
Four score and seven years ago our fathers brought forth on this continent a new nation, conceived in liberty, and dedicated to the proposition that all men are created equal.
Now we are engaged in a great civil war, testing whether that nation, or any nation, so conceived and so dedicated, can long endure. We are met on a great battle-field of that war. We have come to dedicate a portion of that field, as a final resting place for those who here gave their lives that that nation might live. It is altogether fitting and proper that we should do this.
But, in a larger sense, we can not dedicate, we can not consecrate, we can not hallow this ground. The brave men, living and dead, who struggled here, have consecrated it, far above our poor power to add or detract. The world will little note, nor long remember what we say here, but it can never forget what they did here. It is for us the living, rather, to be dedicated here to the unfinished work which they who fought here have thus far so nobly advanced. It is rather for us to be here dedicated to the great task remaining before us—that from these honored dead we take increased devotion to that cause for which they gave the last full measure of devotion—that we here highly resolve that these dead shall not have died in vain—that this nation, under God, shall have a new birth of freedom—and that government of the people, by the people, for the people, shall not perish from the earth.
Happy belated President's Day everyone!