Like the
Barefoot Contessa
, I made roast chicken for dinner on Friday night. I found out, thanks to
this
lovely, that our local Whole Foods was having a one day sale on organic whole roasting chickens. At $.1.69 a pound, I bought two, one that I cooked up on Friday and one that is in my freezer to make and eat at a later date. J had a bar review study session so it was just me for dinner and we have quite a few leftovers, some of which I turned into curry chicken salad for lunch over the weekend but it was completely worth it.
I modified Ina Garten's Engagement Roast Chicken recipe, taken from
here
:
Ingredients:
1 4 to 5 lb. roasting chicken, gizzards removed
1 organic yellow onion, cut into rings
1 lime, sliced in half--Ina's recipe originally called for two lemons, but I used what I had on hand
2 stalks of celery, cut into thirds
4 carrots, peeled and cut into thirds
6 organic Yukon gold potatoes, cut into 1 inch pieces
Olive oil
Salt
Pepper
Herbes de Provence
Kitchen Supplies:
Large roasting pan
Knife
Cutting board
Kitchen twine
Scissors
Aluminum foil
Preheat oven to 425 degrees. Remove bag of gizzards from the cavity of the chicken. Salt and pepper the cavity of the chicken, then stuff with one of the carrots, celery and lime. Rub the outside of the chicken with olive oil and season with salt, pepper and a pinch of the herbes de provence. Tie the legs together with kitchen twine. Cut a small slit in the "arm pit" of the bird then tuck the wing tips into these slits.
Create a platform for the bird by placing three of the rings of onions on the bottom of the roasting pan and then placing the chicken on top. Tumble the remaining carrots, onions and potatoes around the bird in the pan. Drizzle with olive oil and season with salt, pepper and a pinch of herbes de provence.
Cook from 1 hour 15 minutes or until juices run clear when you insert a knife between the leg and thigh of the bird. Remove bird from pan, cover with aluminum foil and let rest for ten minutes. Then cut and serve.
Ina Garten's recipe included making a pan gravy with the drippings but the chicken was tender enough and tasty enough that it was not required. That, and I didn't have any white wine in the house which was required for the recipe.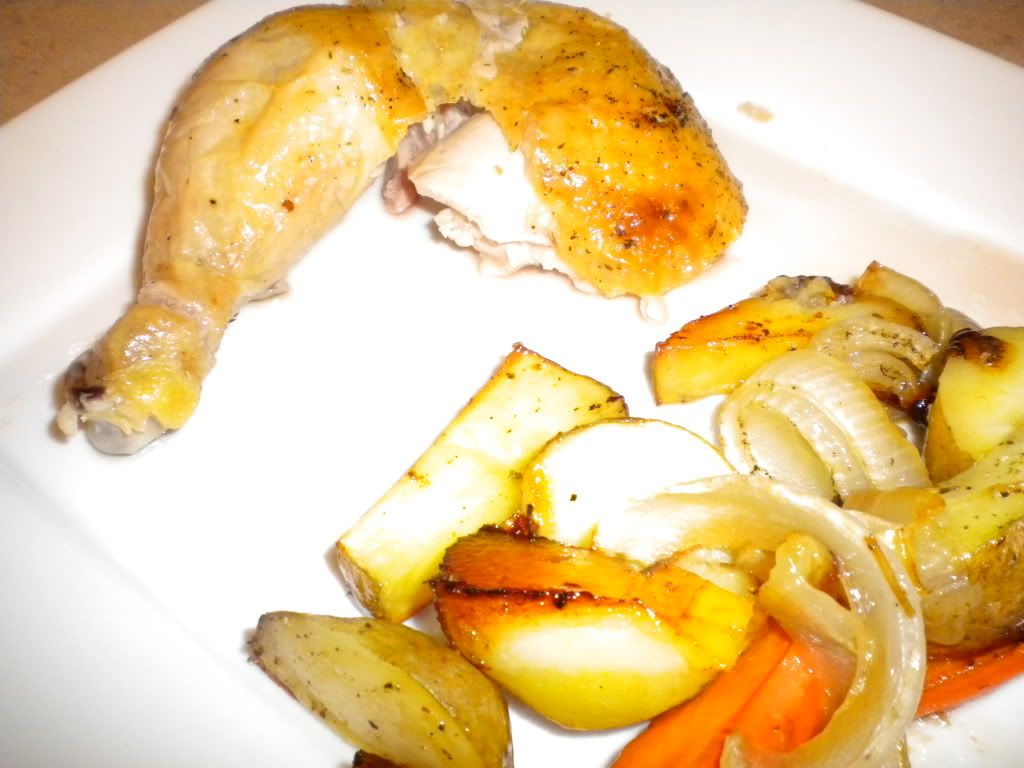 Have you ever roasted a whole chicken before? How did it turn out?
P.S. I just wanted to say a little thank you to all of my readers, new and old! Because of you, I can cross off another goal off of my 130 list (that of fifty followers). You all are seriously the best :) Happy Monday everyone!