Last night we made what may become a new favorite in our house, garlic and greens pasta. Another winner from our new favorite cookbook
Great Easy Meals
from the Food Network Magazine, we modified this recipe slightly to use up some more of the Napa cabbage from this weekend but any leafy green will do!
Ingredients:
16 garlic cloves, thinly sliced--about 1 large head of garlic
1/3 cup extra-virgin olive oil
2 medium onions, halved and sliced
1/8 teaspoon red pepper flakes
Kosher salt
12 cups torn winter greens such as kale, chard, escarole or mustard greens about 2 1/2 pounds--we used Napa cabbage from our Farmer's Market trip this weekend!
1 lb. whole wheat pasta
1/4 cup grated pecorino romano cheese
Kitchen supplies:
Large stockpot
Large skillet
Slotted spoon
Paper towel or part of a brown paper bag
Tongs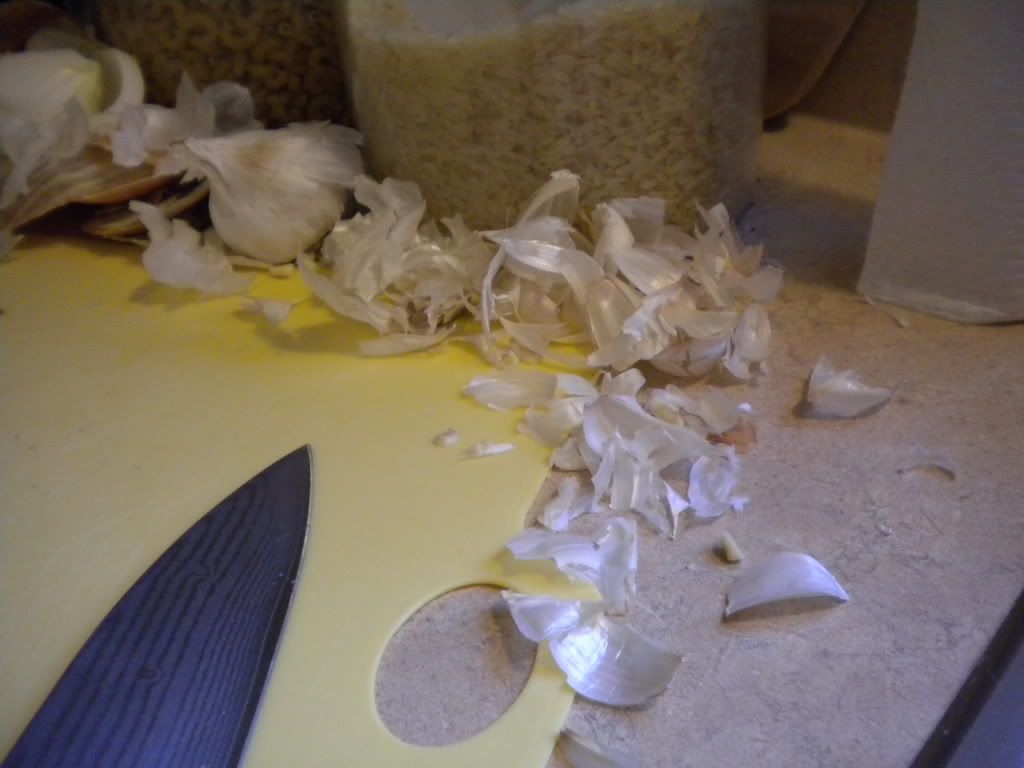 Garlic peels
Bring a large pot of salted water to a boil. Meanwhile, cook the garlic in the olive oil in a large skillet over medium-high heat, stirring occasionally, until golden brown and crisp, about 3 minutes. Be careful not to overbrown the garlic or it will taste bitter. Using a slotted spoon, transfer the garlic chips to a paper towel (or brown paper bag) lined plate. Add the onions and red pepper flakes to the oil in the pan; cook, stirring, until the onions are light brown, about 10 minutes. Season with 1 1/2 teaspoons salt.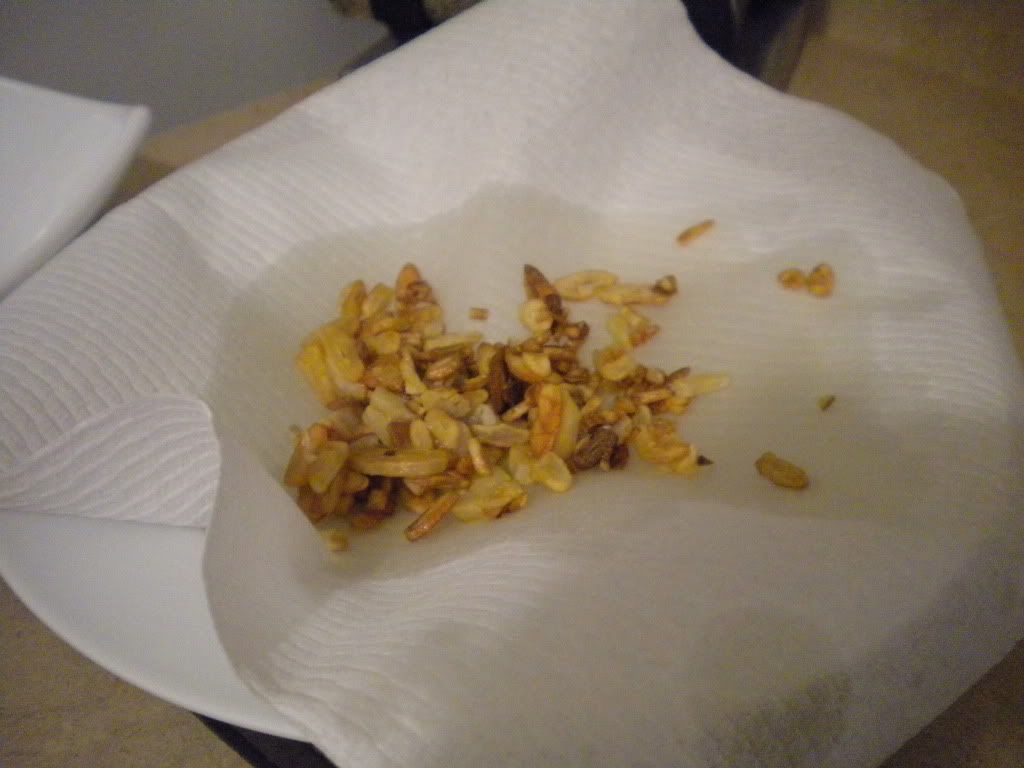 Garlic chips
When the onions are almost done, add the greens to the boiling water and cook, uncovered, until just tender about 2 minutes. Using tongs, remove the greens, shaking off the excess water; add them to the skillet with the onions (set the pot of water aside). Cook, stirring occasionally, until tender, about 5 minutes. If you are using napa cabbage or a slightly less dark green, you can skip this blanching step. We did and 5 minutes in the skillet with the onions was enough to wilt the greens.
Return the cooking water to a boil. Add the spaghetti and cook until al dente, 8 to 10 minutes. Remove and reserve about 1 cup cooking water; drain the pasta and return to stockpot. Add the cheese and toss. Add the greens and some of the reserved pasta water and toss, adding more water as necessary to keep the pasta from clumping. Top with garlic chips.
Serves: 4
This is a simple yet delicious recipe and one where you won't miss meat at all! The original recipe called for regular pasta but we substituted whole wheat so that we could eat more of it guilt-free. I have leftovers with the chips stored separately to prevent them from getting soggy waiting in my fridge for lunch today for
WIAW
with Jenn at
Peas and Crayons
and I'd be willing to bet that the leftovers will be just as good as dinner last night!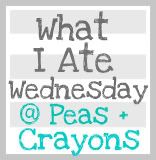 What are you eating this Wednesday? Are you a garlic fan like me or do you tend to stay away from its pungent flavor?