Over a year ago, our kitchen pantry looked like this.
At the time I bought a variety of baskets from the Dollar store without much consideration of how they would fit and what function they would serve inside our pantry. Most of them never worked quite right and because of this, it didn't take long before our pantry was a disaster area again. I could never find ingredients I could have sworn we had and every time we open it, I prayed something wouldn't fall on my head. Nice, right? This weekend I decided to do something about it.
That's really how our pantry looks. I'm a little embarrassed to show this on the blog!
I began by taking absolutely everything out of the pantry, tossing expired products into the trash can as I went. We had more expired items in there than I realized, enough to fill one recycling bin and two trash cans! Then I began assessing what items we had left. Most of them were dry goods such as cake flour, lentils, pinto beans, and so forth. That's when inspiration struck me. I remembered seeing
Jenn
use labeled mason jars in one of her posts on her blog
a home in the making
and decided that was the route for me too!
I had a few small mason jars on hand because my grandma often uses them to send me home with food when we come to visit so I decided to experiment with some of my smaller items first. I poured the green split peas and whole grain wild rice into the two jars (I had a little under half of a small bag of each) and labeled them with some labels I had lying around the house leftover from our wedding. For the whole grain rice, I also wrote down the preparation instructions since I was throwing the bag that had the original instructions away. Inspired and excited by how it looked, I quickly counted up how many additional jars I would need and hopped in the car. $11.00 dollars and a trip to the grocery store later, I had 16 large mouth Mason jars ready and waiting to be filled and labeled.
Then I remembered seeing large rectangular plastic jars on clearance at Target earlier that week. I often troll the clearance sections of Target just to see what's available. At the time I had thought, these would be perfect for pastas like spaghetti and cereals. At 4.99 a jar (down from 9.99) they were a good deal but at the time I wasn't sure I needed them. After cleaning out the pantry, I realized I could in fact use them. After the grocery store, I made a beeline for Target and hoped that the jars were still there. Lucky for me, they were! I grabbed three of the taller ones and one smaller one and headed back to the house to put everything back together.
Once I had filled and labeled everything (I also put expiration dates on the labels where applicable so we wouldn't be consuming spoiled or stale food) I surveyed the land before putting things back in its place. Three things I knew I wanted to accomplish were finding a better place for our kitchen drying towels since many of them ended up on the floor or stuffed behind things never to be found again, getting our KitchenAid stand mixer off of the counter and making our staple ingredients (rices, beans and other dry goods as well as our oils and vinegars) more visible. Our poor stand mixer had taken quite the beating as I was constantly wiping flour and other sticky substances off of it since it was directly in front of one of our main food prep areas. I also discovered in the process of cleaning everything out that we had two honey bears of honey and three rice wine vinegars (one was expired and was immediately thrown out). This can be attributed to the fact that I could never find anything and when I thought we were out of something, really I just couldn't find it in the mess of our pantry.
To accomplish this, I decided to move some of our lesser used kitchen items like J's coffee roaster and coffee supplies, our blender and our fondue pot off of our microwave cart and put them in the pantry. This freed up space for the stand mixer as well as all of the mason jars that were filled with non-baking related items and the cereal/pasta bins and still left room for bread. Bonus!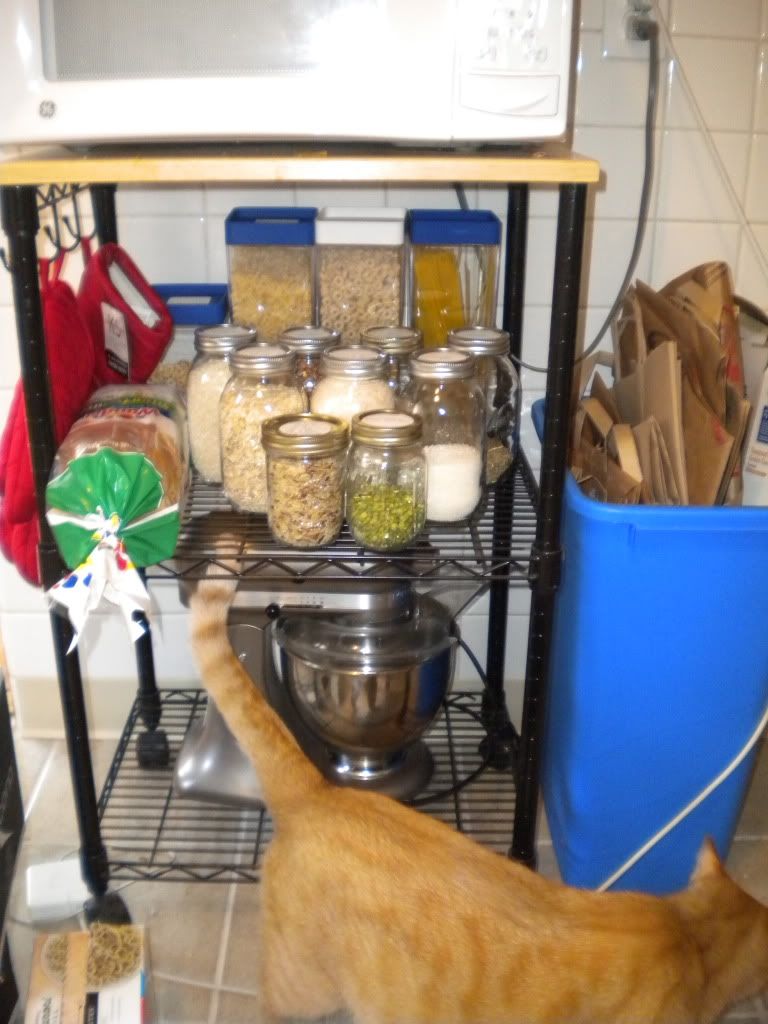 Woods inspects my progress
Next I grabbed one of the green plastic bins from before (one of three that made it back into the cupboard) and placed all of our kitchen towels (the ones that were clean anyway) in them and placed them in the bottom of the pantry. I also placed our lunch boxes and another green plastic bin down there and filled it with the leftover dry goods that wouldn't fit in the jars. Eventually as we use up what is in the jars, I can refill with these bags and get rid of them too.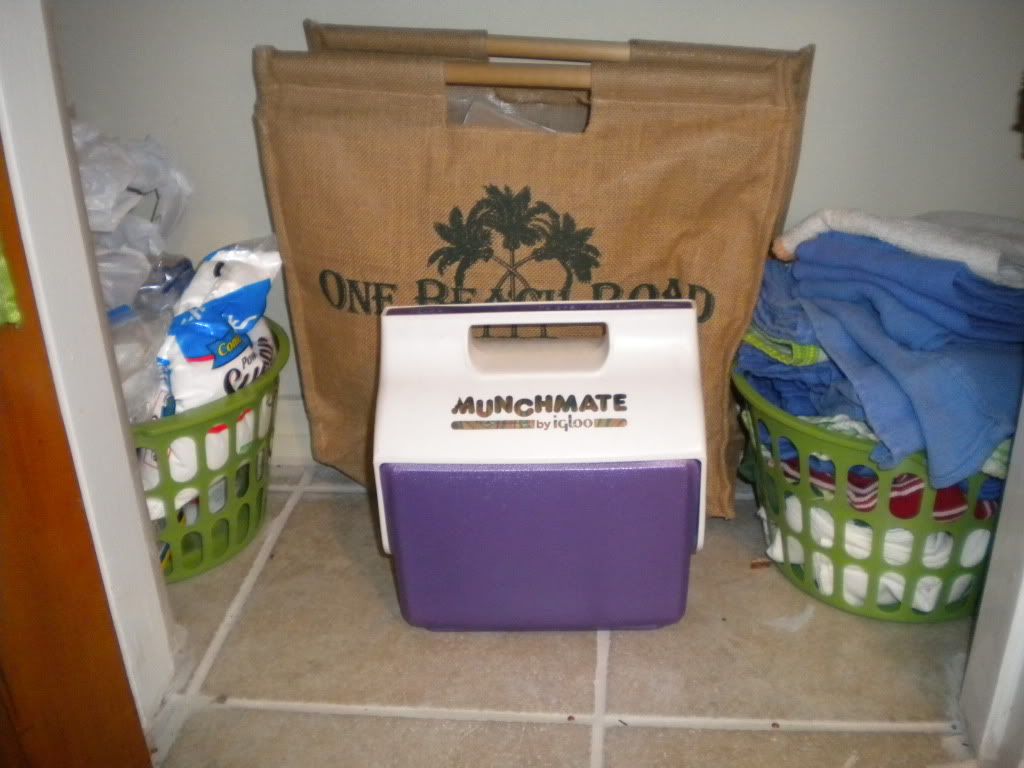 The burlap bag corrals some paper bags for art projects, groceries, etc.
Then I started to work my way up the shelves. The next shelf now stores J's coffee roaster and other coffee paraphernalia as well as our rice cooker and some of our cookbooks. I stacked the cookbooks this way for some visual interest and to make it easier to find the one I'm looking for. Who says a kitchen pantry can't be pretty as well as functional!
The next shelf holds all of our oils and vinegars which I tried to group together matching like with like (all the oils together, all the vinegars together, and so forth). It also houses the base to our blender and the six Mason jars that are related to baking (cake flour, whole wheat flour, chocolate chips, coconut flakes, etc.).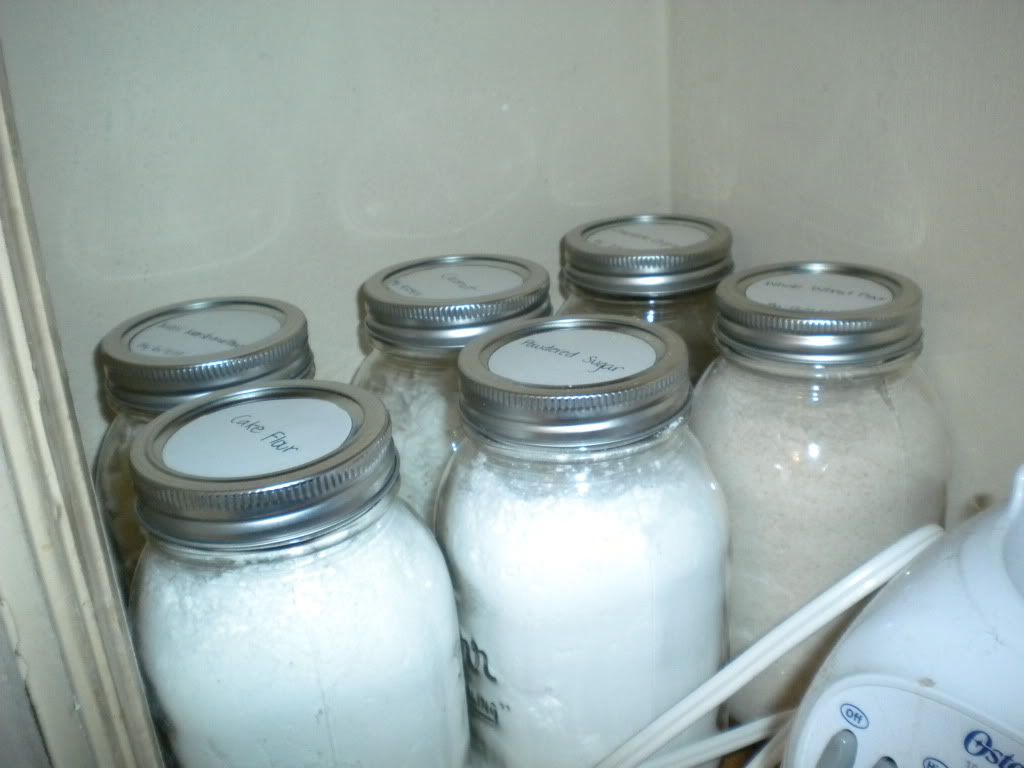 As you can see, the shelf after that holds the rest of the cookbooks and some other pantry items.
The yellow bin holds some more baking related materials such as vanilla extract, baking soda, baking powder and food coloring.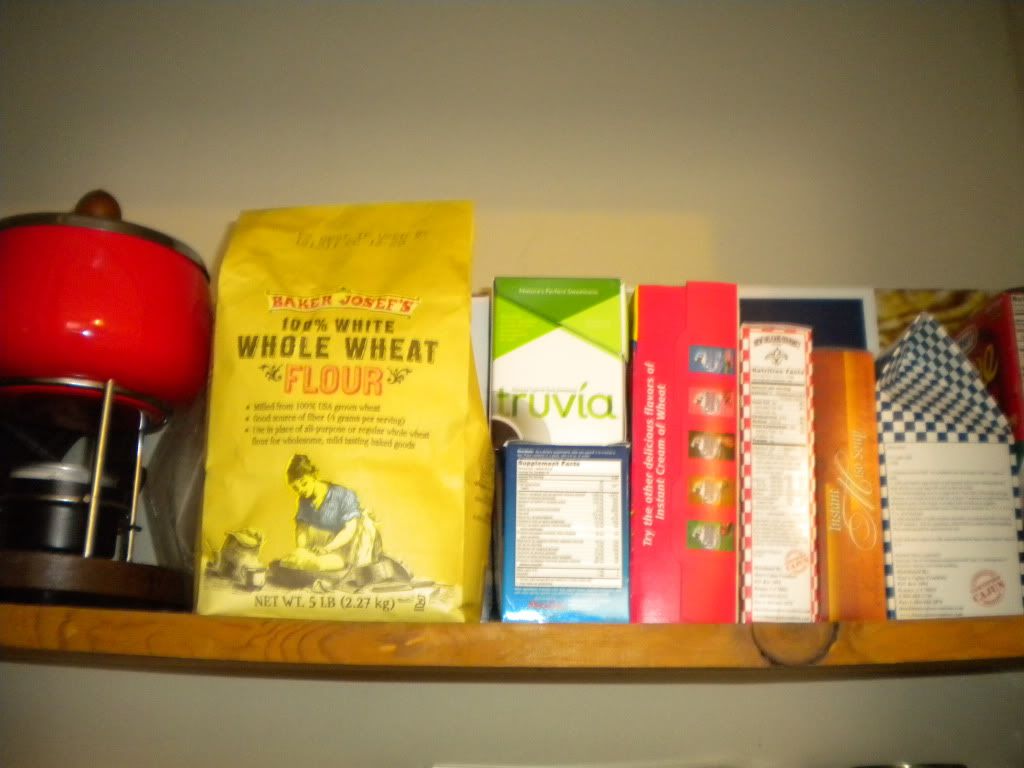 The final shelf holds some bigger pantry items as well as our fondue pot.
Here's a look at the whole pantry.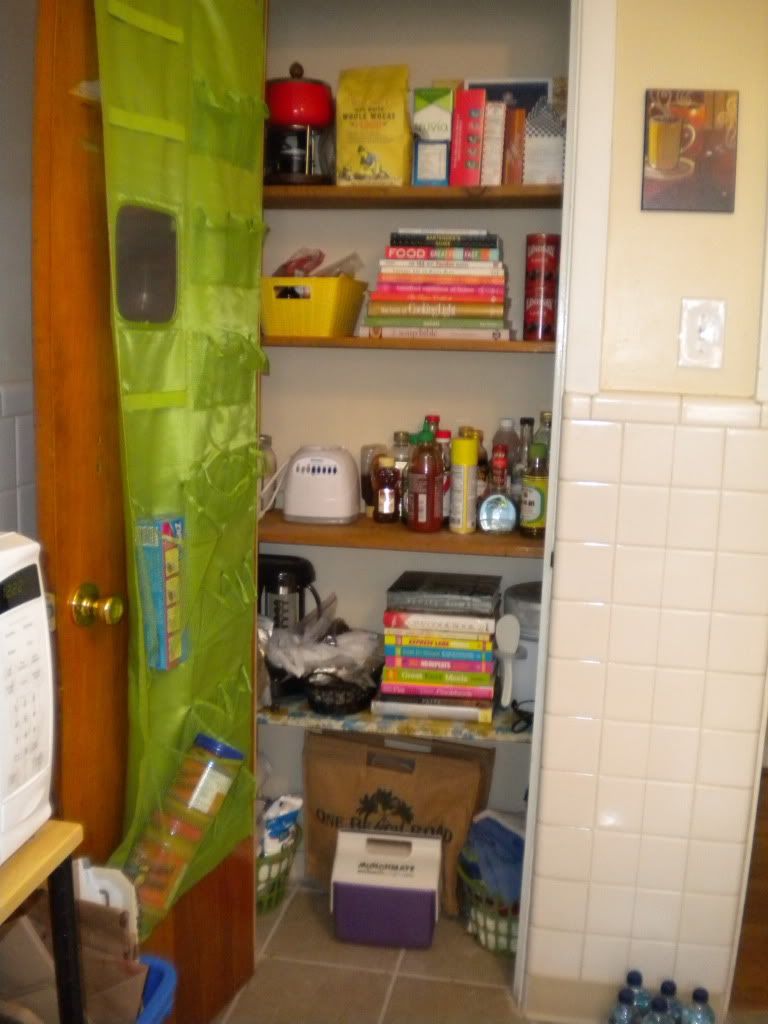 Much better right?
After a few days I still love the new organization and have (surprise, surprise) been working harder to put things back in their place after I use them! Seeing everything clean and organized has definitely made me want to reorganize other areas of our house which is good because I have quite
the list
to get through in the next two weeks!
Have you done any major cleaning or reorganizing lately? Got any tips or before and afters to share? I'd love to hear about it!