I hope you all had a great weekend! Ours was cold and rainy but fun. I came across a Barnes and Noble gift card I didn't know I had (love it when that happens!) and bought a
few
new
books
thanks to a buy two, get one free sale and spent part of the weekend getting lost in Tudor England.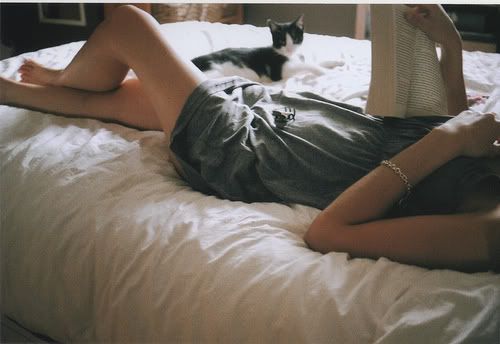 This cat reminds me of my childhood pet Cricket! Image via weheartit
When I wasn't reading or cooking up a storm, I was spending time with
Ashlee
, JY, Danielle and Kyle and celebrating Ashlee's graduation from her Master's program. Let's just say all that regalia made me want to go to graduate school. Badly.
Switching gears, I've recently changed the way I respond to comments on the blog and wanted to share my thoughts on the subject. I love comments (who doesn't?!) and have been trying to figure out the best way to respond to them and communicate with you all. I thought about using Disqus (
these
lovelies
use it and they seem to work really well) and other options before deciding to reply to individual comments via email. Many blogs I comment on reply to my comments this way and I love it when a response pops up in my inbox! Will receiving fun, non-spam, non-work related emails ever get old?
For this to work, however, an email address must be associated with your Blogger account or else when I hit reply, the only email address listed is noreply@blogger.com which means my message isn't going anywhere which is sad! Kristin at
A Guide to Living Graciously
has a great
tutorial
complete with screenshots on how to associate an email address with your account and it is something that only took me a few minutes to change!
It also has occurred to me that we completely skipped over April's BBC book! April was a very busy month for me and while I did read the book, I never got around to hosting the discussion. A few of you have been asking about this month's book but before we go any further, I thought I'd gauge interest in the BBC as a whole. If you belong to the BBC, do you want to continue to join us for discussions? Would having longer to read the books be helpful? What type of books do you prefer: ones you can easily find at the library and check out for free or the latest best sellers?
If you do not belong to the BBC, would you ever consider joining us? What has held you back before now? Is there something I can do to make being a part of the group easier?
I can't wait to hear what you all have to say and respond to your comments :)
P.S. We received our wedding album this weekend and a complete reveal post with photos will be posted soon--I can't wait to share them with you!