After
celebrating
late into the night on Thursday night, we woke up early to head to J's graduation. My mom, dad and grandparents picked me up around 6:20 to head to campus, find parking and secure a spot for graduation itself. Because my grandpa is in a wheelchair, we were able to park at the law school and take a golf cart over to the main ceremony which was on the other side of campus.
We got fairly good seats and we were even able to reserve some for J's mom Brenda, Jimmy and Jenny. The main commencement ceremony was held in a large grassy quad just outside Brookings Hall, the oldest and possibly most iconic part of Washington University's campus. New this year, the university lined the quad with flags from all of the students' home countries. This provided some great entertainment as we all tried to associate the flags with their countries.
Image by Melissa Marte-Nordsieck
The best part was that our seats were very close to where J and the rest of the class were lining up to process into the ceremony. J carried one of the three banners for the law school class and represented his class during the commencement ceremony by coming on stage and receiving his hood from the faculty rather than his classmates. This made him easy to spot in the crowd and I got some great pictures. When I walked over to where they were lining up, I called J's name and snapped a quick photo. I felt full of pride and love when I saw J turn to his friend, smile and say "That's my wife." Yes I am and there is no other title I would rather have!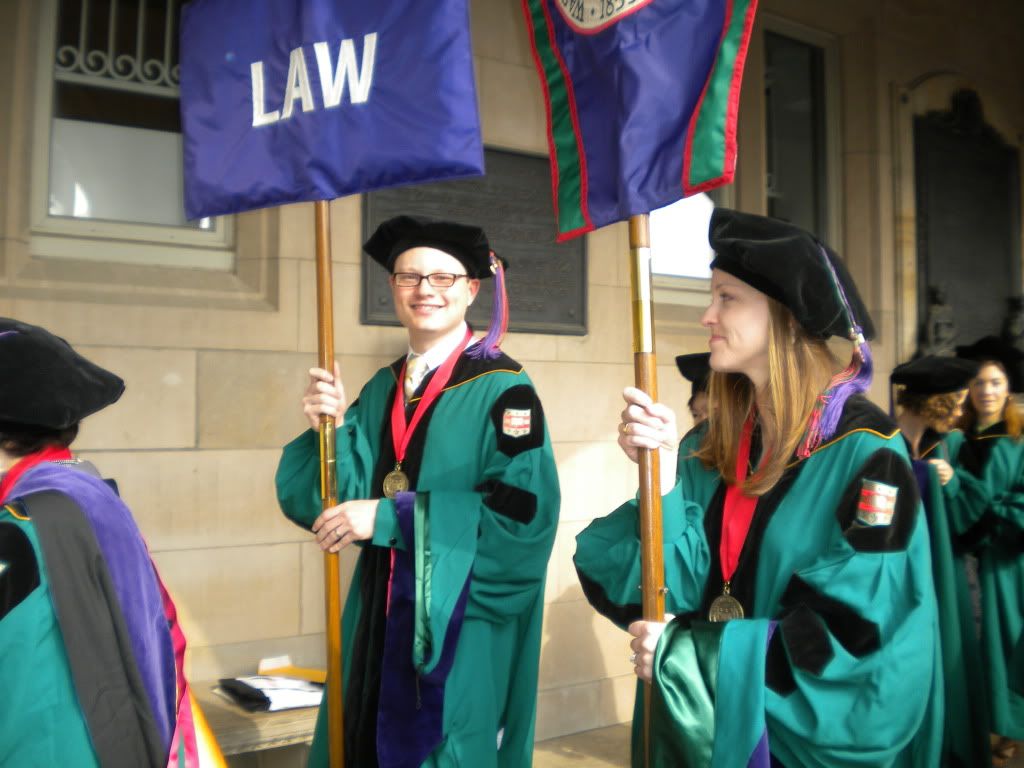 The school banners via Melissa Marte-Nordsieck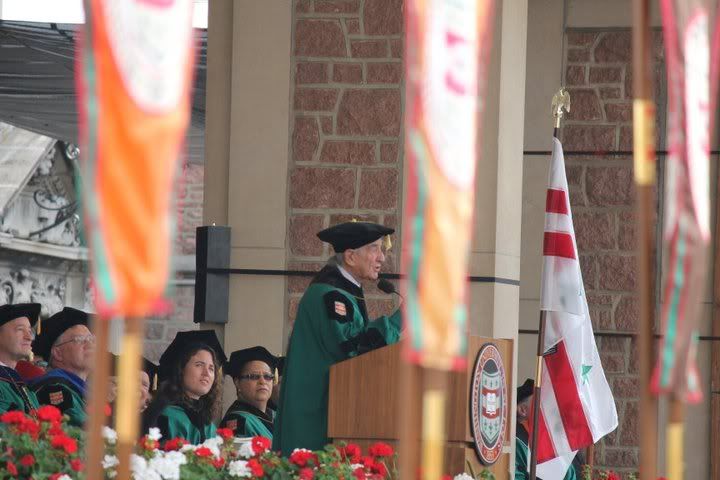 Commencement speaker Elie Wiesel via Melissa Marte-Nordsieck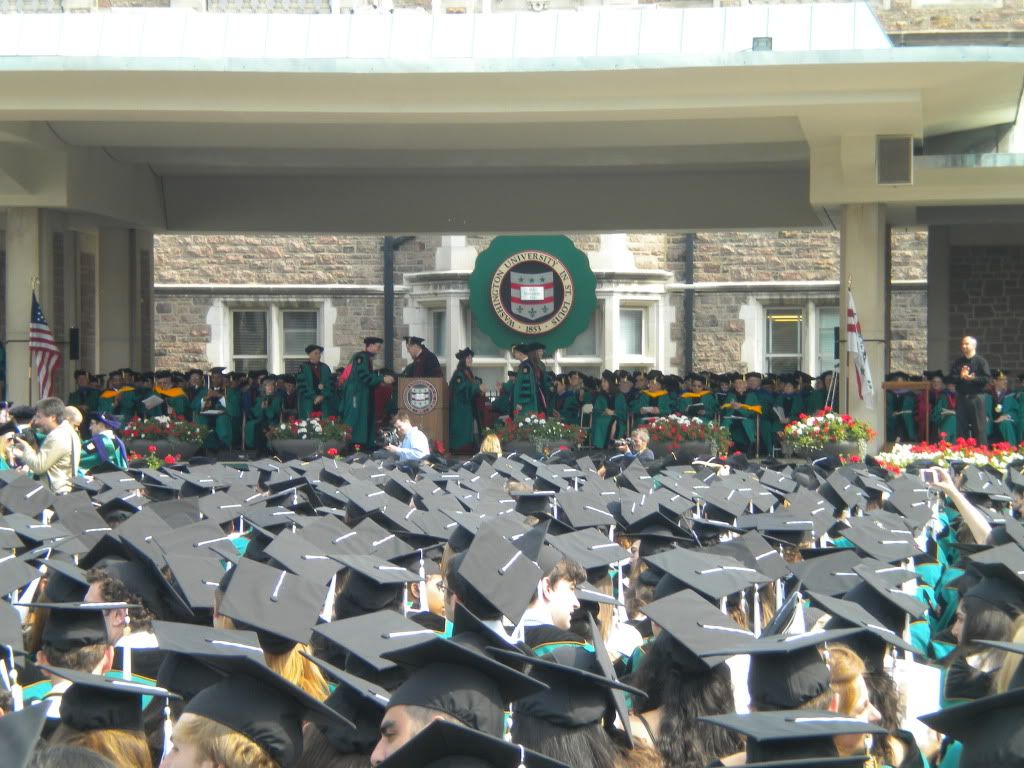 J on stage representing the law school class
Following the main commencement (which at 2.5 hours from start to finish ran a bit long for my taste), the law school had a separate ceremony where each graduate got to walk across the stage and receive their diploma. Because J was a marshal in the commencement activities, we had reserved seats near the front. However with all of the people trying to leave the quad at the same time, we barely arrived in time to watch them process in (my dad and grandpa actually missed the beginning because of the large crowds)! The law school ceremony was much shorter and more exciting as we watched J and our friends graduate and receive their diplomas.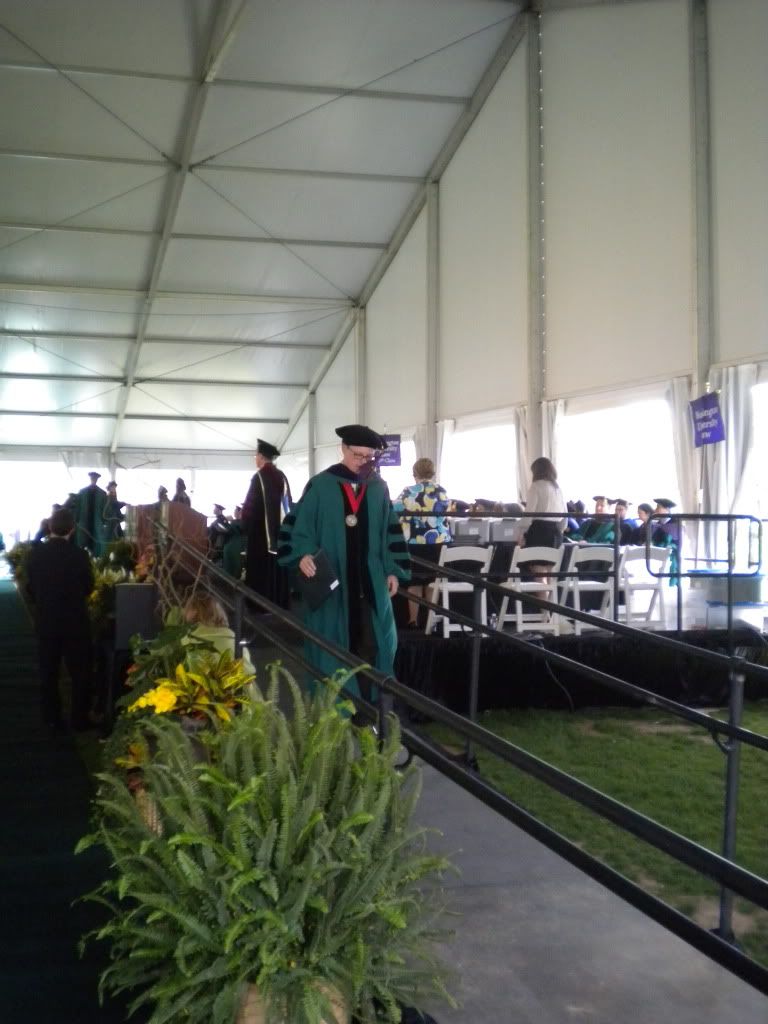 J after receiving his diploma
Stopping for my dad to take a picture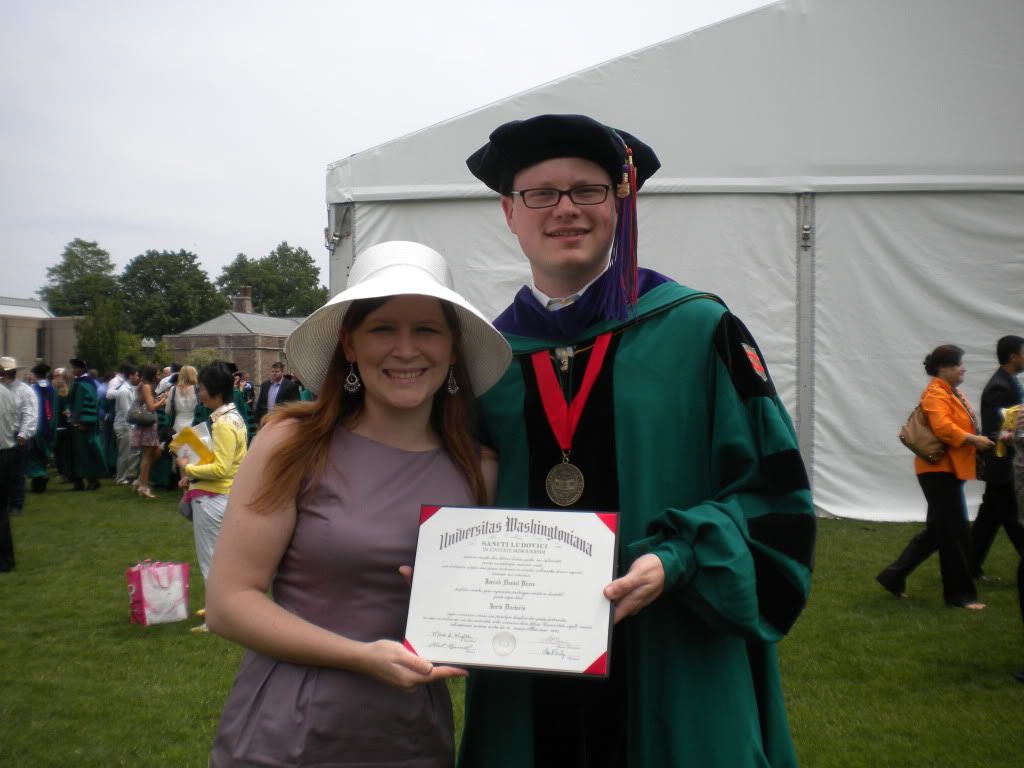 J and I posing with his diploma--written entirely in Latin!
The law school then arranged for a reception for all graduates in the law school building with three floors of food available (the food was the same for each floor) and lots of available classrooms for the graduates to celebrate with their family and friends. This was a great way to talk to everyone before they went their separate ways with their families for the day!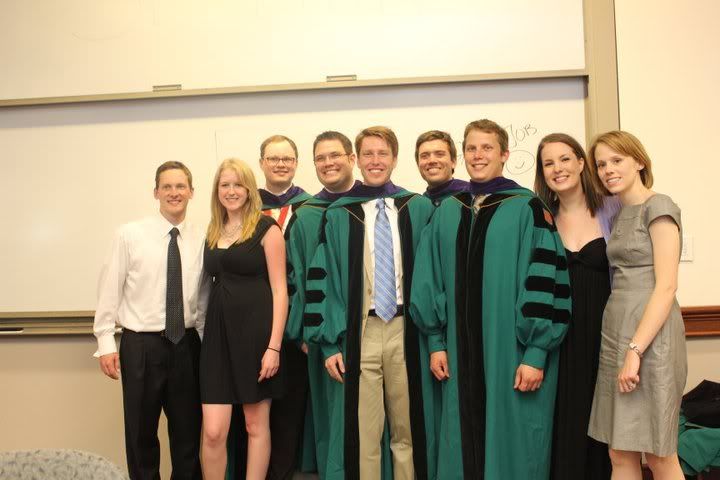 The law school crew via Melissa Marte-Nordsieck
After leaving the law school, everyone headed back to their hotel rooms for a nap and J, my dad and I headed home. J and my dad don't really take naps so they volunteered to go to Cosco to buy steaks, potatoes, salad, bread, wine and beer for dinner that night. They returned with a grill for us as a graduation/belated house warming gift and we could not be more excited to grill out all summer long. We capped off the night with some great New York strip steaks and lots of love and laughter!
During the ceremony, we tried to brainstorm some ideas of things we needed to bring for future graduations. I thought I would share them here so you can benefit from the lessons we've learned over the years--this is our third graduation in four years and we have two more on the horizon!
Here they are:
Wear a fabulous hat--hats shouldn't just be reserved for royal weddings and the Kentucky Derby!
Bring an umbrella, just in case
Bring sunscreen
Bring bottles of water
Make sure you eat breakfast or bring a portable one
Bring magazines or crossword puzzle to work on
Seat cushions are a must. You will be sitting for long periods of time in uncomfortable chairs--your backside will thank you :)
Wear wedges or flats--getting stilettos stuck in grass over and over is no fun!
Bring your camera and make sure your batteries are fully charged!
What would make your "must bring" list for graduation? Like us, do you have some graduations in your future? Let's hear it!