I have several ideas for blog posts floating around in my head and none of them are really long enough or fully developed enough to stand alone, so I thought I would combine them into one post today. I apologize in advance if this post is a little all over the place--hopefully you will be able to follow me!
First, a little weekend recap:
Friday:
Celebrated J finishing law school with his law school friends over lunch at Mi Ranchito
Continued celebrating after I got off work first at Mi Ranchito (they were still there!) and then at a friend's house and finally at a bar in Soulard that had a tab for 2Ls and 3Ls (second year and third year law students) courtesy of the Student Bar Association
Topped off the night with some late night breakfast at Uncle Bill's Pancake House
Saturday:
Got woken up early by this character, never mind we got home at 2:00 am on Saturday mornings
Since we were up, we watched some TV we had tivo'ed from Friday night before heading to the Farmer's Market in Ferguson
While we were there, we bought three heads of Napa Cabbage and a dozen farm fresh, free range brown eggs--all for $6.00!
Since it was still early (darn cat) we decided to check out the Tower Grove Farmer's Market as well. There we bought a bunch of gorgeous red radishes for salads this week and checked out their other wares.
We spent the rest of the afternoon lounging around watching TV and napping before watching The Kentucky Derby
My pick didn't win but I think Animal Kingdom has great promise as a potential Triple Crown winner!
We made lemon-green garlic spaghetti for dinner with some of the green garlic we got last week at the Farmer's Market
Sunday:
Again got woken up early by Woods (are you sensing a theme here?)
Made bacon and eggs (fresh from the Farmer's Market) for breakfast before power cleaning the apartment
Wiped down all counters, cabinets and baseboards and swept and Swiffer-ed the floors which I can now cross off my to do list!
Scrubbed the shower in the bathroom--another to do list item complete!
Rewarded ourselves for cleaning the apartment by going out to lunch at a local Vietnamese restaurant, Pho Grand
Started watching a new-to-us show, Weeds, on Netflix Instant. Eight episodes later and we are hooked which is good considering we are almost caught up with Mad Men and need a new show to watch!
Made turkey burgers (topped with avocado and whole cranberry sauce) and an oil and vinegar slaw using some of our radishes and Napa cabbage for dinner
Talked to my mom and learned she got a brand new Smart car convertible for Mother's Day!
Watched the Detroit Red Wings game with some friends before playing a round of Scattergories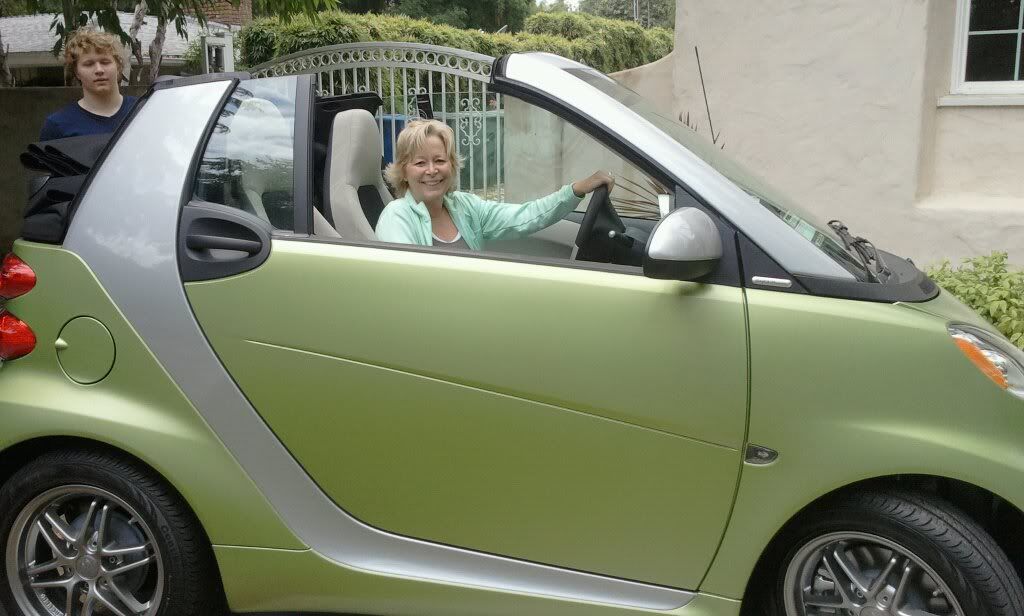 My mom (and brother Alec) with her new Smart car!
Next, a little note to my mom. I've read so many beautiful and touching letters to moms this weekend and while I talked to her yesterday, I thought I would write a more in-depth note to her here as well (since I am better at expressing myself on
paper
err computer and I know she reads the blog)!
Mom, there are hardly words to describe how thankful and blessed I am to have you in my life. I could write volumes and volumes but for now, here are a few things I am especially thankful for today:
For giving up your career to be at home every day with us.
For making me a big sister. One of my most cherished roles in life is that of a sister. Thank you for making this possible!
For always making family a priority, even family who lived far away. I have wonderful relationships with my grandparents, aunts, uncles and cousins because of your dedication to putting family first.
For Sunday night dinners and late night conversations.
For rides in the car, sometimes with a purpose and sometimes without one, where I could always share my thoughts, dreams, successes and failures with you.
For making me go to Church each Sunday even when I didn't want to.
For driving me to the barn multiple times a week for my riding lessons even if it meant you were in the car most of the day between all of us kids' activities.
For taking such good care of Pal for me when I was in college and for being there when he died and I couldn't.
For giving me the freedom to move back to the Midwest to be with J and for driving my car across country with me--twice!
For being such an integral part of the wedding planning process and for your enthusiasm when I would call daily to update you on wedding planning!
For giving me my dream wedding and for all the work you did to make it run smoothly. It was the best day of my life and I couldn't have done it without you.
For giving me your looks and height--I didn't always like being 5'2" growing up but I love that we look so much alike!
For walks with the dogs, sushi lunches, reading books by the pool, getting our nails done together and all the things that make our relationship special.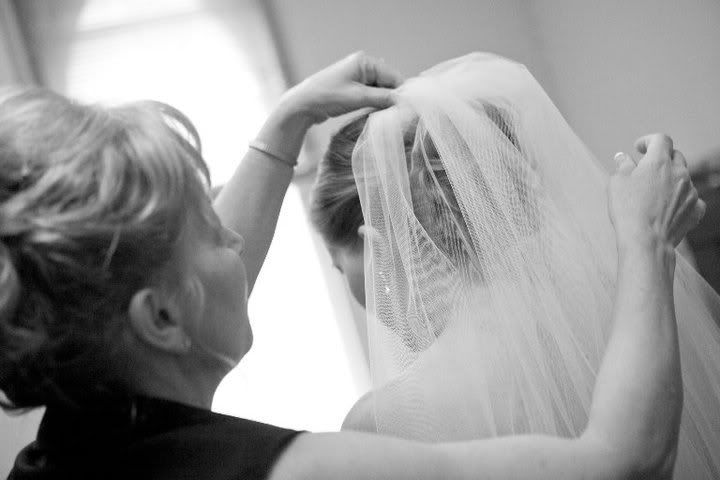 My mom and me at our wedding last June
I only hope one day I can be half the mom you have been to me!
Our song, The Best Day by Taylor Swift
I'm five years old and it's getting cold
I've got my big coat on.
I hear your laugh and look up smiling at you
I run and run.
Past the pumpkin patch and the tractor rides
Look now the sky is gold.
I hug your legs and fall asleep on the way home.

I don't know why all the trees change in the fall
.
I know you're not scared of anything at all.
Don't know if Snow White's house is near or far away
But I know I had the best day with you today.

I'm thirteen now and don't know how my friends could be so mean
.
I come home crying and you hold me tight and grab the keys.
And we drive and drive until we found a town far enough away.
And we talk and window shop till I forgot all their names.

I don't know who I'm gonna talk to now at school
.
But I know I'm laughing on the car ride home with you.
Don't know how long it's gonna take to feel okay
But I know I had the best day with you today.

I have an excellent father
.
His strength is making me stronger.
God smiles on my little brother.
Inside and out he's better than I am.

I grew up in a pretty house and I had space to run

And I had the best days with you.

There is a video I found from back when I was three
.
You set up a paint set in the kitchen and you're talking to me.
It's the age of princesses and pirate ships and the seven dwarfs.
Daddy's smart and you're the prettiest lady in the whole wide world.

Now I know why all the trees change in the fall
.
I know you were on my side even when I was wrong.
And I love you for giving me your eyes.
Staying back and watching me shine and I didn't know if you knew.
So I'm taking this chance to say that I had the best day with you today.
Finally, some Menu Monday goodness! All of this week's recipes have been taken from our new Food Network
cookbook
. Here's what is on our menu this week:
Monday:
Vegetable Stir-fry with Bacon
Tuesday:
Garlic and Greens Spaghetti
--photos and recipe to follow!
Wednesday:
Chicken with Apple, Onion and Cider Sauce
Thursday:
Udon Noodles with Tofu and Asian Greens
--photos and recipe to follow!
How was your weekend, friends? Did you watch the Kentucky Derby? Have you discovered any new shows we should be watching? What's on your menu this week? Tell me everything--I'm dying to know what you've been up to!