I can't believe J's graduation weekend is already behind us! It was such a fun and busy weekend full of family and friends and one that we won't soon forget. Before we get into the details of Friday's graduation and the rest of our weekend events, I have photos and details from our graduation open house on Thursday.
My mom arrived at 1 pm on Wednesday and after a delicious sushi lunch
here
, we went to the grocery store to pick up a few things for the dinner the next day. Soon J's mom Brenda and her friend Jenny arrived, as did J's dad, step mom and sister Cheyenne. We spent a few hours catching up and enjoying some cocktails before Brenda, Jenny, my mom, J and I walked to
Dewey's
for a late dinner. Their specialty pizza that night was Taco pizza complete with hot sauce, shredded lettuce and crushed tortilla chips--needless to say, it was delicious! We also used our sleeper sofa for the first time as all three girls (Brenda, Jenny, my mom) spent the night.
The next morning J had a graduation training so we got up early and headed to Trader Joe's to pick up a few more things for the party in the form of chips, salsa, mini pitas, hummus, assorted veggies, and some pretty sunflowers for the table. When we got home we put away the food and began prepping for the party that night. Our schedule for the rest of the day would be hectic (lunch with everyone at Snarf's, pedicures, another graduation training for J, Academic Excellence reception) so we tried to get as much done as possible ahead of time. This included cutting up/washing all veggies, cutting the rolls in half (for the BBQ sandwiches), cutting our lemon twists for the mixed drinks, and getting out all of our serving ware for the evening.
Showing off our pedicures--my foot is the one in the silver sandal
We also washed any dishes that were dusty or new and using post-its, labeled each of them with what dish we would be using them for. This is a tip I learned from my mom and she learned from my aunties Les and Rita who are great party planners and it really makes a dinner party run smoothly! No running around trying to find serving platters while your food burns or gets cold and it is very useful if you have guests who volunteer to help get food on the table! Unfortunately, my camera battery died during this preparation so I don't have any pictures of this part of the planning process. Bad blogger bad. All this preparation was definitely necessary because while the open house was originally scheduled for 7:00 pm, most if not all of our guests arrived around 5:30 after the Academic Excellence reception ended early!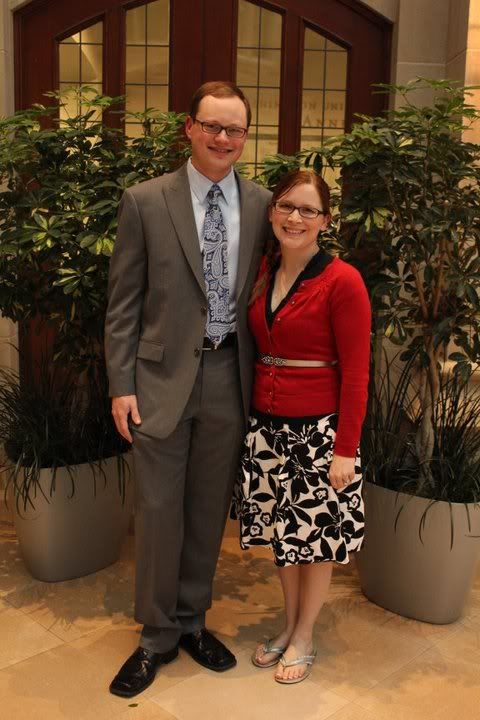 J and I at the Academic Excellence reception
To keep things simple, I bought mostly prepared ingredients (frozen toasted ravioli, Trader Joe's pizza dough and Gooey Butter Cake to name a few) and we let the crock pot help us cook the pork roast all day long so it was fall off the bone tender. A few of the items listed in
this
post did not end up making our final menu like frozen custard and penne with vodka sauce because we had plenty of food without them and with only one oven trying to cook toasted ravioli, pizza and penne would have been too difficult.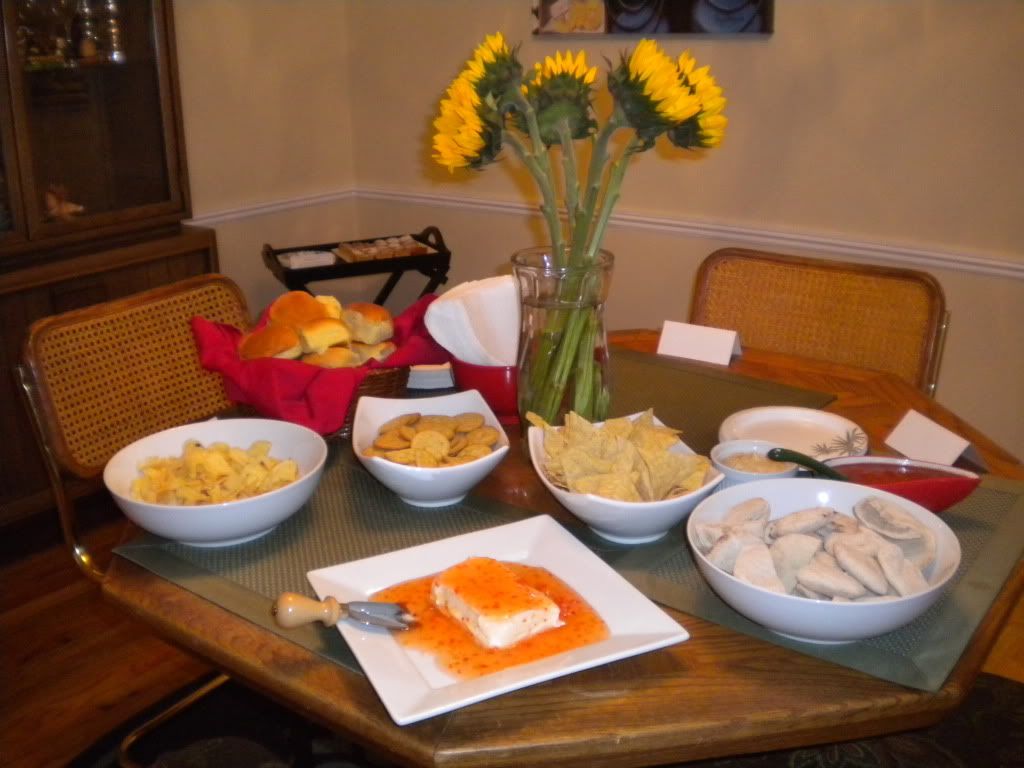 The spread--minus pizza and BBQ sandwiches which were still cooking at the time this photo was taken!
I did make little cards describing the dishes we served with a little fun fact or explanation of why we chose the dish. I created the cards on Microsoft Word and used J's school colors for the borders. These added a bit of whimsy to the table and we all learned something that night, almost without even realizing it!
Here are some photos of a few of them: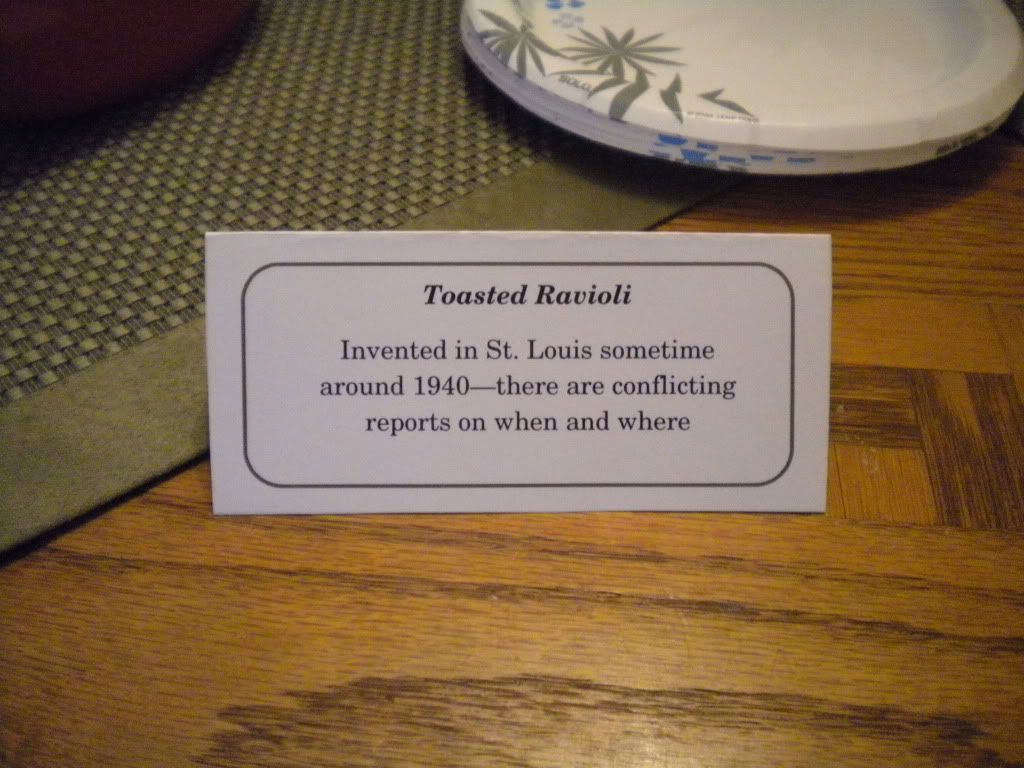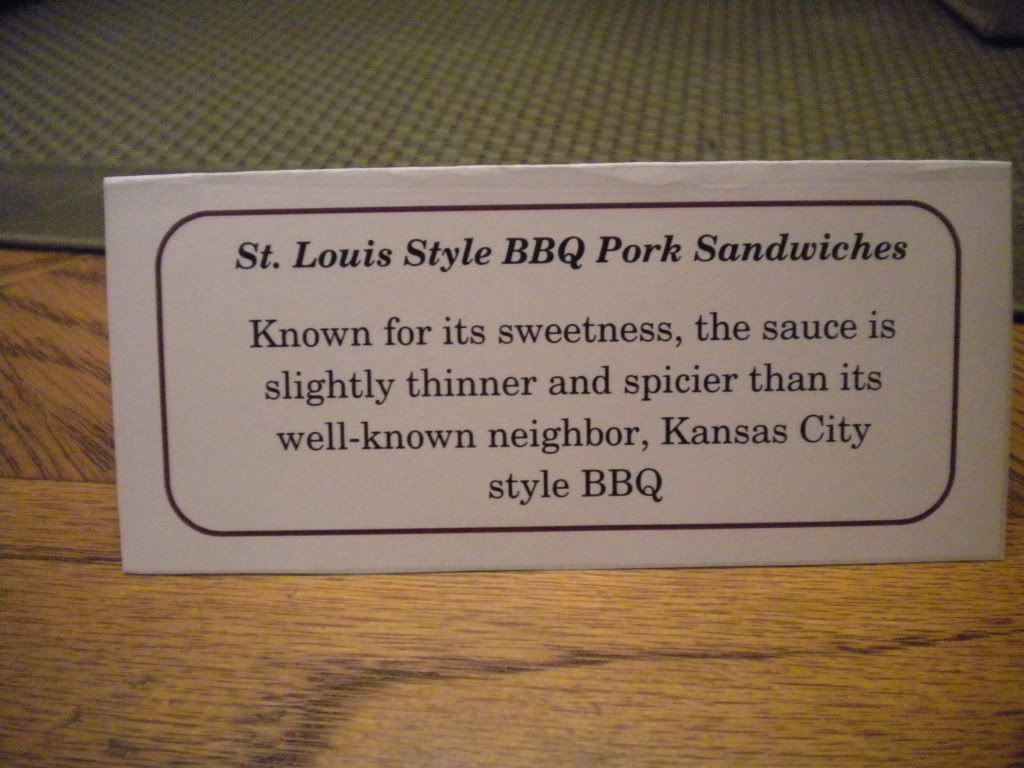 Because this is a lengthy post with little party planning tips buried beneath lots of text, I thought I would summarize them for you using bullet points. Plus, what would one of my recap posts be without bullet points?
Wash all serving ware and lay them out wherever you will be serving the food--buffet, table, kitchen counters
Label each piece of serving ware with post-its with the names of what will be served in each of them for easy set-up
Prep vegetables and anything else that can be done in advance early in the day so you are not scrambling the hour or so before your guests arrive
Be flexible--if all of the elements you have planned for your meal don't work out (for example there was no way we could bake all of the menu items at once with our small oven) don't be afraid to scratch one of them
Don't be afraid of pre-made ingredients--they will save you time, in some cases money, and your sanity so that you are able to relax and enjoy your party!
Say yes to help--if your mom or best friend wants to bring a dish or offers to help you with the dishes before they leave, let them!
Buy fresh flowers, either cut or potted--fresh flowers can make a big impact for very little money (our sunflowers were only 3.99 at Trader Joe's). If you use potted flowers, you can send them home with the guest of honor!
Light candles, especially one or two in the bathroom, for ambiance
HAVE FUN!
Do you agree with my list? Any tips you would add? What's your party planning secret?!
Spill it!