Today's WIAW post brought back a lot of memories from my childhood as well as reminded me that my
Remember When Wednesdays
(RWW) posts have gone somewhat by the wayside. I've decided to combine the two today and share both what I'm eating today as well as what I'm reminiscing about!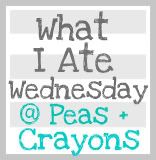 As I mentioned in
this
post, last night J and I made
walnut-lentil burgers
. This time I made them into smaller patties and served them in a pita pocket shell. We also stuffed the pitas with some organic baby arugula that I bought for our grilled shrimp tabbouleh tomorrow. If you ever make this recipe (and you really should!) I definitely recommend making smaller patties and serving them in a pita pocket. Our mixture went a lot further this way (think dinner and two days worth of lunches for two people) than it did before and you feel full but not overly stuffed when you are finished. Pair this with a simple salad (we did a quick pickling of cucumbers, grape tomatoes and yellow onions) or some hummus and raw veggies and you are all set!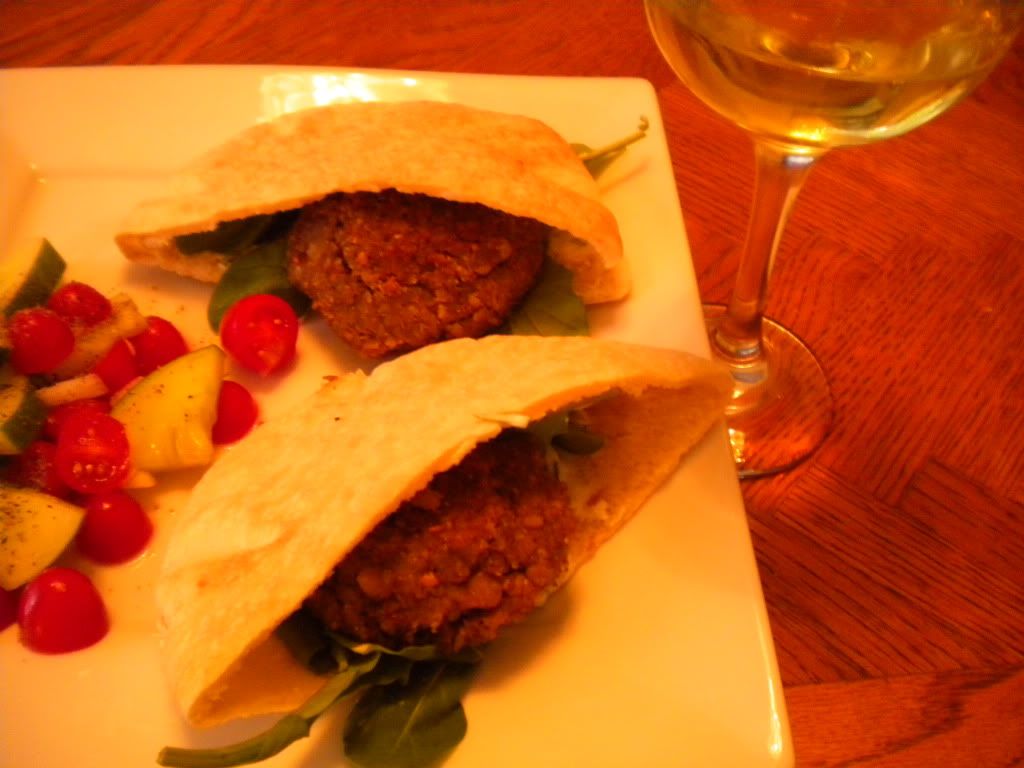 Perfect summer meal!
Well that's what we had to dinner last night and WIAW is about what I ate today, so here are those details! While J and I were cooking last night, we also made a big batch of my
grandpa's gazpacho
. With the forecast in the 90s all week, it will be great to have a cold soup to go to when we just don't feel like turning on the stove or oven! I made the soup last night even though according to our menu, we are having it tonight for dinner because I have a work event tonight and wanted to have something for J (and later me) to eat this evening. However, the smells coming from our large stockpot this morning tempted me into eating a bowl with lunch along with a leftover walnut lentil burger.
Woods slept while J and I enjoyed lunch together
Yummy walnut-lentil burger
Which brings us to RWW. Eating spoonful after spoonful of the tasty gazpacho triggered a food memory for me, one that goes back as far as I can remember.
You see, my grandpa makes gazpacho every summer while we are up at
Feirin De
in Michigan. First he gets out all of the knives in the house (even the ones he won't use for the gazpacho) and sharpens them, grating away a year's worth of buildup and dullness. Then he gets out all of the ingredients and methodically, one by one, adds them to a large metal pot. He tastes the mixture as he goes, adding a little more lemon juice, Tabasco or horseradish as needed. Sometimes this is done outside on the picnic table by the pool in the shade of our big pine trees and other times it's done in the farmhouse kitchen in the main house. No matter what, when he is done tinkering, it goes into the refrigerator where it sits and marinates for at least twelve, oftentimes twenty-four hours, before we eat it.
The pot is freezing cold to the touch when we pull it out the next day and ladle it into soup bowls topped with a few crunchy croutons, along some sort of sandwich (my favorite is braunschweiger--something I only ever eat in Michigan). Some years we have friends and neighbors come over for lunch to share the meal with us, other years it's served after a round of golf. No matter what, the taste is always delicious: cold, smooth, tangy and crunchy. A bowl of gazpacho for me is summer and family on a spoon!
An old picture but a good one of my grandparents and parents golfing in Michigan
What are you eating this Wednesday afternoon? Anything you are feeling particularly nostalgic about? I'd love to hear all about it!