After a relaxing but warm weekend (temps stayed at 90 degrees or above all weekend), J and I wanted to make something tasty but cool to keep the heat in the kitchen to a minimum. We also wanted to use some of the produce we had picked up at the Ferguson Farmer's Market this weekend.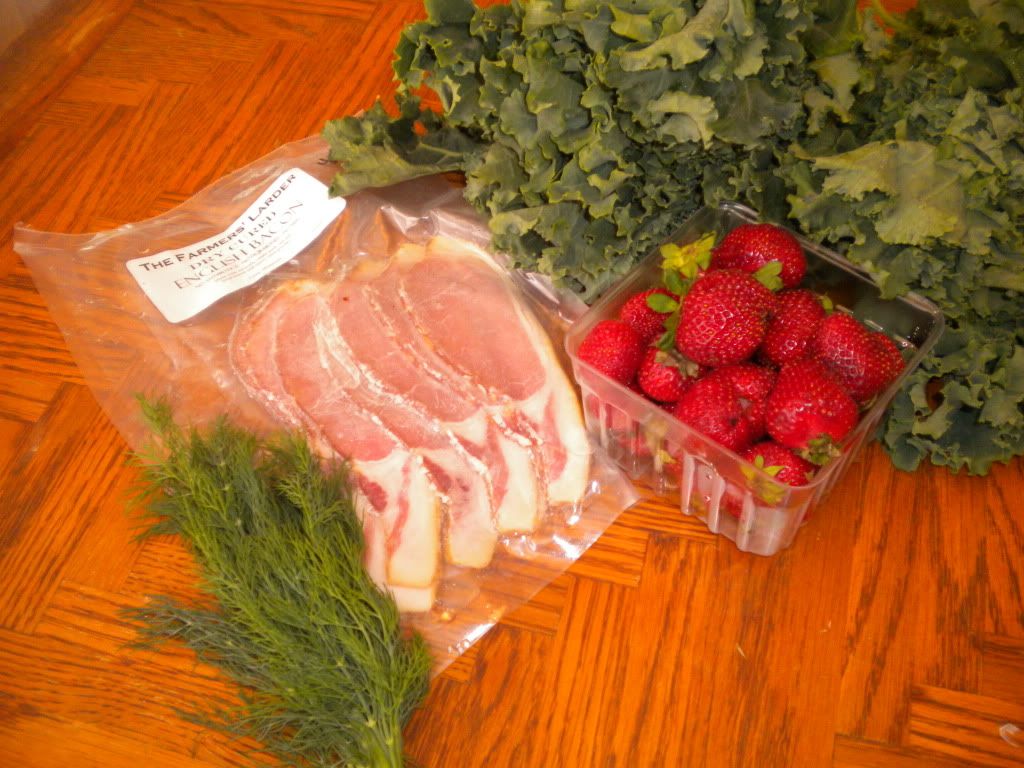 This week's wares from the Farmer's Market
The result was the following menu:
BLAT (Bacon-Lettuce-Avocado-Tomato) sandwiches with London bacon from The Farmer's Larder
Massaged Kale with bunches of kale from the FM
J's Deviled Eggs with Dill--with dill and eggs from the FM; so called because he hates mayonnaise and I modified the recipe to omit the offending ingredient!
Dutch Apple Pie--we used apple pie filling I had made earlier and froze for less sweat in the kitchen, even though we did have to turn on the oven (375 degrees) for a while!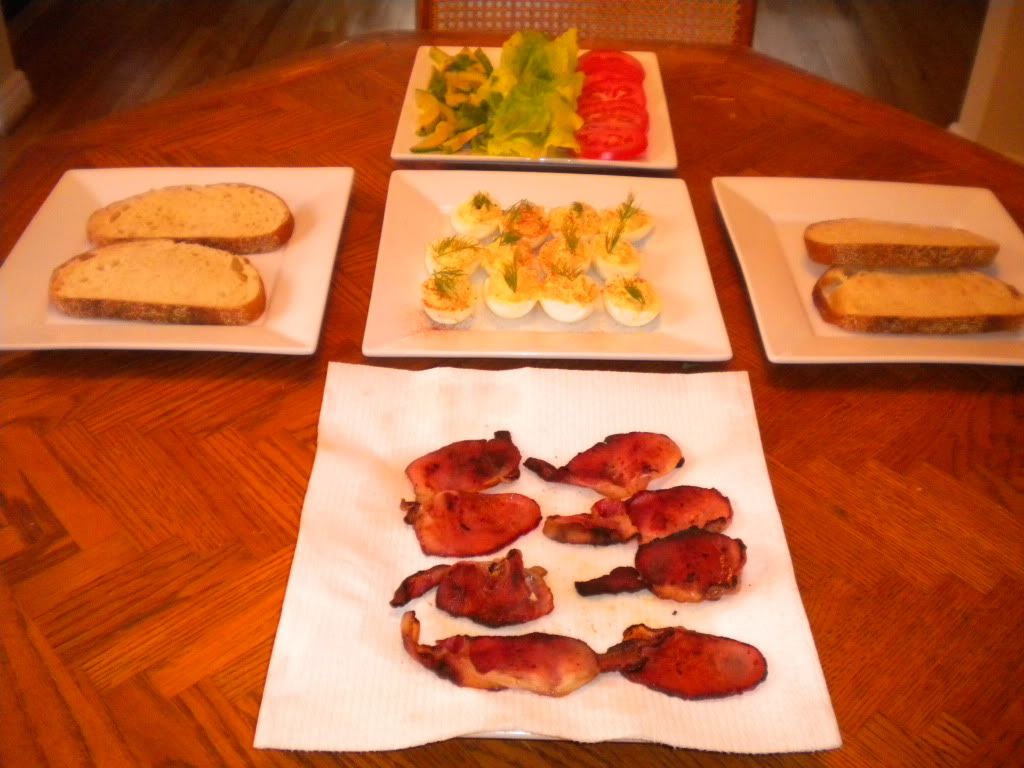 The spread minus the kale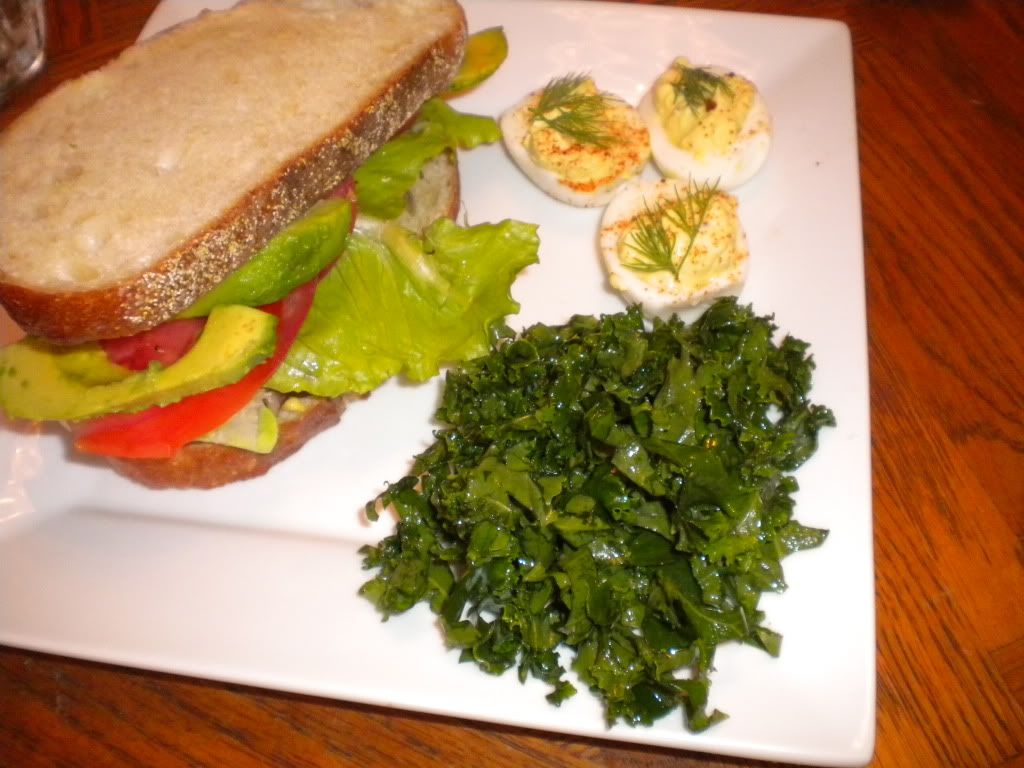 Yum! Look at all those greens :)
The London bacon was thick, smokey and salty and cooked up much faster (and with much less grease) than you can find in the grocery store, not to mention that the meat was local and sustainable! I splurged (at 2.99) on some good bread, sliced Italian bread from Trader Joe's, since we were using such high quality ingredients in the dish. The result was delicious and perfect for a summer picnic or you know, dinner inside with the A/C on a Sunday night!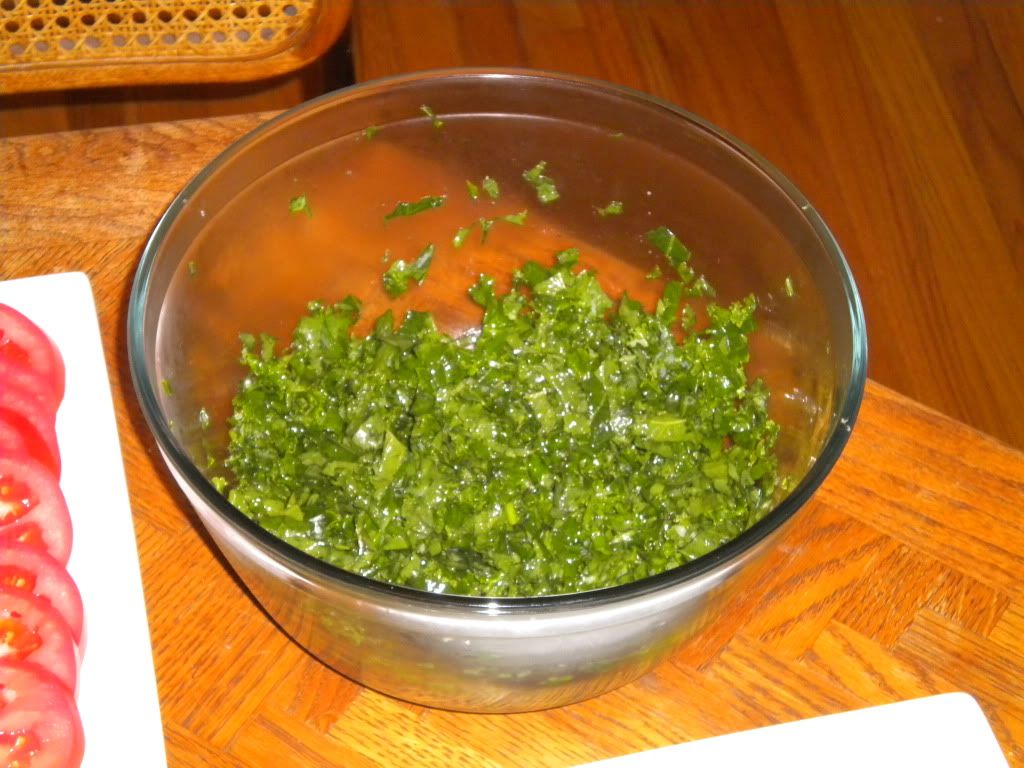 Massaged Kale, modified from
Aarti Sequiera
of Aarti Party
Ingredients:
1 bunch of kale, stalks removed and discarded, leaves thinly sliced
Juice of 1 lemon (believe it or not we still have lemons from my parents' tree that they brought with them to graduation!)
1/4 cup olive oil
2 teaspoons honey
Freshly black pepper
Kosher salt
Kitchen Supplies:
Large bowl
Small bowl for collecting lemon juice
Cutting board
Sharp knife
Juicer (although a fork would also work)
Whisk
In a large bowl, add the kale, half of the lemon juice, a drizzle of olive oil and a little kosher salt. Massage until the kale starts to soften and wilt, about 2 to 3 minutes.
Meanwhile whisk together remaining lemon, honey and lots of black pepper. Then stream in 1/4 cup of olive oil in small bowl or ramekin, whisking to combine. Pour dressing over the kale, toss and serve.
We let the kale marinate in the refrigerator for fifteen minutes or so while we pulled the rest of dinner together, which worked great as well! Aarti's original recipe calls for one mango (cubed) and a few handfuls of pepitas to finish it off which would also be a nice touch.
Serves: 4
J's Dill Deviled Eggs, modified from
The Taste of Home
Ingredients:
6 hard cooked eggs
2 teaspoons cider vinegar
1/2 teaspoon Dijon mustard
1/2 teaspoon grain mustard
1/3 teaspoon Worcestershire sauce
2 tablespoons Greek yogurt
Salt
Pepper
12 sprigs of fresh dill
Paprika, for dusting
Kitchen Supplies:
Medium pot, for boiling eggs
Measuring spoons
Knife
Spoon
Small bowl
Place eggs in medium pot and then cover with water by approximately one inch. Heat on high until the water starts to boil and then remove from heat, cover and let sit for 15 minutes. Rinse under cold water and peel.
Cut eggs in half lengthwise and spoon out the yolks into a small bowl. Mash them. Add vinegar, mustard, Worcestershire sauce, Greek yogurt and salt and pepper and mix until smooth. Place a spoonful of the mixture in each egg and top each one with a sprig of dill. Arrange on plate and sprinkle with paprika.
Serves: 4 (3 eggs each)
Speaking of food, here is what is on our menu for the rest of the week:
Monday:
Orecchiette Salad with Mint and Roast Beef
Kale Gratin
--to use up the rest of our kale bunches from the FM; photos and recipe to follow!
Tuesday:
Chorizo Brats with Grilled Avocado, topped with pico de gallo
--photos and recipe to follow! We had this over the weekend poolside and it was out-of-this-world good. I can't wait to make it again and share the recipe with you!
Wednesday:
White Clam Pizza
--photos and recipe to follow!
Thursday:
Pea, Leek and Prosciutto Risotto
--you know the drill. Photos and recipe to follow!
Friday:
Anniversary Dinner, Part 1: Linguine with Mussels and Clams and Pink Champagne Cupcakes
--To celebrate our first wedding anniversary (official date: June 12th) I am recreating part of a meal we had here while on our honeymoon in Napa Valley. The pink champagne cupcakes (which we served as one of our wedding cake flavors) will take the place of our cake topper since we did not save it after the wedding last year!
Saturday:
Coffee with JDP
Picnic lunch of salami, olives, french baguette and cheese
Anniversary Dinner, Part 2: Dinner at a restaurant in Ste. Genevieve for a little weekend getaway; location TBD
What's on your menu this week? If you are married or in a long term relationship, how did you celebrate your first anniversary? What did you get your significant other? I have a few ideas but mum's the word since J reads the blog :)
P.S. KT's Refinishing School is now on Facebook.
Like
my page and be sure to let me know in the comments if your blog has a page so we can be friends!