After visiting the lighthouse, we got into the car and drove the few miles to the outskirts of Hannibal to visit the Mark Twain Cave. The cave is actually part of a cave complex with two cave systems, Mark Twain Cave and Cameron Cave. The Mark Twain Cave was discovered in 1821 and Cameron Cave in 1925, making them the oldest and youngest show (or tour-guided) caves in Missouri respectively. Visitors can tour one or both of the caves and we opted for the Mark Twain Cave tour because
a) it was shorter (55 minutes versus 1 hour 30 minutes which given the fact we arrived at 4:30 would make for a later night out for us early birds)
b) it was cheaper
c) there was no wait (we would have had to wait until the 5:00 tour for Cameron Cave).
During the tour, our tour guide shared with us a little history of the cave and later, parts of the story of The Adventures of Tom Sawyer and the time Tom Sawyer and Becky Thatcher got lost in the cave. Mark Twain is said to have modeled the caves in his stories after the Mark Twain Cave that he would have explored himself as a child.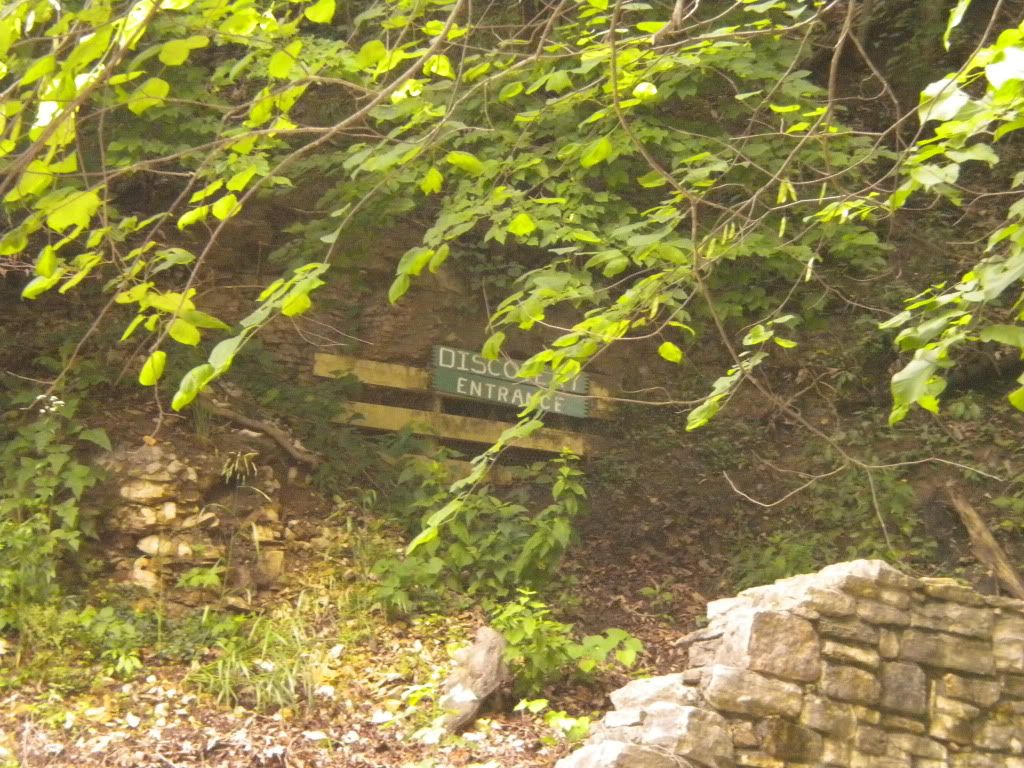 The original entrance, found in 1820 by a boy and his dog
This photo shows the ash years and years of flame powered lanterns have left on the stone.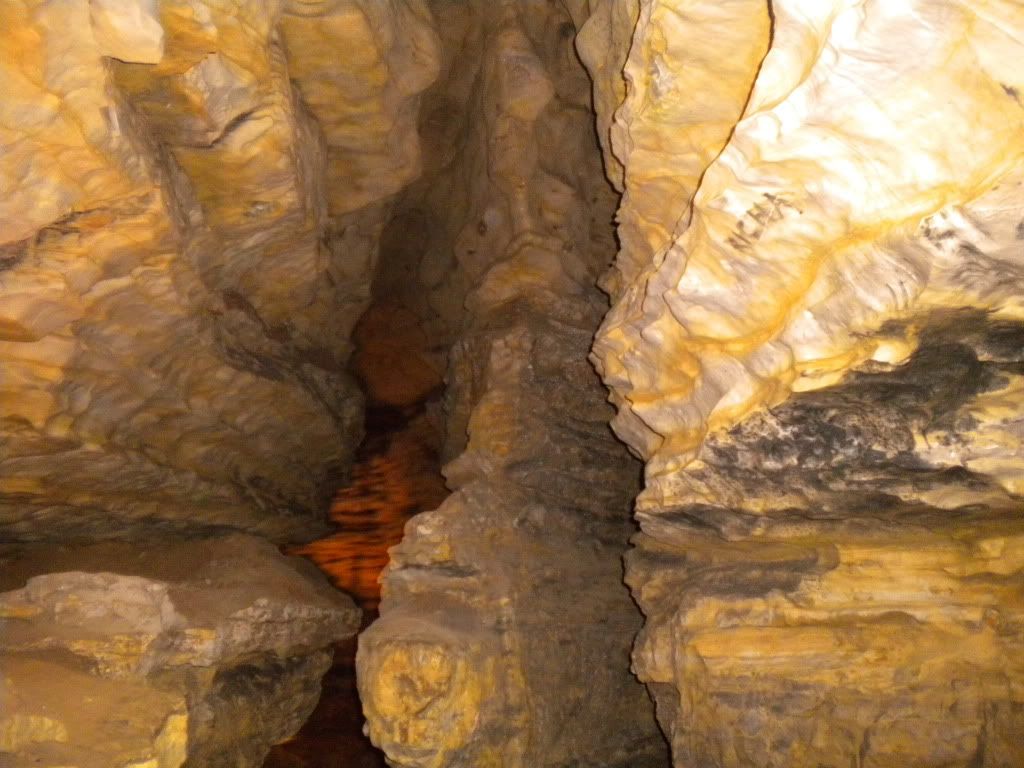 One of the more narrower passageways in the cave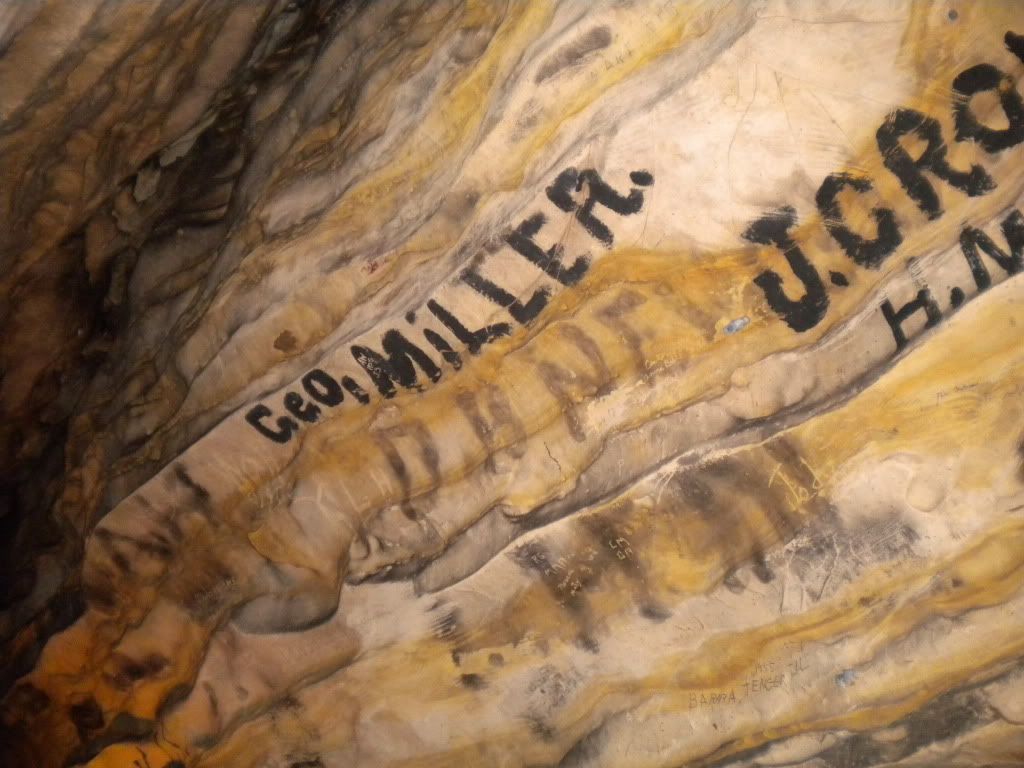 Prior to becoming a National Natural Monument, people wrote or otherwise carved their names into the cave walls.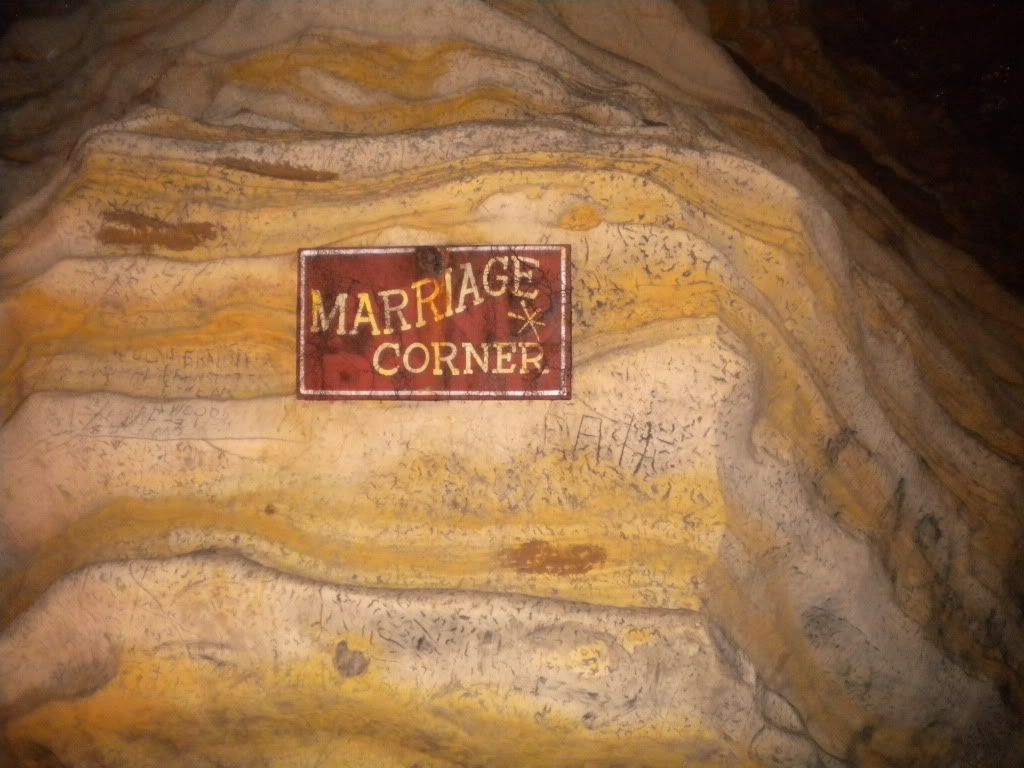 In the late 1800s a local resident was married here. Since then there have been six marriages in the cave.
After our tour, we headed over to the wine tasting room on the property to try some local wines. While on the way, we stopped to whitewash some fences for good ole Tom Sawyer.
For 3.95 a person, we each tried six wines and got to keep the glasses. Pretty good deal, huh? We tried their dry wines and were pleasantly surprised with their quality--sometimes with wines, local isn't always better (at least when it comes to sweet Missouri wines) :) So much so that we bought a bottle home as a souvenir!
After we finished our tasting, we stopped by Lover's Leap on the way back to the hotel. Many towns have spots like this where two star-crossed lovers (in this story two native Americans from warring tribes) took their lives rather than be separated. It provided great views of downtown Hannibal and the river.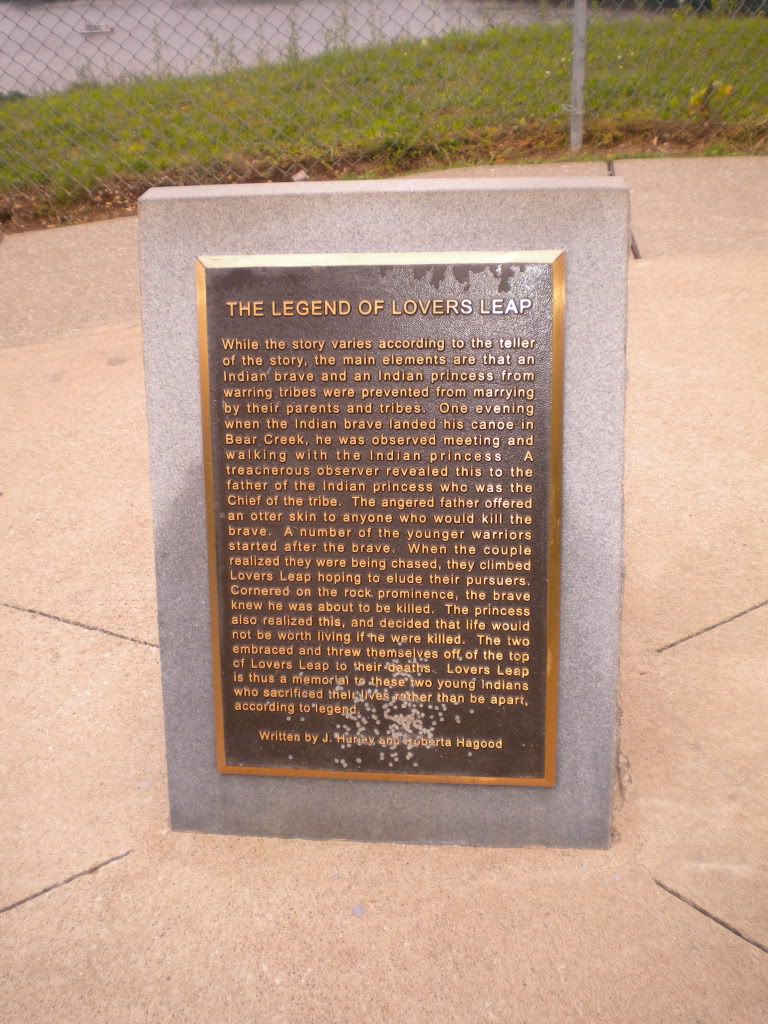 The legend
River view complete with riverboat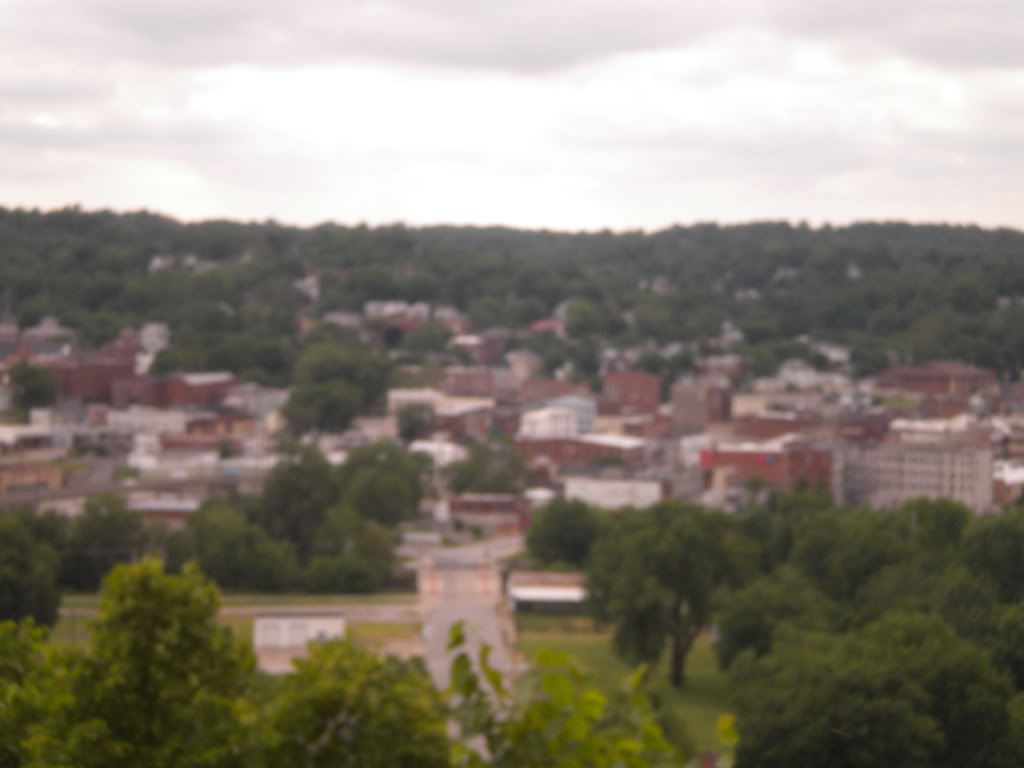 Once back in our room, we dressed for dinner and opened the bottle of champagne we had brought with us, a graduation gift to J from his former boss in Omaha who now lives in Napa Valley. It was delicious!
In my research last week I had found a local restaurant I really wanted to try called LaBinnah Bistro. I wrote down the address of the Bed and Breakfast whose owners managed the bistro and who hosted the information about the restaurant on their site. It turned out that wasn't its actual location. When I googled the bistro on my phone, we also found the address of an old mansion in Hannibal listed. We drove up there only to find that the bistro had moved to a new location further down the hill. We finally found the correct address (after three tries) and went inside for dinner!
The food did not disappoint. The chef there tried to use as many fresh and local ingredients as possible in his dishes and it showed in the taste and quality of the food.
Our appetizer: Pesto topped with tomatoes, white onions and Parmesan cheese served over poppy seed baguette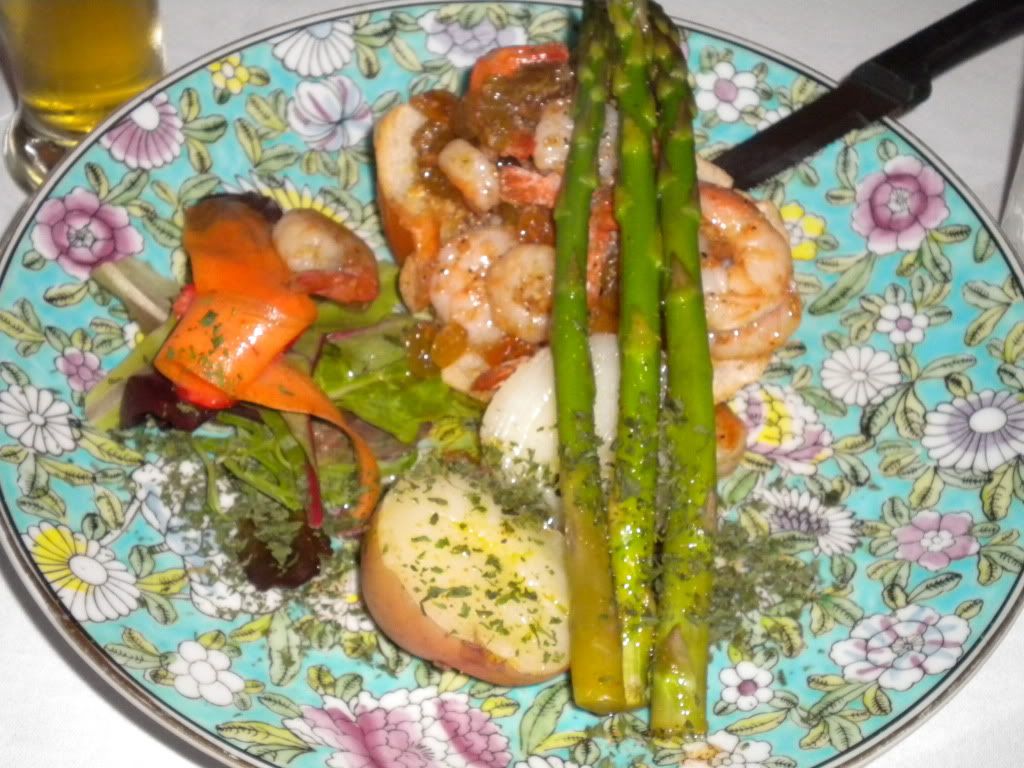 My dinner: Shrimp Istanbul with golden raisins and a sweet and spicy sauce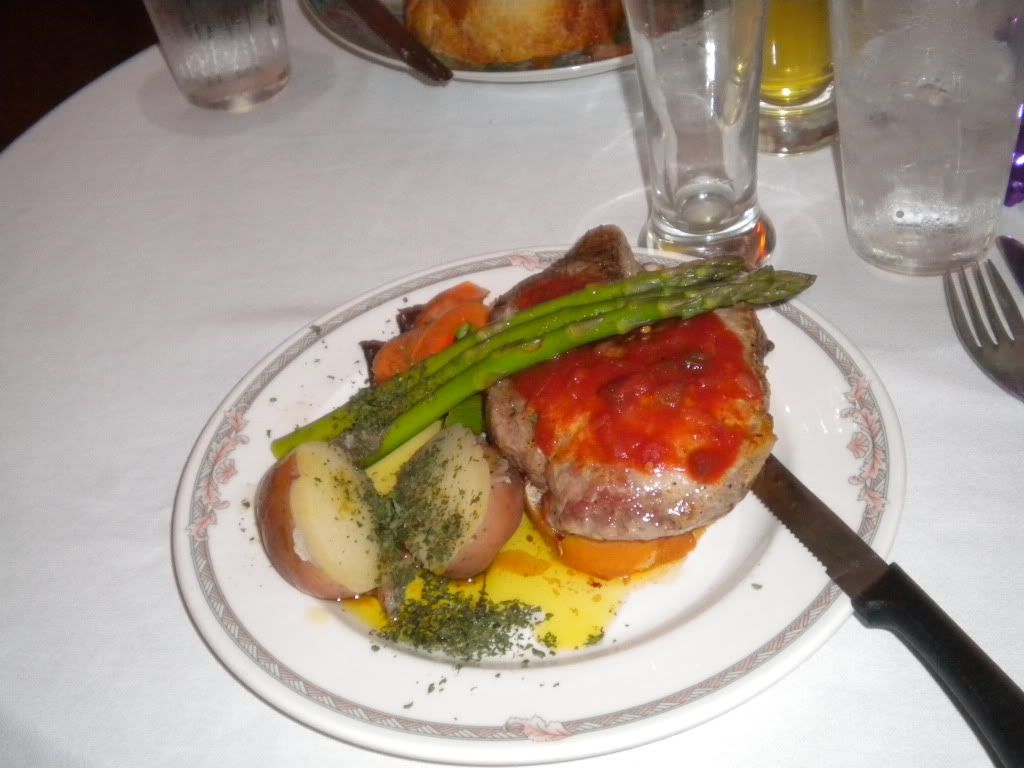 J's dinner: African Peri-Peri (pork with a spicy African glaze)
After dinner we headed back to Java Jive (where we had gotten coffee earlier that day) for open mike night. We listened to local musicians play for an hour or so before heading back to finish our champagne and sleep. Little did we know we would have a frequent, uninvited visitor who would keep us awake most of the night!
To learn who this guest was, come back tomorrow for the third and final installment of our anniversary trip recap!