As I mentioned in
this
post, my dad bought us a grill for a belated house warming gift during graduation weekend. J and I have used the grill several times since then and I'd like to share some of the recipes (and meals) we've had using the grill.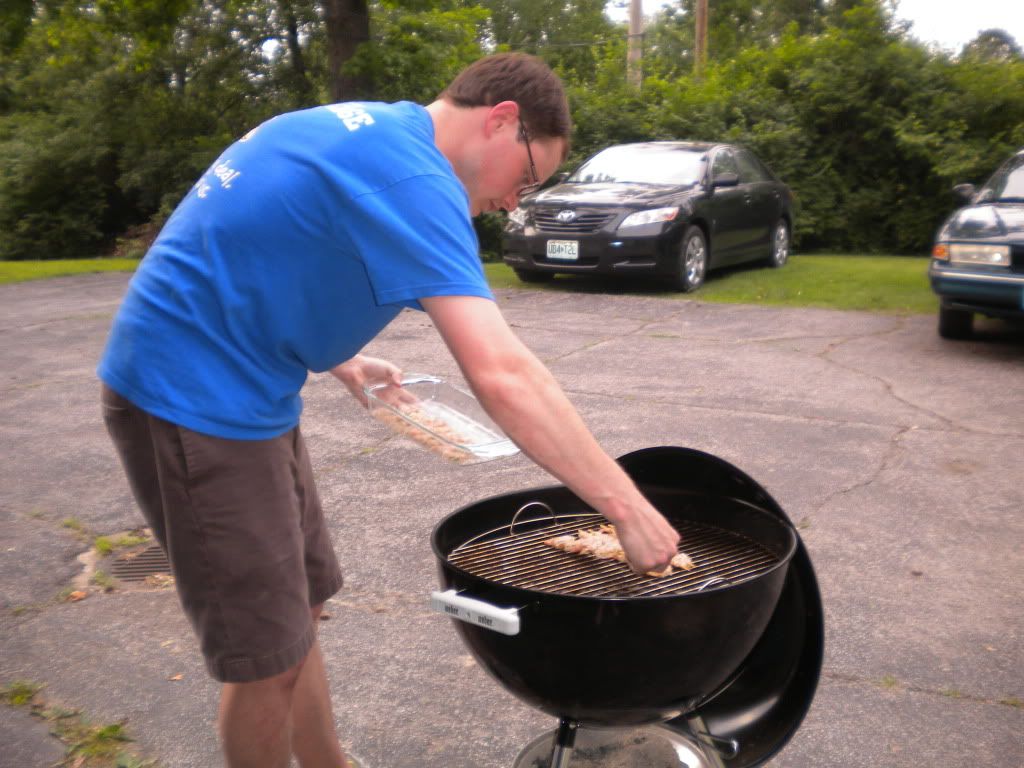 J getting the grill ready
First up was a meal we made last Thursday and it is perfect for the heatwave we've been having: Mint Marinated Grilled Shrimp with Tabbouleh Salad. I got to cook with an ingredient I'd never worked with before (bulgur) and there is so much mint in the dish, it literally gave me the chills while I was preparing it. How's that for free air conditioning?
Mint Marinated Grilled Shrimp with Tabbouleh Salad, as seen on
Boy Meets Grill
by Bobby Flay
Ingredients:
For the tabbouleh salad:
1/2 cup medium or coarsely cracked bulgur--I found it in the bulk bins at our local grocery store (Dierberg's)
1 1/2 cups boiling water
3/4 cup baby arugula leaves
2 large green onions, thinly sliced
3 tablespoons finely chopped mint leaves, plus fresh mint leaves for garnish
1/4 cup fresh lemon juice--if it is a juicy one, this is about half a lemon
1 clove garlic, finely chopped
1/4 cup olive oil
Salt
Freshly ground pepper
For the grilled shrimp:
1/4 cup fresh lemon juice (the other half of your juicy lemon)
3 tablespoons fresh mint
1/4 cup canola oil
1/4 teaspoon black pepper
1 pound of shrimp (20 to 24 size) shelled and deveined
Salt
Kitchen Supplies:
Wooden or metal skewers--if using wooden skewers (which we did) you will need to soak them for at least 12 hours (we soaked them for 24 hours) to prevent them from burning on the grill
Large glass bowl
Medium glass bowl
Small glass bowl
Plastic wrap
Blender or food processor
Grill or grill pan
Fine mesh strainer, for draining bulgur
Place bulgur in a large bowl and pour boiling water
over
.
Cover with plastic wrap
and let stand until bulgur is tender, about 90 minutes.
Drain off any excess liquid and stir in the arugula, green onions and mint.
Whisk together lemon juice, garlic, and oil and season with salt and pepper. Pour the mixture over the bulgur and season with salt and pepper.
Meanwhile, combine 1/4 cup lemon juice, mint, canola oil and pepper in a blender and blend until smooth. Place shrimp in a bowl and pour marinade over, stirring to coat thoroughly. Marinate for 10 minutes. Heat grill to high heat (ours took about 15 minutes to warm up) and thread shrimp onto skewers.
Here's a tip I read in the latest Real Simple magazine that helped tremendously with the actual grilling of the shrimp. Instead of sticking one skewer through the center of each shrimp, use two skewers to thread the sides of it. This will produce a much flatter surface and plane for grilling and will prevent shrimp from sticking as much or falling through the grill plate. Here is a picture of what I mean.
Season shrimp with salt and grill for 1 to 2 minutes a side or until slightly charred and just cooked through.
Serves: 4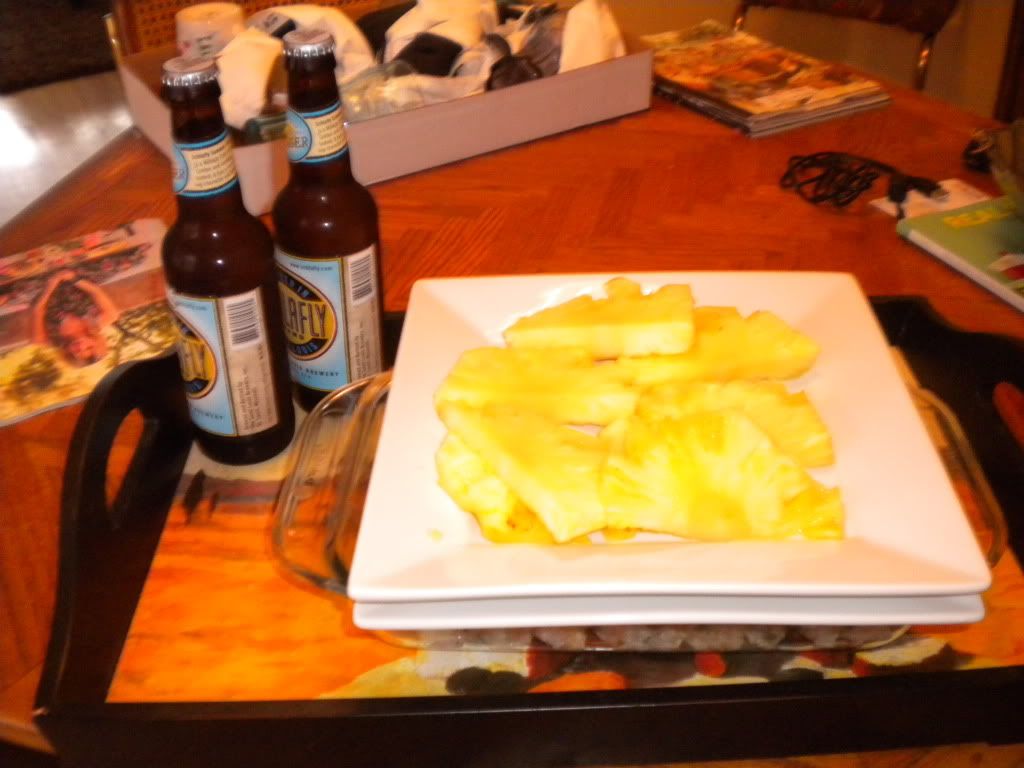 Our grilling tray--2 beers, skewered shrimp on the bottom, two plates and some pineapple
As you can see from the photo, we also grilled some pineapple for a delicious side dish. We like to season our pineapple with a little chili pepper at the end for some extra kick!
Our next grilling menu is what we had last night (and the leftovers of which I will be eating today, which is how
WIAW
ties in). As I alluded to in
this
post, we were going to have chorizo brats and grilled avocado for dinner last night. If you have a grill or a grill pan, you must try grilling avocados. It is just too delicious and easy not too!
Grilled Avocado with Fresh Pico de Gallo sauce, modified from a recipe from our friend HHD
Ingredients:
For the avocados:
2 ripe avocados
Half of a lime, juiced
Drizzle of olive oil
For the Pico de Gallo:
2 tomatoes, chopped
1/2 of a yellow onion, chopped
2 garlic cloves, peeled
Half of a bunch of cilantro, stems removed
1 lime, juiced
Salt
Pepper
Dash of red pepper flakes
Kitchen Supplies:
Cutting board
Sharp knife
Medium glass bowl
Food processor or blender
Place ingredients for the Pico de Gallo sauce in a food processor and blend until the sauce has the desired consistency--I like my Pico to be mostly smooth but not sauce-like, if that makes sense. Set aside.
Heat grill to medium-medium high. Cut avocados in half lengthwise and remove pits. Squeeze lime juice over each half before drizzling each with a little olive oil. When you get to the grill, pour out excess lime-olive oil juices (so they don't splatter when you place them on the grill) and place flesh side down on the grill. Let cook for about 5-6 minutes until char lines appear. Remove and spoon a little of the Pico de Gallo into the hole of the avocado, topping with sour cream or Greek yogurt if desired. Devour with a spoon. No chips required!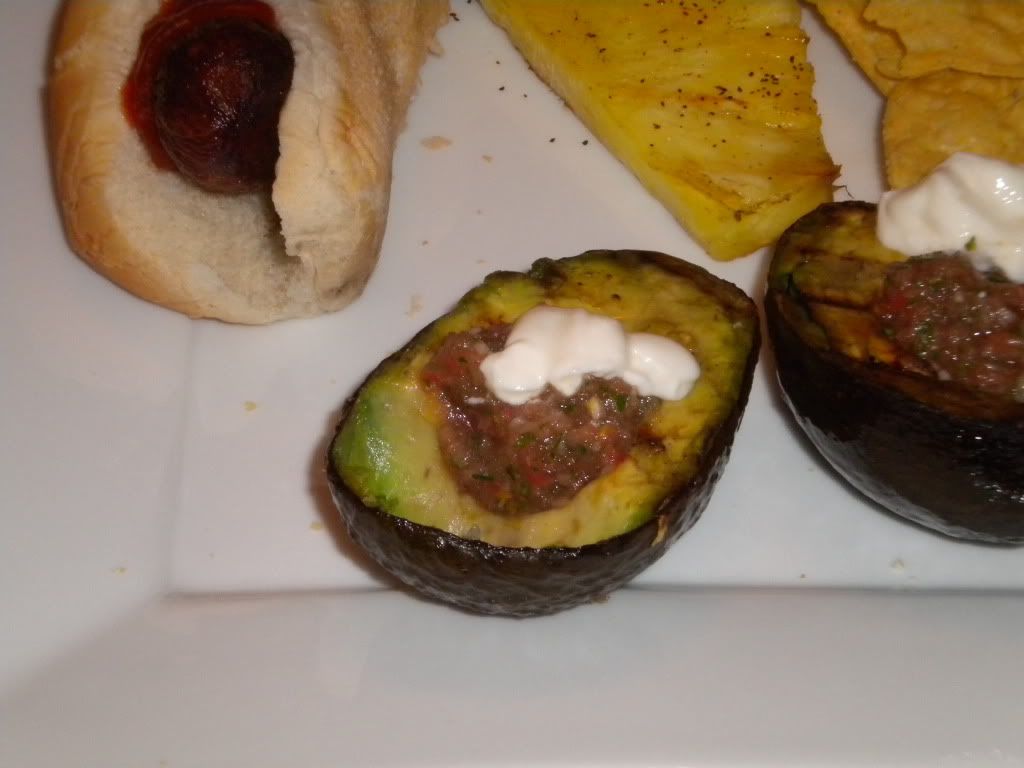 I may or may not have taken a bite of this avocado before taking a picture. Sorry!
Which brings us to the RWW (
Remember When Wednesday
) part of the post. Grilling to me will always remind me of this old girl, our first dog Amber.
This photo is from the last Christmas we had Amber circa 2005
She was born in Missouri and we adopted her when we lived here for two years when I was in first and second grade. We originally had adopted her sister, Mallory, from a rescue group at a local Petsmart or Petsco, so named because her mom was an Alaskan Malamute. Sadly Mallory developed some sort of illness a few days after we brought her home and passed away. Luckily Amber had yet to be adopted and we were able to bring her home with us. Bringing her home may have involved a long hour drive into rural Missouri where she was living in a farmhouse bathroom, but that's a different story.
The reason I bring up Amber today is that she was an ever-present part of grilling in our house. As soon as the lid on the grill went up, she was there laying in front of it the entire time we cooked out there just in case any scraps fell off. If we had steaks or other meat that could be given to her safely with her food, we would always give her and our other dog Rojo a little extra treat in their bowls that night. I think that might have been the real motivation behind laying by the grill--to remind us she was there and that she expected some treats!
She was so diligent about laying in front of the grill that once when my dad had the lid up (because he had spray painted it black to combat some fading and rust and it was drying) she sat there for days waiting for some food to come her way. We finally figured out what she was doing out there in the grass and quickly closed the lid (and gave her some treats)! When J and I grilled this week, we didn't have a dog at our side while we were cooking but we did have a vocal cat who lectured us about coming in and out of the apartment so much while we were cooking. What is that saying, the more things change, the more things stay the same?
What are you eating this Wednesday? Do you have a grill or grill pan? If so, what is your favorite thing to grill? We are always looking for new grilling ideas!