As I mentioned in
this
post, J and I enjoyed a little weekend getaway in Hannibal, MO to celebrate our first anniversary. And boy was it fun! I originally was going to share all of the details and all of the photos in one post but there are too many words and too many photos to share in just one post so I'll be splitting them up into three parts (arrival, afternoon and morning) and posting it all over the next several days!
We began the morning by filling up on delicious iced coffee from our good friend
JDP
at
Cafe Rationale
. Afterwards, we headed back to the house so J could get a few hours of bar exam studying in before hitting the road. I finished reading
The Princess of Nowhere
, a quick read I had checked out from the library days before (check back tomorrow for a review!), and got done the chores necessary for our trip: packing, putting out extra food and water for Woods, cleaning his litter box, cleaning out the fridge of anything that would go bad while we were gone and taking out the trash. After a quick but delicious lunch, we hit the road.
Pictured: Smoked Gouda, turkey and cranberry apple chutney sandwich with Caesar salad
I drove on the way there so J could get a few more hours of studying in for the weekend which was fine with me because I had the Dixie Chicks' Taking the Long Way to sing along with! We arrived in Hannibal just after two o'clock and promptly checked into our Bed and Breakfast.
We stayed at Lulabelle's Bed and Breakfast which was a bordello in the early 1900s run by a madam from Chicago in its former life. According to the B & B's promotional materials, the building was one of few that was designed and built specifically for its purpose.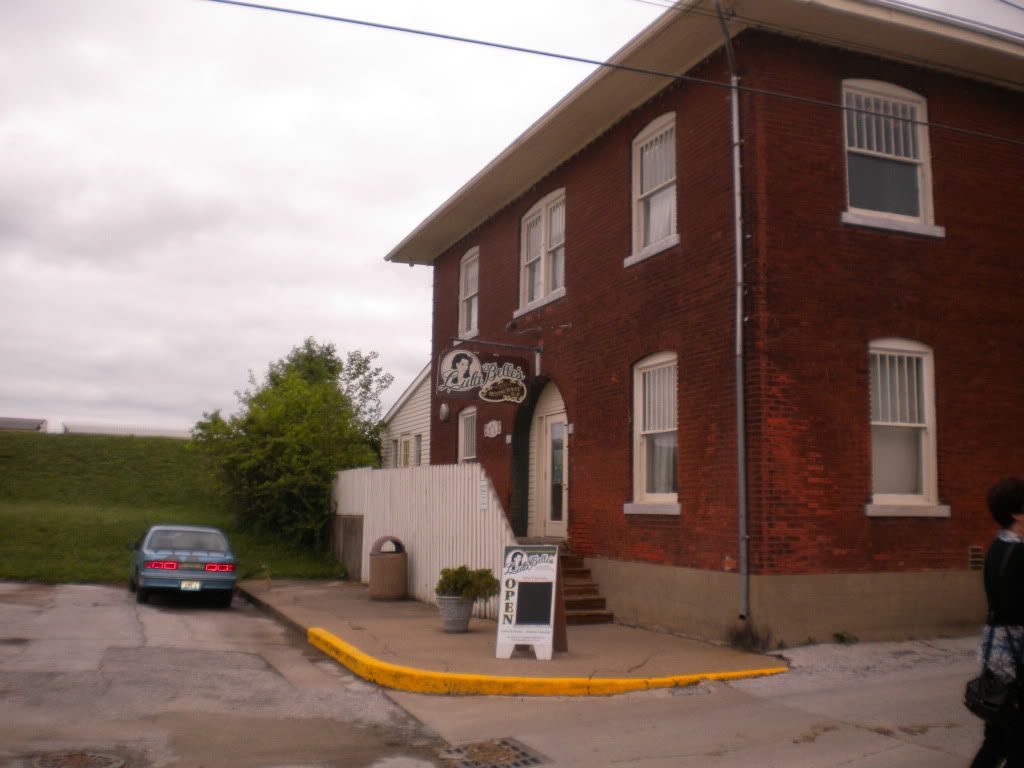 See that grey and yellow box peaking up over the hill there on the left. That would be a train and a foreshadowing of things to come!
We stayed in the Purple Passion room (all of the rooms have very suggestive names to go with the theme) which was quaint and perfect for our needs. In our room at least (I don't know about the others) visitors had taken to signing and dating bars of soap or wine corks and leaving them behind as a souvenir. The bars of soap were literally all over the room and it was fun to read them and the occasions for which people had stayed there to celebrate (engagements, honeymoons, anniversaries).
After we checked in and got settled into our room (including having an ice bucket brought to the room for some champagne we brought along), we decided to explore Main street a little bit before heading to the Mark Twain Caves nearby. We first stopped by Java Jive which billed itself as the first coffee shop west of the Mississippi (get it?) for some coffee. We got a cappuccino (for J) and an iced Chai latte (for me) to go and walked up and down Main street looking in the little shops and generally getting a feel for the area.
When we turned to head back to our room, we saw a white lighthouse at the far end of the street. I had read about the Mark Twain Lighthouse online--like in Springfield with Lincoln, almost everything in the town had Mark Twain's name attached to it even if it was built after he lived/died. Our favorites were the Mark Twain soda dispensers and the restaurant that promised Mark Twain Fried Chicken. We decided a lighthouse in Missouri was worth seeing and wanted to get a closer look. On our way up there, we came across this lovely bronze statue of Tom Sawyer and Huckleberry Finn.
Halfway up the long flights of stairs was a lookout area that we learned used to be the Mark Twain Memorial Bridge.
Built as part of the New Deal in 1936 and demolished in 2001, the Mark Twain Bridge was a major go-between over the Mississippi River. Now it is a great place to look out over the river and take in the sites.
Ironically, due to some large overgrown trees in the area, the views from the bridge were better than they were from the lighthouse itself. The lighthouse's tower itself was padlocked shut, which might have something to do with the lackluster views. There was also no explanation anywhere of why the lighthouse was built or even what year it was constructed. Tourism fail!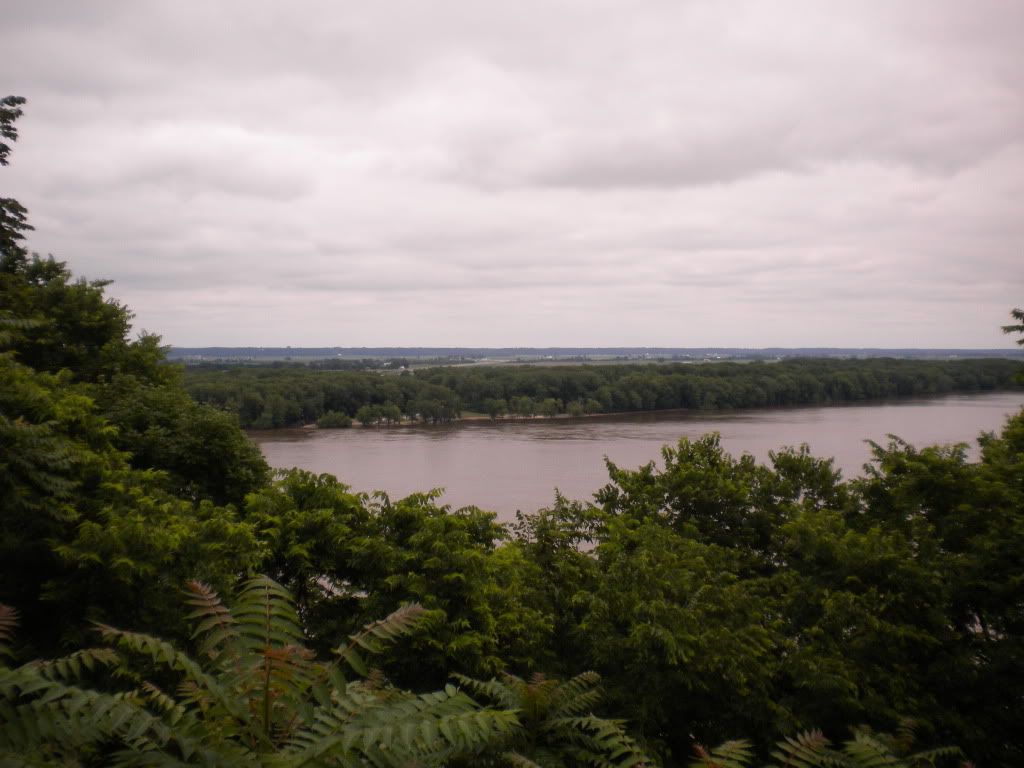 Lots of green make for a somewhat obscured view of the river
On our way back down, we came upon a house nestled in the hillside there with two lovely orange tabby cats. They were very sweet and could have been Woods' long lost siblings!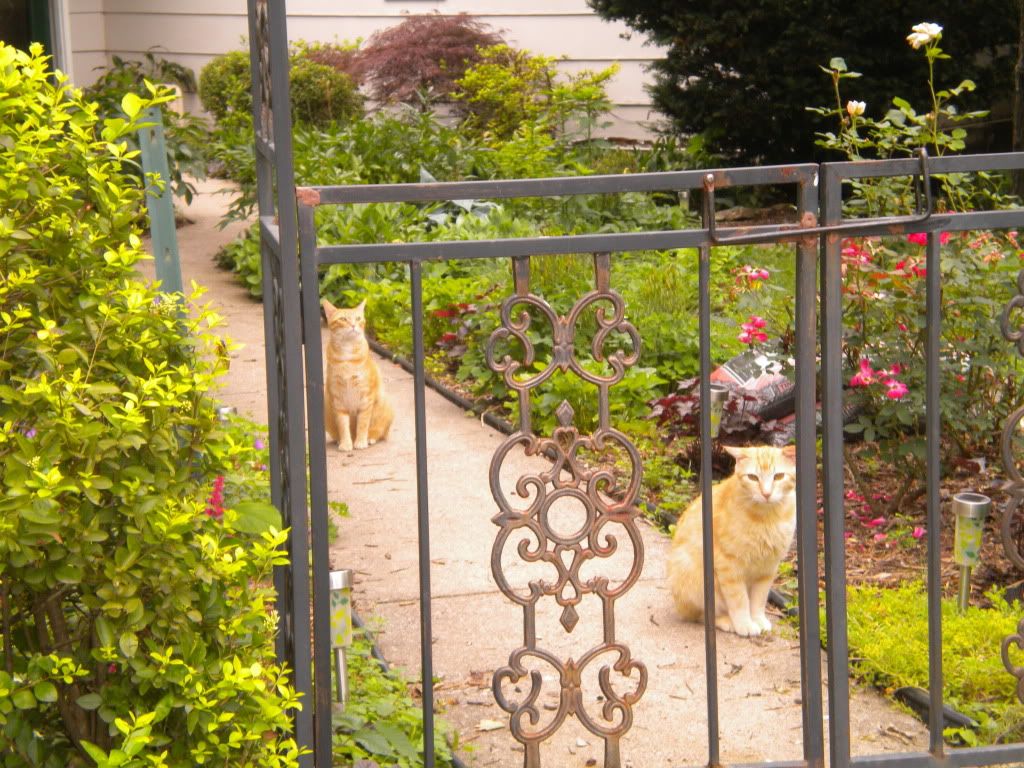 The one in the back looks especially like Woods!
After our little walk around town, we got in the car and headed to the Mark Twain Caves for some cave-exploring and wine tasting, which is where the tale from our weekend getaway will pick up tomorrow!
In the meantime, have you ever played tourist in a nearby city? Any summer trips on the horizon? Where to? I'd love to hear all about it!