Since I share our weekly menus almost every week
here
on the blog (lately I've been sharing them on the blog's Facebook
page
), I thought I'd give you a behind-the-scenes look at the process and my "system" that allows me to generate interesting and tasty meals for around 60-70 dollars a week.
Our meal plan begins at the Farmer's Market on Saturday mornings. Farmer's Markets are a great way to support community farmers and purchase pesticide-free produce without spending a lot of money! We usually spend between $10-12 dollars a week for four to five fruits and vegetables that we will incorporate into our meals that week. For example, this week our haul included asparagus, cucumber, green onions and green beans all for $8. The week before that was green peas, zucchini and yellow squash, radishes and beets for around $13. We could spend WAY more at the Farmer's Market every week (and usually I really want to!) but with one income to speak of at the moment, we try to keep our costs as low as possible.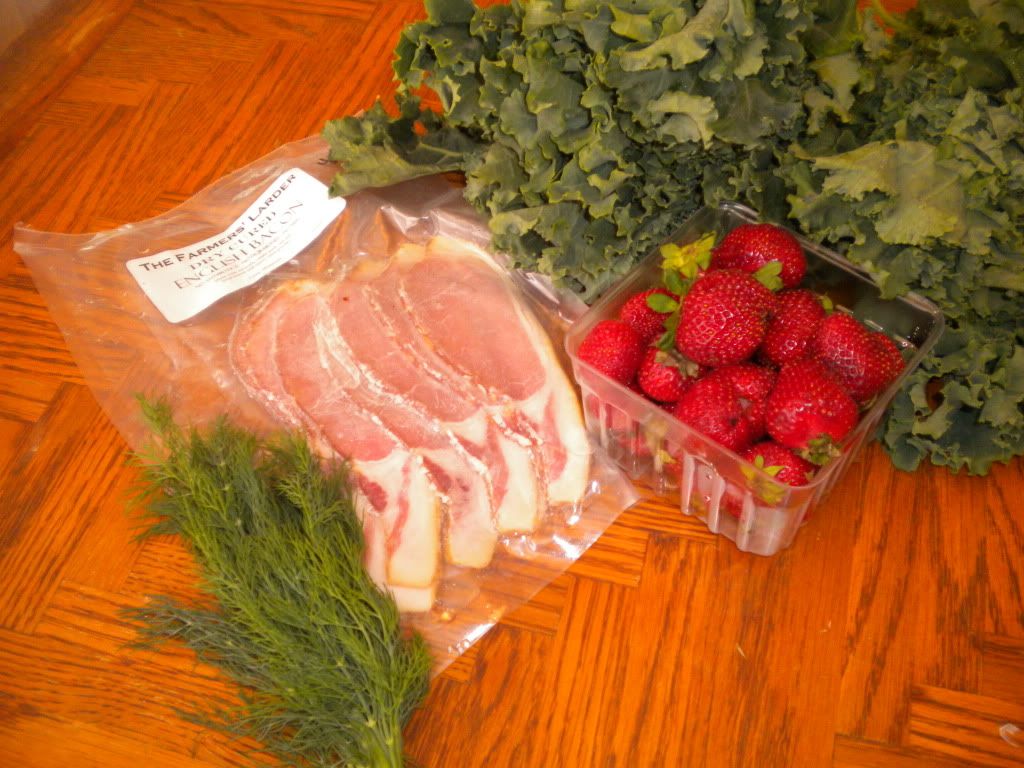 Produce from a few weeks ago: dill, strawberries, kale and local bacon
Once I get home, I pull out my new favorite cookbook which was my first anniversary (paper) present from J: Williams-Sonoma's
Cooking from the Farmers' Market
. The cookbook is filled with gorgeous, art-quality photos of all types of produce in addition to delicious recipes, tips for buying the ripest produce and how to store almost any produce you could buy at the market. Then I grab a blank piece of paper and start researching.
I begin by writing down the produce I've purchased that week as well as notes about storing it and how long it will last before it goes bad. This week my produce section reads something like this (all of this information can be found in the cookbook):
Asparagus
--cut 1 inch off stalks and store upright in refrigerator using a container with shallow layer of water for up to four days. Asparagus is best if eaten soon after harvest however.
Cucumber
--wrap in paper towel and store in plastic bag in fridge for up to 5 days
Green onions
--store in plastic bag in fridge for up two weeks
Green beans
--wrap in paper towel and store in plastic bag (open to prevent mold) for up to 3 days
Next I write out each day of the week for the menu (usually it's Saturday-Thursday with dinner out or pizza on Friday nights) and next to each day I write when produce will go bad/be at its peak. For this week, that meant eating the asparagus as soon as possible (Sunday night) and the green beans soon after that (Monday). I hate throwing away spoiled food, especially from the Farmer's Market, and this helps me make sure we use everything before it starts to turn.
Once I start looking for recipes, I pull out at least five cookbooks, sometimes more, and pull up my
Pinterest
"Recipes to Make" board for inspiration. I also take a mental (and sometimes physical) inventory of what we have in the pantry, fridge and freezer before I start looking for recipes. This week my inventory of must-use items included a whole chicken for roasting, corn tortillas from our Carne Asada dinner last week, and some frozen shrimp.
Often times, one recipe leads me to another, as was the case with Sunday and Tuesday nights' recipes. Last week over lunch, I saw a delicious recipe for Lemon-stuffed Roast Chicken on
Barefoot Contessa: Back to Basics
. I knew that would be how I would use up the whole chicken. I also knew from experience there would be leftovers and thought chicken enchiladas might be a good way to use up the chicken and corn tortillas. After comparing recipes in several cookbooks, I found a recipe that required minimal additional ingredients and looked tasty. Enter Chicken Enchiladas with Pumpkin Sauce courtesy of Martha Stewart's Kitchen's
Food Everyday
Cookbook. Once I find a recipe and add it to the menu, I use the other side of the paper (waste not, want not) for my shopping list. I continue with my researching until all the days are filled, trying to reuse ingredients and leftovers in whatever way I can. If I am going to make a substitution, for example using red onions and garlic instead of shallots or macaroni instead of cavatappi, I also note this next to the recipe along with the cookbook source and page number. That way I'm not looking in indexes trying to find recipes when it comes time to cook!
This week the menu portion of our meal plan looks something like this: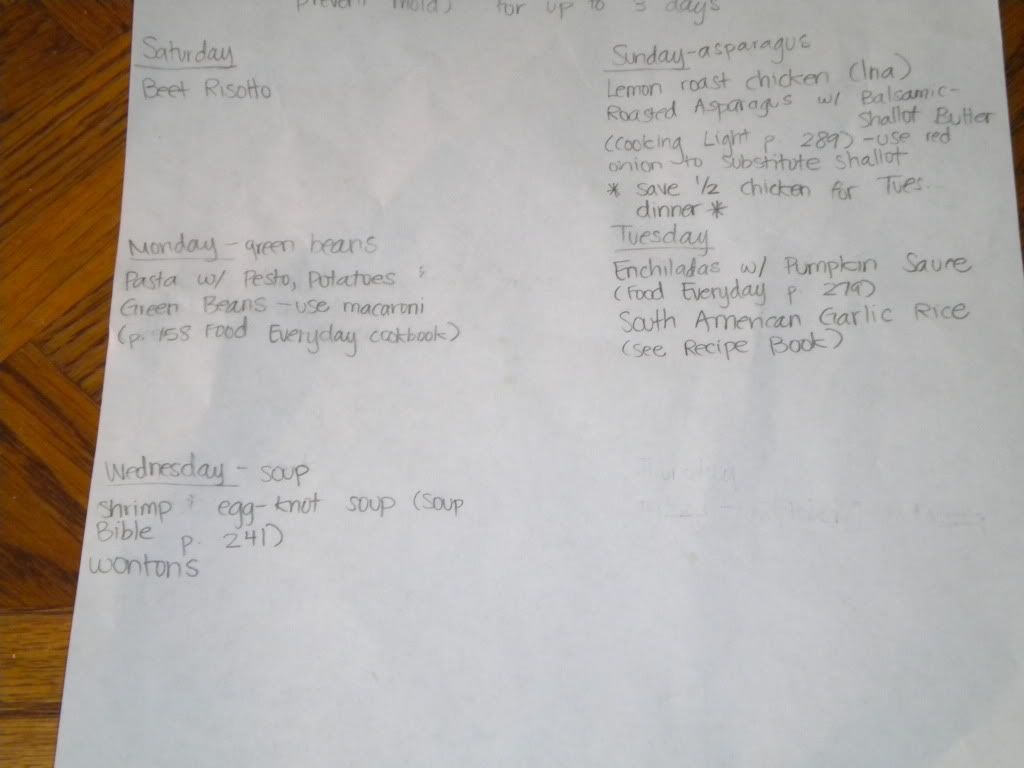 I tend to write our menu in pencil so I can erase and move dinners around as necessary while I plan
It is a bit difficult to read the menu there, especially since I wrote it in pencil, so I have replicated the contents for you below for easier reading:
Saturday
Sunday
-asparagus
Beet Risotto Lemon Roast Chicken (Ina)
Roasted Asparagus with Balsamic-
Shallot Butter (Cooking Light pg.
289)--use red onion to substitute shallot
*save 1/2 chicken for Tuesday dinner*
Monday
-green beans
Tuesday
Pasta with Peso, Potatoes & Green Beans--use macaroni Enchiladas with Pumpkin Sauce
(p. 158 Food Everyday cookbook) (Food Everyday p. 279)
South American Garlic Rice
(see recipe book)
Wednesday
-soup
Shrimp and Egg-Knot soup (Soup Bible pg. 241)
Wontons
Once I've completed my shopping list, I head to the grocery store and Trader Joe's to buy groceries for the week. Because J and I eat mostly leftovers and the occasional sandwich for lunch every day, I only need to buy ingredients for the recipes and a few staples like bread, yogurt and milk. Here are our receipt totals for this week (including alcohol): $20.41 at Trader Joe's and $30.86 at Dierberg's (our local grocery store) plus the $8 I spent at the Farmer's Market on Saturday.
When I return home, our meal plan is then put on the fridge so that J and I can both see at a glance what we are having for dinner that week.
We occasionally deviate from the meal plan (I've found that they have to be flexible or it just won't work long term) but usually we are pretty good about staying on track. We also try to have at least one meatless meal a week to cut costs (and because it's tasty). If we are having meat later in the week, I freeze it immediately and then thaw it the night before so that the food doesn't spoil by the time we go to eat it. Some weeks I try to schedule our meat-free dinners on Wednesdays and Thursdays to avoid this step completely!
This system really works for us for the following reasons:
We waste way less food
We spend less money by avoiding nights where we would go out for dinner because we just don't feel like going to the grocery store and cooking
We save gas money by not stopping by the store several times a week
We really use all of our various cookbooks
We have fun in the kitchen and never have to utter the words " What are we going to make for dinner" that is, unless one of us forgets and has to consult the fridge!
In looking at this list, I realized that our system is pretty green friendly if you think about it. Less food waste = less garbage that ends up in a landfill. Less gas consumption = less pollution. Less going out = more money to spend on organic and local foods. A win-win if you ask me!
Do you meal-plan? Or perhaps you have a system of your own regarding laundry, cleaning, home repair scheduling or something else I haven't thought of and listed here? I am loving systems that make life easier and would love to hear your ideas!