This weekend marks our first wedding anniversary and to celebrate we are hitting the road! We have been talking about taking a trip for a while now but we finally hammered out all the details this week which has created a fun, spontaneous air around the weekend.
The cool mustang we got to drive around in on our wedding day. House pictured: site of our wedding reception
Leading up to it, we had a few criteria that needed to be met for our trip:
Cost: With J studying for the bar, only one income (mine) to speak of and some major changes on the horizon (more on that in a minute), it needed to be a relatively inexpensive trip.
Location: Must be within driving distance. See number 1. Plane tickets this time of year are notoriously expensive.
Distance: Even though we are driving, with the high price of gas we knew the destination couldn't be too far away in order to keep costs low.
New: Must be a place neither of us have been to before. We love exploring new cities together!
B & B's: We really wanted to stay at a Bed and Breakfast while we were there. I love them and find them extremely romantic and much more personal than a standard hotel room!
With these criteria in mind, we narrowed it down to 3 finalists: Sainte Genevieve, Hermann (Missouri wine country), and Hannibal, MO. Sainte Genevieve is having a French Heritage Festival this weekend, which may explain why all the B & B's in the area were booked on Saturday night (the night we were hoping to stay). Hermann's B & B's were all more than we were looking to spend for a night (average was around 140 dollars a night) which, combined with wine tasting fees, would be pretty pricey for a two day trip.
Enter Hannibal. Only two hours and four minutes away from St. Louis, we were able to find a charming B & B for only $90.00 a night! With lots to do including visiting
Mark Twain Caves
,
Mark Twain's Boyhood Home and Museum
, a cute downtown area and a few wineries nearby, I know we will have a great time and I can't wait to share all of our photos and experiences with you next week!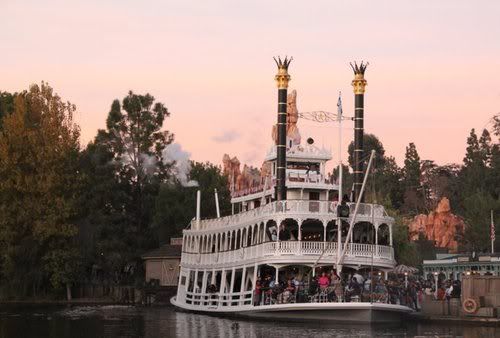 Okay so this is Disneyland's version of a steam boat, but you get the idea! Image via weheartit
Oh, and about that big announcement?
J and I are moving.
In less than two months.
To South Bend, IN.
Home of my beloved Fighting Irish and my sister
(although she will be studying in Rome next year.)
J was offered a great job for a year and we are very excited/a tiny bit nervous about this next stage in our lives! I will of course take you all along for the ride as well as we start new jobs, explore a new city, make new friends, take in a football game or two, and decorate a new apartment. There are great things on the horizon so stay tuned :)