With our
big move
less than three weeks away, we have begun the process of cleaning out our refrigerator and freezer. This process is definitely going to force us to be more creative in the kitchen and will really kick our
meal-planning
into overdrive!
We started out with a bang with our dinner last night. We had approximately 35 wonton wrappers left from our yummy
Crab Rangoon
last night and after seeing Stacy's
post
last week, I knew I wanted to use them to make ravioli. But what kind?
We did not make it to the Farmer's Market on Saturday so I began by checking out the sales ads at our local grocery store. Low and behold, they had button mushrooms on sale for a dollar a container! Mushroom ravioli it is. After some googling around, I found another Giada recipe (seriously, that girl never lets me down) that called for mushrooms AND another ingredient we had in the freezer: frozen spinach. I was sold. Giada's recipe calls for egg roll wrappers but I knew I could easily substitute this for wonton wrappers.
The recipe took a little while to make but the flavors were absolutely worth it! Who would have thought that wonton wrappers would taste like the freshest pasta imaginable once you boiled it for a few minutes?!
Spinach and Mushroom Ravioli with Tomato Sauce
, modified from Every Day Italian by Giada de Laurentiis
Ingredients:
For the ravioli
1/2 cup extra virgin olive oil, plus 2 tablespoons for boiling water (will keep the ravioli from sticking)
6 ounces button mushrooms, sliced
(1) 10 ounce package frozen chopped spinach, thawed and squeezed dry
1/4 cup Marscapone cheese
1/3 cup grated Parmesan, plus more for serving
12 wonton wrappers
2 large eggs, beaten with 1 teaspoon of water
1/2 cup mushroom (cremini, shittake)--we used Baby Bella mushrooms, finely diced
2 cups homemade tomato sauce (you can of course use store bought but homemade tastes better)
Salt and pepper for seasoning
For the tomato sauce
1/2 cup extra-virgin olive oil
1 small onion, chopped
2 garlic cloves, peeled and minced
1 celery rib, finely chopped
1 carrot, peeled and finely chopped--I used five baby carrots because we never seem to use up a bag of carrots before it goes bad but we don't have that problem with baby carrots!
Salt and freshly ground black pepper
2 (28 ounce) cans of crushed tomatoes
2 dried bay leaves
Kitchen Supplies:
Large stockpot
Cutting board
Large skillet
Food processor
Medium stockpot (for pasta)
Ramekin for egg wash
Pastry brush
Fork, for crimping edges
Serving dish
Aluminum foil
Spider strainer
In a large stockpot, heat olive oil over medium-high heat. Add garlic and onions and saute until soft and translucent, about six minutes. Add carrot and celery; season with salt and pepper. Saute for another six to eight minutes until the vegetables are tender. Add tomatoes and bay leaves and reduce heat to low, allowing to simmer uncovered for one hour.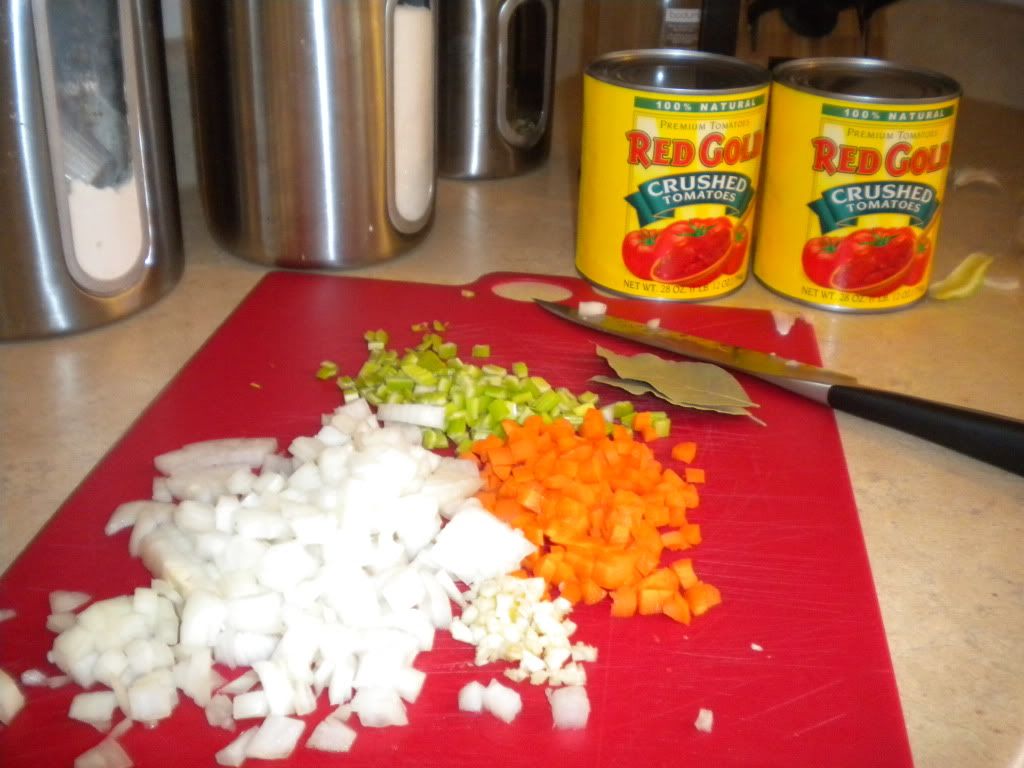 While you wait, chop up the mushrooms and thaw and drain the spinach. You can also get your egg wash and other supplies ready for the next step--
mise en place
is very helpful in this recipe since you have quite a bit of assembling and cooking to do.
You will also want to give yourself some time to bring a medium stockpot of salted water to boil.
When there is approximately 25 minutes of cook time remaining (you could do this earlier if you want but we watched an episode of
Weeds
in between steps), heat 1/4 cup olive oil in a large skillet over medium heat. When the oil is almost smoking, add the sliced mushrooms and season with salt and pepper. Cook until all the liquid has evaporated from the mushrooms, about six minutes. Add spinach and cook for an additional two minutes.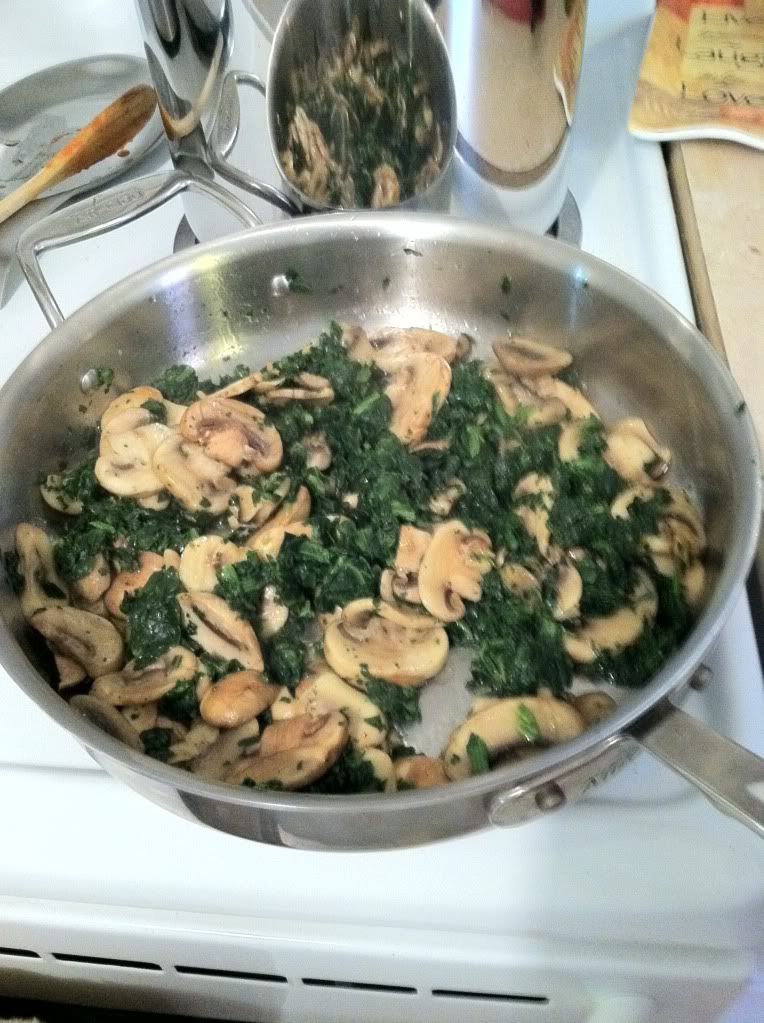 Remove from heat and pour contents into a food processor. Pulse until you get a course texture. Remove from base and carefully remove blade. Stir in mascapone and Parmesan cheeses. Giada recommends pouring contents into a bowl but because we already had quite a few dishes dirty, I mixed it in the food processor bowl without problems.
Line up 6 wonton wrappers (you will use two for each ravioli) and brush with a light coat of egg wash. Place a heaping tablespoon of mixture on three of the six ravioli. Place the other ravioli, egg wash side down (the wash helps the ravioli stick together and prevents them from coming apart in the boiling water) on top of the mixture. Press the two wrappers together, starting in the middle and working your way to the edges. I tried to create a seal around the mixture to again prevent them from falling apart and this seemed to work great! Crimp edges with the edge of the fork or if you have one (we didn't) a fluted ravioli cutter.
Add 2 tablespoons of olive oil to the boiling water (avoiding sticky ravioli is the name of the game!) and then carefully place the ravioli in the water using a spider strainer or similar kitchen utensil. You will only want to cook three or four ravioli at a time to prevent them from clumping or sticking to the bottom of the pan and ripping when you remove them. Cook for three to four minutes; remove with spider strainer and place in a serving dish, covering with aluminum foil to keep warm. Continue with the process until you use up all of the wonton wrappers and/or filling. We double the recipe because we had more wontons than the recipe made but still ended up with extra filling!
The ravioli did stick together once we took them out of the water and put them in the serving dish. I would recommend you serve up each guest as the ravioli come out of the water and cover each dish with foil. You will use more foil but the presentation will be much better.
Giada's recipe also calls for you to blend the tomato sauce once finished cooking. Because I had chopped the vegetables finely and the chopped tomatoes were likewise fine, we skipped this step (can you tell we were trying to avoid extra cleanup?).
While the last batch of ravioli cooks, heat remaining 1/4 cup of olive oil in the large skillet (the one you cooked the mushrooms in will work great). Add 1/2 cup of specialty mushrooms (Baby Bella, Shiitake, Cremini) and saute for three minutes.
Top each bowl with some of the tomato sauce and a tablespoon or so of the chopped mushrooms plus some Parmesan cheese for garnish.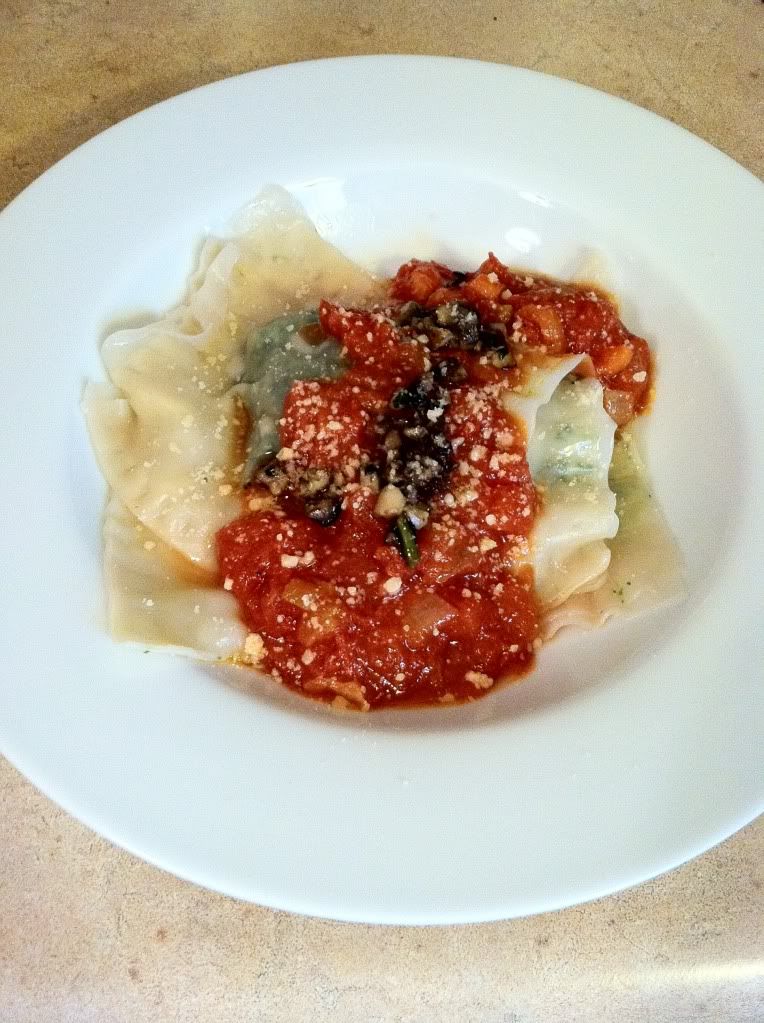 Taken with J's new iPhone--it is sad that his phone takes better pictures than my camera. Time for a new camera!
Serves: 4
This recipe makes six cups of tomato sauce. You will use approximately two cups in the recipe. The rest can be refrigerated or frozen to use later. We are using it in our Eggplant-Sausage Roll-ups later this week!
Are you a fan of mise en place? Have you ever made homemade ravioli?
Now that I know how easy it is, we will be making all kinds of ravioli and tortellini at home. Is there anything a wonton wrapper can't make better?!?