Last night I made another delicious recipe from my Cooking from the Farmer's Market cookbook. As I mentioned in
this
post, I wasn't able to make it to the Farmer's Market on Saturday morning but the folks at Dierberg's (a local grocery store chain here in St. Louis) saved the day. They had quite a few fruits and vegetables for sale that were locally grown and harvested including eggplant, which was the star of last night's dish, Rolled Eggplant with Sausage and Mozzarella. This dish was easy-peasy and tasted delicious. It could very easily be made vegetarian by omitting the sausage from the sauce.
Rolled Eggplant with Sausage and Mozzarella, modified from
Cooking from the Farmer's Market
cookbook
Ingredients:
1 1/2 pounds Italian or Asian eggplant, trimmed and cut lengthwise into slices approximately 1/4 inch thick--approximately two medium sized eggplant
1/4 cup plus 2 tablespoons olive oil
Salt and freshly ground pepper
5 ounces Italian sausage, casings removed--I browned up a pound and a half and then added the remaining sausage to our leftover tomato sauce from earlier this week to freeze and have for dinner next week!
2 cups tomato sauce--we used homemade, find the recipe here
1 cup whole-milk ricotta--as I got out the ingredients to make dinner, I discovered the ricotta (which I bought over a week ago) had gone bad. I used 1/2 cup mascarpone cheese and 2 ounces of cream cheese instead which worked great!
4 ounces fresh mozzarella cheese, cut into small pieces--if you have a Trader Joe's nearby, I recommend getting your mozzarella (and other cheeses) there. I saved two dollars by buying the cheese for this recipe there!
4 tablespoons grated hard cheese, such as Parmesan
1 tablespoon chopped flat-leaf parsley--we used 1 teaspoon dried parsley instead
Kitchen Supplies:
Baking sheet
Ramekin
Pastry Brush
Frying pan
Medium bowl
9 inch baking dish
Preheat the oven to 450 degrees. Brush both sides of the eggplant with the 1/4 cup of olive oil and season with salt. Place in an even layer on a baking sheet and bake until lightly browned on the bottom, about ten minutes. Turn the slices and bake until tender, approximately six minutes. Remove from the oven and reduce the oven temperature to 350 degrees.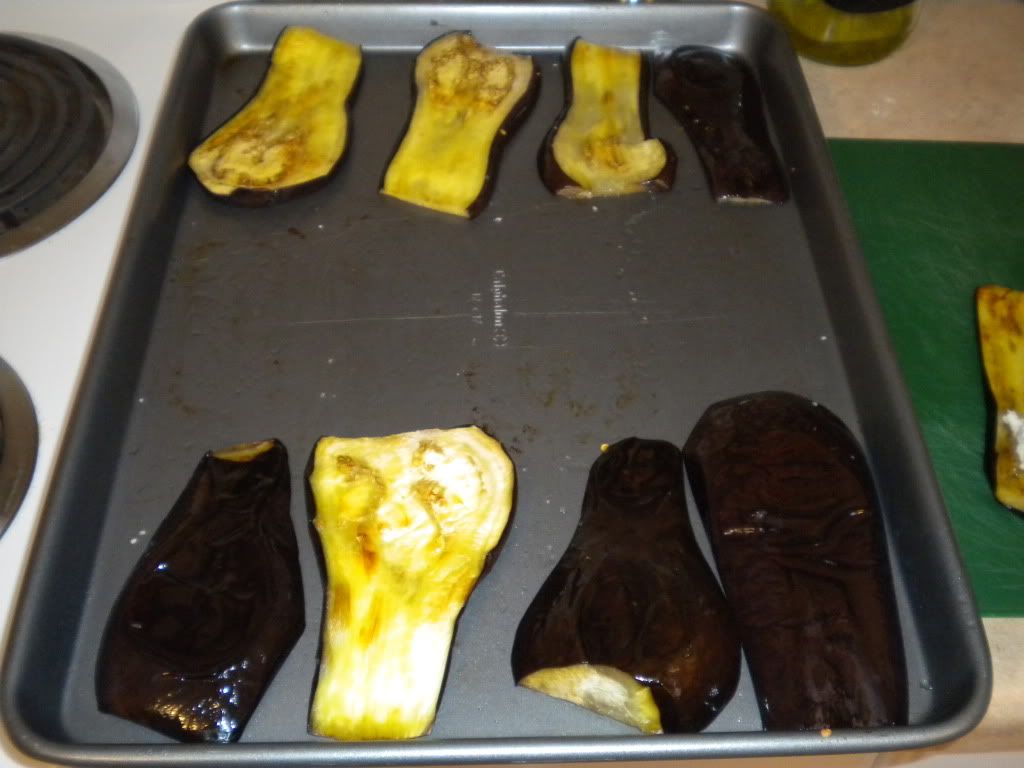 Meanwhile, combine ricotta, mozzarella, 2 tablespoons of the Parmesan and parsley together. Season with salt and pepper.
In a frying pan over medium-high heat, warm the remaining 2 tablespoons of olive oil. Saute the sausage until cooked through, about 3 minutes. Note that it will take longer (about 10 minutes) if you are browning a whole package of sausage as I did. Stir in the tomato sauce and bring to a boil. Reduce the heat to low and simmer for 5 minutes.
Spread half of the sauce on the bottom of the baking dish. Place a spoonful of the cheese mixture near the wide end of each eggplant slice, roll up, and place in dish. Continue assembling the rolls until all eggplant slices have been filled.
Spoon the remaining sauce between the rolls and sprinkle with remaining 2 tablespoons Parmesan. Bake until the sauce is bubbling, about 20 minutes. Serve immediately.
Blogger is being weird and won't let me load photos properly--grr!
Serves: 4
As you can see, there is nothing particularly carnivorous about this dish and with all those great cheeses in each roll-up, a meat-free version might taste even better! As per usual, I had the leftovers today which is what makes this a WIAW post.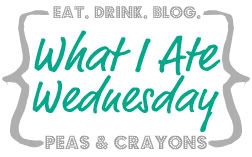 Now onto the
Oh How Pinteresting
part of the post.
I, like many people, have discovered the wonder that is Pinterest and have been pinning my heart away for several weeks now. One of my favorite boards is my cooking board,
Recipes to Make
, especially right now where my creativity in the kitchen is limited to using up ingredients we already have.
So today, here are some recipes I really hope to make in the near future (perhaps from South Bend!)
Pasta with Prosciutto, Snap Peas, Mint and Cream
Linguine with Sardines, Fennel and Tomato
Chilled Avocado Soup
Kiwi Summer Roll--new things to stuff wonton wrappers with!
Bacon Streusel Maple Cream Cheese Cupcakes
Are you on Pinterest? If so, let me know so I can follow you! If you'd like to check out more of my foodie pins (or home decor or any other kind for that matter) I can be found
here
.
Don't have Pinterest yet but want to get on board? Leave me a message in the comments with your email address and I'll send you an invite!
What are you eating this Wednesday? Anything in particular you are pinning pining over this Wednesday evening?
P.S. If you do not already read Jen's (
Peas and Crayons
) or Michelle's (
The Vintage Apple
) blogs, you really should. Click on the links and head on over. You know you want to!