I can't believe it's already Wednesday and that I haven't posted on here since our date night a week ago! Time flew by this weekend which is evident by the number of things we did and people we saw over the weekend. Here's a little breakdown of how I've spent the last week and what I've been doing since I obviously wasn't blogging!
Wednesday night
Dinner at Brasserie was amazing! It definitely had an upscale French bistro vibe and lots of personal touches that had me drooling. Everything from the little containers of loose salt and pepper on the tables to the typography on the menu was perfect. I wish I could have taken photos of the decor and the meal to share with you but I was a little weary of whipping out my camera in front of all the fine patrons there.
I tried some French beer (tasted very similar to a Belgian Whit to me) and J had a German beer I had never heard of before. We munched on some olives that had been cooked with hot oil, lemon peel and fennel seed while we waited for our main dishes to come. I had never had hot olives before and the combination of flavors was amazing! For the main course, J ordered the beef bourguignon which was melt in your mouth delicious. It was served with silky smooth mashed potatoes. In keeping with the French theme, I ordered the bouillabaisse which was incredible. Full of shrimp (head on), pollack, clams, mussels and potatoes and a tangy-sweet broth, I ate all of it and even drank the broth, it was that good.
After that we headed to the park for some jazz and cheese and chocolate danishes. The night started out pretty warm but we found a shady spot under a tree and our chilled white wine quickly cooled us down. The weather cooled even more while we were there which made the evening even more enjoyable. I definitely want to go back before we leave (weather and time permitting)!
Thursday
We left for Omaha after work and due to flooding in northwestern Missouri (Rockport) and southeastern Iowa (Hamburg) a trip that normally takes us 7 to 7 1/2 hours took us 8 1/2 due to a detour. This time we planned ahead and I packed plenty of snacks (and dinner) for us to limit our number of stops and we even picked up a few audiobooks to listen to along the way. The drive flew by, faster than any other visit thus far. I wish I would have discovered the greatness that is audiobooks sooner!
Friday
J studied for the bar exam Friday morning while I finished reading
Middlesex
(review forthcoming) before we met some friends for lunch. After lunch, I had several appointments to gather information about graduate school that took up most of the afternoon. We then met up with
Ashlee
and JY before heading to my godparents' house for the Fourth of July concert and fireworks in Memorial Park that evening. It was a hot night weather wise but we had a great time catching up with friends and family!
Saturday
My mother-in-law and I went to the Farmer's Market Saturday morning while J studied. I was really impressed with the selection there and was happy to know we'd be able to get lots of farm-fresh produce in Omaha when we move back! After a late brunch, we went to the driving range for a few hours before coming home and making mojitos with mint we had purchased at the Farmer's Market that morning. Since it was such nice weather, we played ladder ball (or lawn golf depending on who you ask) for a few hours before we met up with
JDP
and a professor of ours from college for dinner.
Sunday
Sunday morning we watched the Men's Final at Wimbledon and parts of the Casey Anthony closing arguments before I met a friend from college for coffee. The weather that day started out dark and rainy but had cleared up enough by the afternoon for us to drive out to the lake for some drinks and a swim. We then headed to a friend's house who lives on a golf course (so cool!) for a cook out and fireworks. The golf course puts on a show every year which was really great and from their deck we could see lots of fireworks going off all over Omaha. Because of that, it was a fireworks show that lasted for over an hour!
Monday
We packed up the car and headed to St. Joseph, MO for our second cookout of the trip with J's dad, step mom and her family. We visited with them for a few hours and even went for a dip in the pool before we headed to our next stop in Kansas City to visit with J's grandpa and his mom's family. We played croquet and met some of their neighbors for a block party cook-out. There was so much food, including award-winning pulled pork and barbequed chicken, that J and I left there very full and happy. We didn't stay for fireworks since we still had a 4 hour drive ahead of us but we saw plenty along our drive home. We arrived in St. Louis at 11:30 pm tired and full but happy!
Tuesday it was back to work for me and back to studying for J and back to packing for the both of us. I can't believe we are moving in less than a month!
Do you listen to audiobooks? If so, do you have any recommendations for me?! How was your Fourth of July? Did you see any fireworks or attend any cookouts?
P.S. I'd like to wish a very happy anniversary to my grandparents who today are celebrating fifty-four years of marriage! Grandma and Papa, thank you for your love and example all these years. I can only hope that J and I will have the sort of marriage and be the sort of partners, parents, friends and grandparents that you have been to all of us over the years. I love you!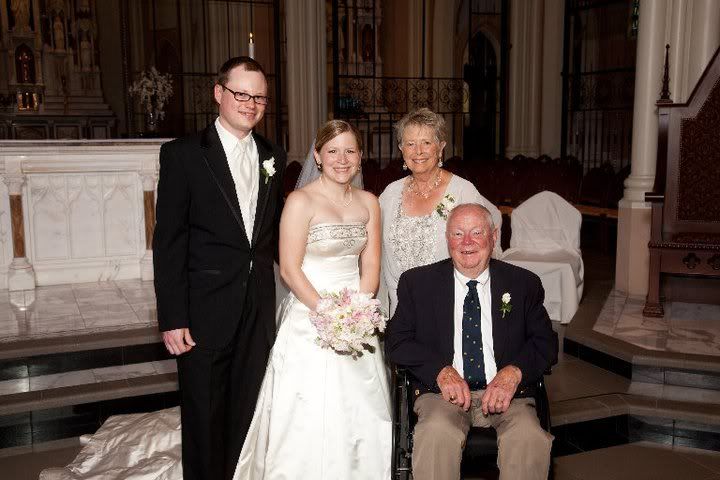 My grandparents and J and and me at our wedding last year