With all of the traveling we've been doing lately, I haven't spent much time in the kitchen in the last week; however, I did try Jen of
Peas and Crayons
(aka Woods' future mother-in-law because he and
Madison
are dating) Crab Rangoon last night and even managed to take some pictures.
You can find the full recipe
here
but here's what our dinner preparation looked like last night: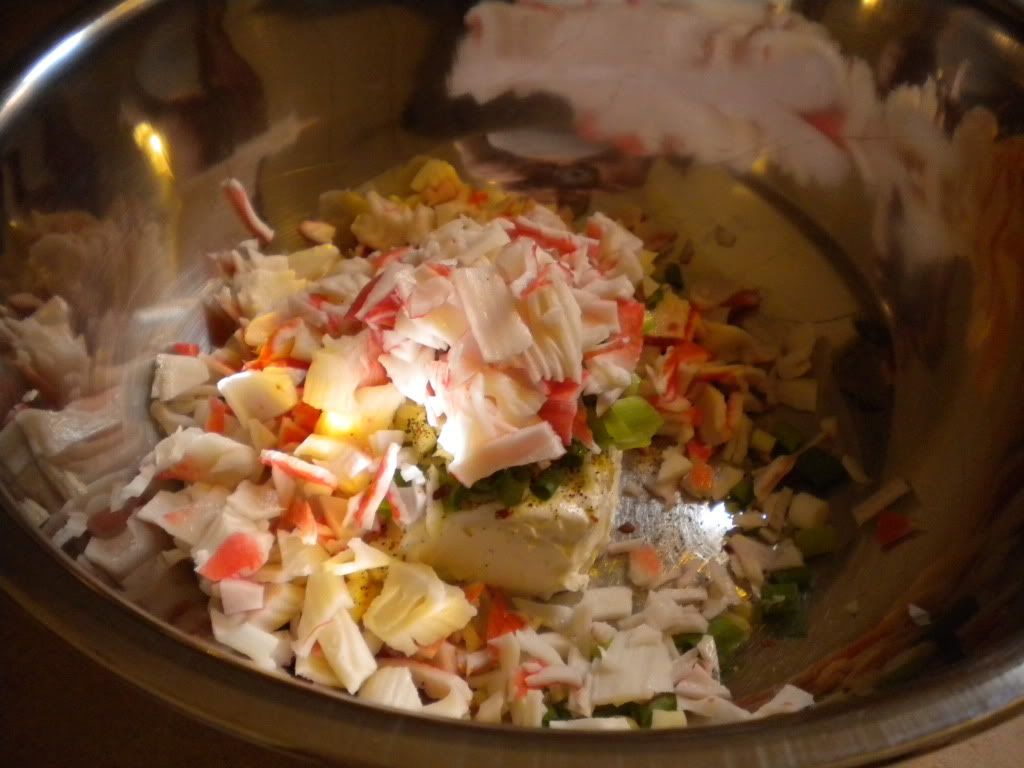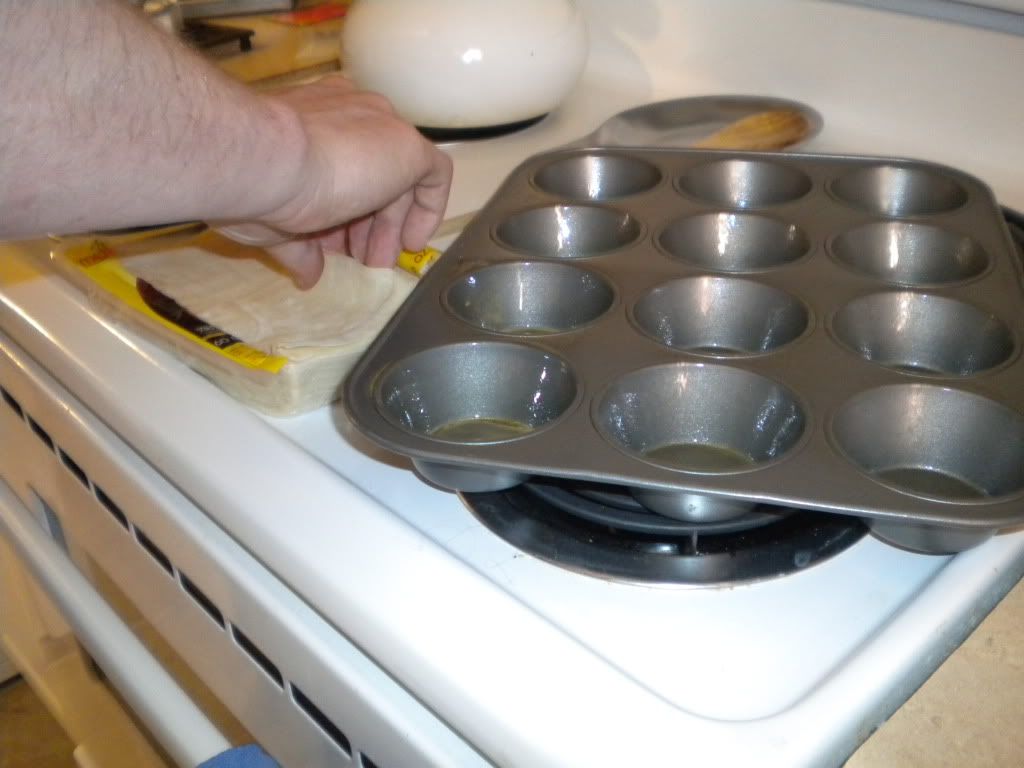 J lining the muffin tins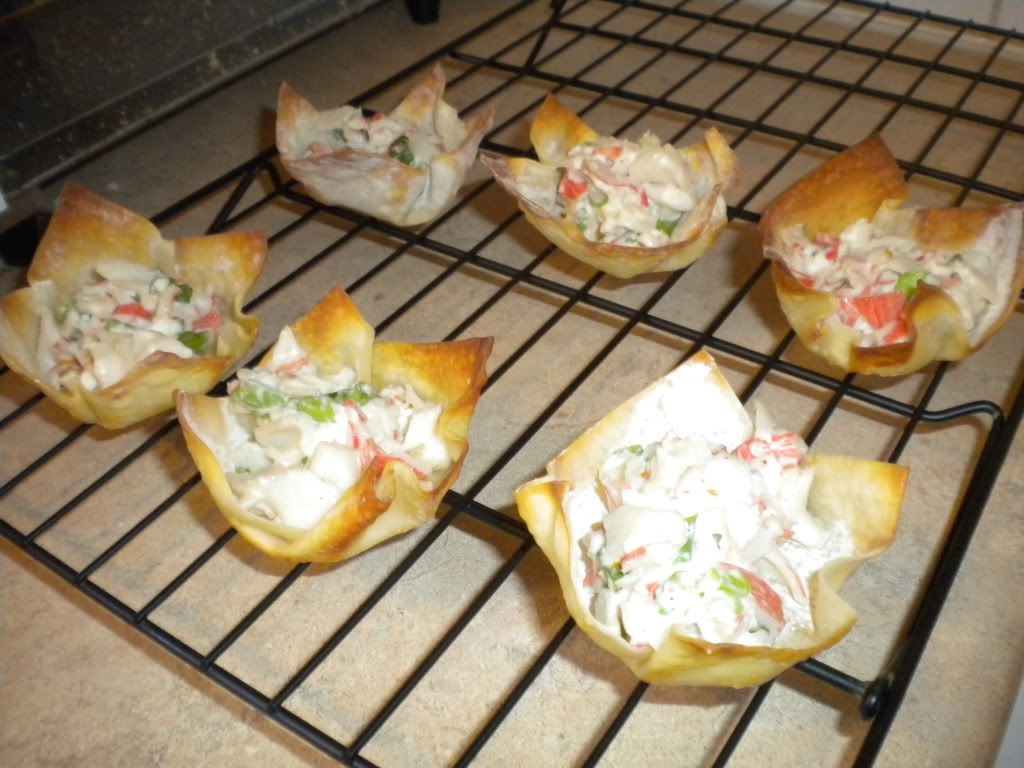 We made six open faced (pictured above) and six closed, dumpling style ones to see which way we liked better. The open-faced variety looked prettier and were more crispy but the dumpling style ones stayed warmer longer. We'd love to make open-faced ones for a party since the presentation is so lovely--we will just have to make sure they get eaten quickly. Somehow I don't think that will be a problem!
We used crab (or Krab if you want to get technical) because we also made California rolls to accompany the rangoons. The best part was that I was able to pack a few boxes up while I made dinner, first while the rice soaked and then while it simmered away on the stove. Woods even got in on the action.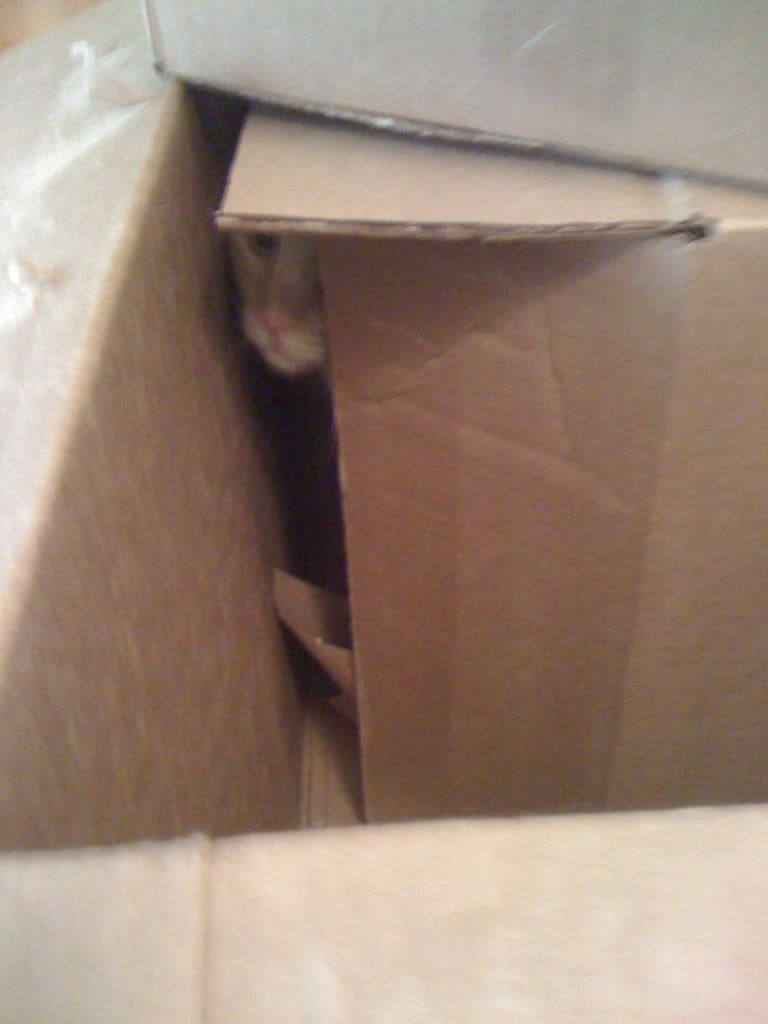 The picture's a little grainy because I had to take it quickly from my iPhone. Woods is notorious for running away before I can snap a picture of him (case in point: he jumped out of the box as soon as he realized what I was doing).
As I got out the cream cheese last night, I realized I hadn't shared the recipe for the cheese and chocolate danishes we had on our date night
last week
. The recipe is so easy and tasty I couldn't not post it here. I halved Giada's
original
recipe and made a few substitutions so that I could use what I had on hand instead of buying more ingredients at the store. The results really got my wheels turning as to what else I could stuff inside danishes--they were that easy and that good!
Chocolate and Cheese Danishes, modified from Giada at Home
Ingredients:
1 sheet frozen puff pastry, thawed in the refrigerator for 4 hours or on the counter for 40 minutes
2 ounces reduced-fat cream cheese, room temperature
1 tablespoon vanilla yogurt--we used whole milk vanilla yogurt from Trader Joe's but fat-free would also work
1/2 tablespoon all purpose flour
1 1/2 tablespoons granulated sugar
Pinch of salt
1/4 cup chocolate chips
1 egg, beaten
Kitchen Supplies:
Cutting board
Sheet pan
Small bowl
Ramekin
Pastry Brush
Knife
Cooking spray
Preheat oven to 400 degrees. Spray sheet pan with cooking spray and set aside.
In a small bowl, stir together cream cheese, yogurt, flour, sugar and salt, mixing until smooth. Fold in the chocolate chips and set aside.
Unfold the puff pastry and cut into fours. Spoon 2 to 3 tablespoons of the mixture into the center of each piece of pastry. Fold one corner of the pastry diagonally over the mixture, leaving yourself a one inch border around the opposite edge. Brush the egg wash over the folded part of the pastry. Take the point of the triangle shape you made and fold it on top of the danish for an open-ended danish and a crisp look. Bake in the oven for 15 minutes until golden and puffy. Remove from oven and cool for five minutes before serving.
Serves: 4
We waited a bit longer than five minutes to eat them since we had dinner reservations before the concert. However, they were just as good a few hours later with a glass of crisp white wine!
Have you ever tried to make danishes? What about sushi? They both are definitely way easier than they look!