It's Friday and you know what that means, another Spring Break feature! What better way to kick off the weekend than a post from the lovely and talented Lauren at You Had Me at Handmade?
In December, I was a
guest blogger
on her site during her You Had Me at Holidays series and I am delighted to have her here today! Lauren is a real life friend whose blog is a constant source of inspiration. She has a great eye for design, home decor and fashion and runs the sweetest shop, Clever Betty. If you are not following Lauren, you are definitely missing out!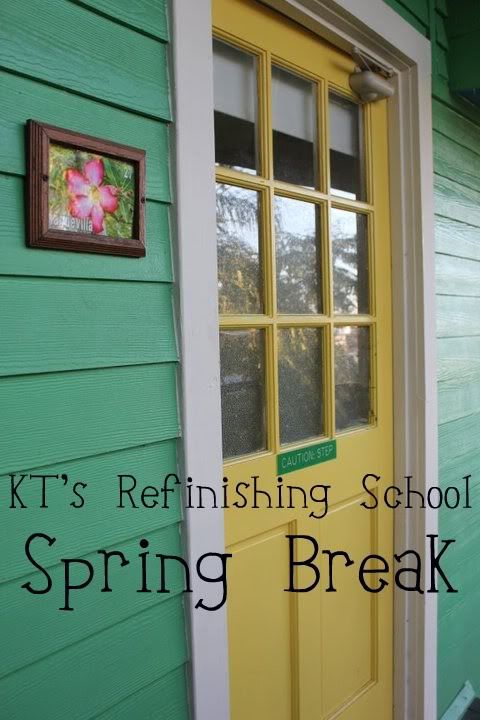 Hi there! I'm Lauren, and I'm the lady behind the blog at
You Had Me at Handmade
, where I write about my life and loves, my handmade business-
Clever Betty
- and all of the wonderful handmade artists, designers and things that I find around the web. I'm thrilled to be a part of KT's Spring Break guest posting event today!
There's plenty of things that I love about Spring. So many that I honestly had a hard time narrowing down what to write about for KT's guest posting event! I love how suddenly flowers start to bloom in Spring. I love being able to wear skirts without needing boots and tights to keep my feet warm. I love wearing sunglasses when I'm driving with the sunroof open. I love open windows while I'm lounging on the couch, knowing that it will soon be my birthday, outdoor dining, walks and picnics in the park and the thrill that Summer is just around the corner. I could keep going for miles and miles...
So how'd I finally narrow it down to one subject? Well,
I saw the sign
, friends. And I continue to see it just about every time I get in my car these days. It looks a little something like this:
Now I haven't actually seen that sign in particular, but let me tell you. St. Louis is FULL of similar ones. Fish fry events during Lent in St. Louis are absolutely one of my favorite parts of Spring. Now this might come as a surprise to those who know me, as I really don't eat seafood... well, pretty much ever. But when it's battered and deep fried and served with a beer on a Friday night at a local church, you can Count. Me. In. I love the atmosphere, the good food, and the way our city has made Fridays during Lent into such a giant celebration!
My favorite fish fry? Most definitely St. Cecilia Catholic Church. If you live in St. Louis or have the chance to come here on a Friday before Lent is over, (like today... you might find Sean and I waiting in line this lovely April 1st!) I strongly recommend checking out this fish fry- and getting there early:
St. Cecilia Catholic Church
906 Eichelberger Street
St Louis, MO 63111
Not only is the church itself one of the most beautiful in St. Louis, St. Cecilia has a very large Hispanic population and thus, they serve a
Mexican Fish Fry
during Lent. Now that's what I'm talking about! The Chile Relleno is absolutely To. Die. For. The whole Parish gets involved- from selling beer and tamales to guests waiting in line, to kids dancing and playing mariachi music in Mexican skirts and sombreros.
If you're as excited about fish fry events in the St. Louis area as I am, you can even
check here
to find one that's close to you or that fits the style of fish fry that you're looking for. Seriously, any city that requires a fish fry finder on a local news station's website is alright with me!
Does your city have an abundance of fish fry Fridays during Lent? Have you been to any in St. Louis that you'd recommend?
What gets you excited during Spring?
Thanks for having me, KT! It's been a blast!
Images via
Y108
,
St. Cecilia
and
STL Today
Mmm Fish Fries. Growing up, we would often travel to my grandparents' home in Peoria for Easter which meant a fish fry at KofC (that's Knights of Columbus not Kentucky Fried Chicken) with whole fried catfish, baked potato and rye bread. Imagine my surprise when I moved to St. Louis and was served pasta with my fried fish! So far, J and I have only been to St. Gerard's in Kirkwood for fish fries, but after this post, I think we have a new place to try out :)
Thanks again Lauren for this post and for being a part of this series! Happy weekend everyone!