I hope your Thursday is off to a good start. Today my neighbor and friend Lesley of
Mrs. Z(ed), A Crafty Librarian
will be sharing her recipe for homemade chicken taquitos which look delicious! Lesley and Dr. Z(ed) are wonderful neighbors with whom we share
many
a
great
meal, who watch
Woods
when we go out of town and let us use their washer and dryer because ours is broken, saving us a trip to the laundry mat. Lesley is so creative, having worked as a costume designer before pursuing her MA in Library Science, and you should definitely check out her blog!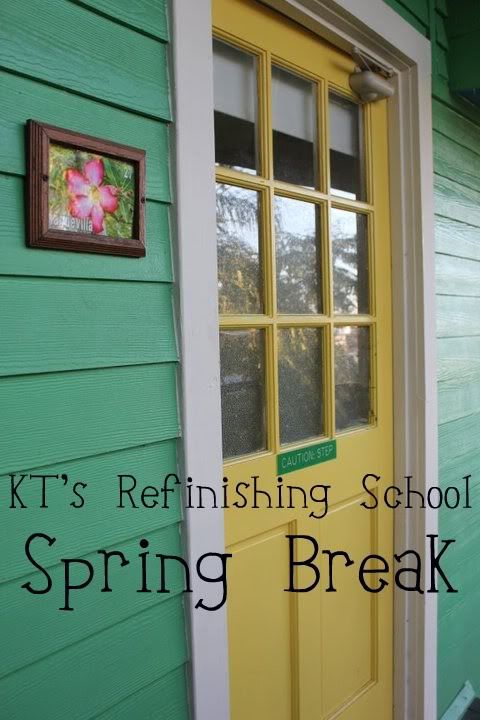 Hello! Howdy! Nice to meet you all! I'm so happy to be guest posting on my dear neighbor KT's blog. Since it's spring break time (mine was last week-and was divine) I thought I would share one of our new favorite week night meals with you: the best chicken taquitos I've ever eaten. Like seriously-I could eat them all day long and we have worked them into our rotation about once a week ever since I discovered the
original recipe
.
I'm not sure what makes them so good. Maybe it's the little bit of salty-ness on the outside, maybe its because this is the first recipe in which I have conquered the corn tortilla (I usually have trouble getting them crisp or not tearing them, or even getting them to roll up prettily), or maybe it's just because they are mad, mad, tasty. The first time we had them for dinner I ate at least 8 and Dr. Z(ed) (my partner in crime) ate at least 10. We would have eaten more... but we ran out. This time when I made them we had guests so we kept things a little more respectable: I only ate 5. I also threw together a delightful corn salad which really topped off the meal and made it very spring-y. Can't go anywhere exotic for spring break? Have a fiesta at home!
I was worried the rotisserie chicken would be too greasy-but it was delicious!
Ingredients I used:
1 pkg. corn tortillas
1 rotisserie chicken (you can also cook and shred your own chicken, but I had to work late this day and allowed the grocery store to help me cheat a bit)
1 small yellow onion, minced
1/2 c. reduced fat cream cheese, softened
1/2 c. tomatillo salsa
1 lime (you will only use the juice)
1 Tbsp. chili powder
1-2 pinches red pepper flakes
1 tsp. cumin
3 cloves of garlic
1 Tbsp. Cilantro (you can also chop up about 1/4 c. of fresh cilantro-I just couldn't find any at our grocery store recently)
1 small batch of green onions, chopped
1/2 c. shredded sharp cheddar cheese
1/2 c. shredded monterey jack cheese (we had swiss in the fridge once and that made them v. creamy-yum!)
kosher salt
black pepper
cooking spray
For the corn salad:
1 small bag of frozen corn
1 pkg. cherry tomatoes
1/2 c. edamame, shelled
5 basil leaves, chopped
salt
pepper
lime juice to taste
This step takes the longest, but it is totally worth it!
Steps I did:
Preheat the oven to 425 degrees and spray a large cookie sheet with non-stick spray. Shred the chicken and throw it into a medium sized bowl. (I find it easiest to just pick the meat off the carcass and tear it by hand.) Throw in the onion, green onion, chili powder, red pepper flakes, and cumin and toss around. Add the salsa, cream cheese, and lime juice and mix well. Salt and pepper the mixture to taste and fold in the cheeses. Take the corn tortillas three at a time and place them on a plate in the microwave for about 30 seconds. (It is important to microwave them long enough that they become nice and pliable.) Spoon the chicken mixture on the bottom half of each tortilla-I use about 2 Tbsp. Then gently roll the tortilla up and place on a cookie sheet with the seam facing down. Repeat until you are out of filling, and don't be afraid to make them nice and meaty. Once you have all of your taquitos nicely arranged, lightly spray them with cooking spray and sprinkle them with salt. Bake for 20 minutes and let rest for 5 so you don't burn your mouth if you are impatient with food like I am. Serve with more salsa, guacamole, and sour cream for dipping.
So colorful and so summer-y!
For the corn salad:
Steam the corn on the stove-top for about 7 minutes, drain off any excess water and let cool. Toss into a mixing bowl. Slice the cherry tomatoes lengthwise and toss them in along with the chopped basil and edamame. Salt and pepper to taste, squirt in a bit of lime juice and mix well. Oh so refreshing!
Start by eating 4 or 5, then graze on the rest through-out the evening. Even cold they are yummy!
Just writing this has made me hungry for these, in fact my mouth is actually watering. Guess chicken taquitos will be on the menu this weekend. It's a good thing Dr. Z(ed) and I just got new
bikes
for the summer, otherwise we would be getting fat off of chicken taquitos in no time! Thanks for letting me visit and I hope you enjoy the spring and this meal, heartily.
Those look so, so good. I love taquitos but never would have thought to make them at home--genius! I can't wait for this busy work week to be over so I can try some of these great recipes I've been seeing all week. Thank you Lesley for sharing the recipe with us all and for being such a great neighbor!
Tomorrow Gina from Temporary Nest will be sharing a gorgeous spring time craft you won't want to miss so stay tuned!